Internet Modeler : New Releases : Ships
RSS News Feed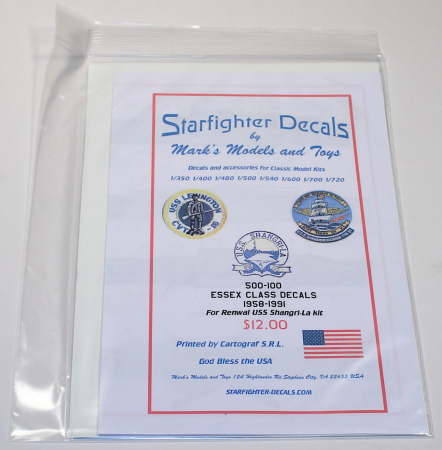 Starfighter Decals 1/500 Essex Class Decals 1958-1991
As I've mentioned in the past, Starfighter Decals tends to release aftermarket "goodies" for kits neglected by other manufacturers. This time they provide correct markings for the pending re-release of the Renwall 1/500 Shangri-La by Revell. Not only are there flight deck/hull/island decals, but there are also decals for the included F9F Cougars and A-3 Skywarriors. The following ships are catered for with this release: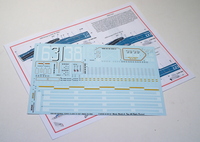 USS Lexington CV-16, 1958-1962
USS Lexington CVS-16, 1963-1969
USS Lexington CVT-16, 1969-78
USS Bonhomme Richard CVA-31, 1960+
USS Shangri-La CVA-38, 1960+
Decals are nicely printed and appear to be in register. The instructions not only show the placement of most decals, but also point out other aftermarket items available for the kit. In addition, they also provide a painting guide and a list of references.
So, if you want to finish your Renwal 1/500 Shangri-La differently – and accurately – then you'll definitely want this set from Starfighter Decals.
Internet Modeler definitely offers our "thanks" to Starfighter Decals for allowing us to review their wares.