Internet Modeler : New Releases : Space/Sci Fi
RSS News Feed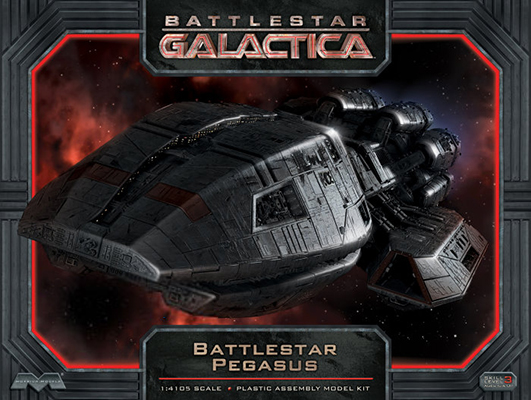 Moebius Models 1/4105 Battlestar Pegasus
Overview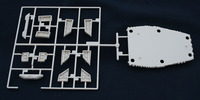 At the time of the Cylon sneak attack the Battlestar Galactica was in the process of being turned into an orbiting museum dedicated to the First Cylon War. This meant that it had been stripped of most of its exterior armor and many of its combat systems. The Pegasus, on the other hand, was a state-of-the-art frontline Colonial warship, some 50 years newer and 20% longer than the Galactica (5800 feet compared to Galactica's 4700). She was powered by eight large engines. Also, instead of a single hangar pod on each side the Pegasus had both upper and lower pods. It was the flagship of Admiral Helena Cain and the lead ship of Battlestar Group 62.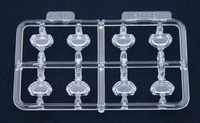 Due to its age and decrepitude Battlestar fans have taken to calling Galactica "The Bucket" while the Pegasus, due to its greater size and superior firepower, is known as "The Beast".
Believed destroyed in the Cylon attack that obliterated most of the population of the 12 Colonies the Pegasus was encountered by the Galactica and its fleet of refugees some 6 months later. They banded together in order to defeat the Cylons and find a new home world for the last vestiges of humanity.
The Kit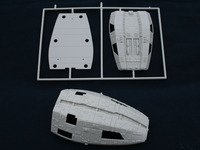 This is yet another excellent sci-fi kit from Moebius Models. The Pegasus has been on the most-wanted lists of many fans of the re-imagined Battlestar Galactica.
Molded in light grey and clear are some 120 finely molded parts. You also get a metal support rod for the base. The kit seems well-engineered and should be fairly easy to assemble. While not specifically intended to be lighted the design of the kit should provide little hindrance in doing so.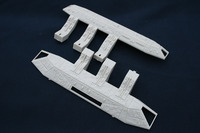 Unlike the Galactica the hangar pods have interior baffles that prevent you from seeing all of the way through them. Decals are provided to give the illusion that you can and should prove adequate. The baffles hide a series of posts that are used to attach the upper hangar pod to the lower so removing the baffles and the posts could prove to be a little tricky. Decals are also provided for the runway section of the pods.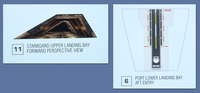 The remaining 3 decals are the Colonial Fleet Emblem and the ship's name and registry number.
The painting instructions call for overall metallic grey with a few details painted a dark red. Because of the mostly monochrome paint scheme it will be the weathering that really makes this model stand out.
Conclusion
At the time I write this there are three aftermarket sets for this kit, all from ParaGrafix. They make a PE exterior set, a PE hangar bay interior set and decals for alternate ship names.
This is a great kit and anyone with a few models under his or her belt should be able to produce an impressive model of the Battlestar Pegasus.
Review copy courtesy of my wallet and Skyway Model Shop.