Internet Modeler : New Releases : Tools
RSS News Feed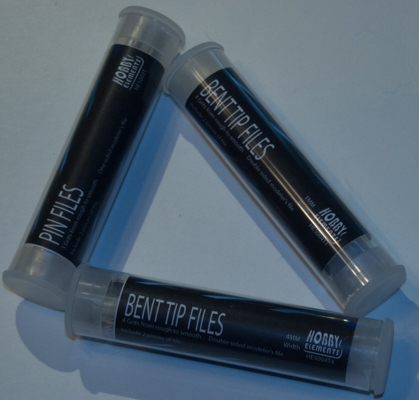 Hobby Elements Latest Tools
It's been a little while since I reviewed the latest tools from Hobby Elements. But like those Micro Flat Files, this new set of tools are also extremely useful and I can see using them quite frequently on my builds.
The first release is a set of Pin Files. There are three files in this set, ranging from "rough" to "smooth". In the image you can see just how these round files taper into a really nice point, allowing one to get into the smallest holes to clean up. I can definitely see using these quite often when cleaning up the ends of gun barrels, etc.
Next up is the first set of Bent Tip Files, these being 1mm in width. There are two files consisting of four different grits from "rough" to "smooth". Since these files are two-sided (or two-"ended") each different grit are not only one each file, but also each end. The way the tips are bent will really help reaching some of the most difficult-to-reach areas and assist with clean up.
The last set sent in are another set of Bent Tip Files, this time in 4mm width. Like the 1mm width there are two files with each end having different grits from "rough" to "smooth". You can see in the last image how I was able to use the Bent Tipe Files in cleaning up the "dithering" some 3D models have, this time the Triple Nuts 1/144 JF-17 ShapeWays print. The one landing gear well was a bit rough so these files really helped to get into the area and clean it up perfectly. Nice!
I definitely thank Hobby Elements for the review sets. Either visit their Facebook page or send them an email to order these files.