Internet Modeler : New Releases : Tools
RSS News Feed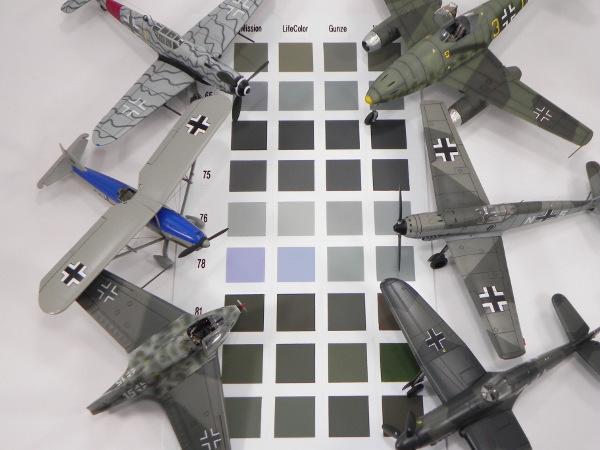 Mission Models WWII Luftwaffe RLM Colors
The New Mission Models Paints Luftwaffe RLM Colors:
As Accurate As They Are Friendly
Introduction
I have previously expounded upon the virtues of the new Mission Models acrylic paints and I demonstrated their use on a 1/72 Macchi Saetta; a scheme in a scale I would not have tried with any other paint. Mission paints are the easiest, most forgiving acrylic paints I've ever used-period. I was so impressed with their performance I became a dealer. My only complaint about this paint line was the lack of Luftwaffe colors. I say was, because that is no longer an issue.
| | |
| --- | --- |
| | |
The new paints being added to the Mission line include RLM colors and, by extra-special decree from the Mission Models Grand Poobah Jon Tamkin, MPS has been provided samples. Given the gravity of the situation, the crew down in the secret underground Model Paint Solutions Research Laboratory (and bistro) were tasked with devising a simple way to assess how well these new Mission RLM colors stack up against the same colors from other paint lines; more on their methods below. Let it suffice to say that as a long-time Luftwaffe aircraft builder with a history of being picky about RLM color accuracy, I am very satisfied with the new Mission RLM colors: spot-on "accurate." Yup, that's right: "accurate."
| | |
| --- | --- |
| | |
Being a WWII Luftwaffe/RAF kind of modeler I am painfully aware of the multitude of books, paint charts, blogs, arguments, and opinions regarding "accurate" RLM colors. Like many of you I have at least one book by Monogram, or Hitchcock and Merrick or Eagle Editions or Merrick, or Ullman (or?), within which "accurate" RLM paint chips are provided. I leave you to your own musings as to which set(s) of standards is more "accurate" to you. I prefer a combination of multiple references and with that as my personal measure I like the LifeColor range. Lifecolor seems to capture the color and hue of most of the RLM colors better than other manufacturers. They have been my go-to acrylic paints for many years due in large part to the "accuracy" of the line. The Gunze Mr. Color range of RLM paints is my second choice; but they are sometimes hard to find and lacquer based.
The aim of this little project is to show the color and hue of the new Mission Models Luftwaffe colors relative to the same colors from other manufacturers. I emphasize relative because of the infinite number of variables involved in photographing, publishing, and viewing color images online. With this in mind, I don't suggest using any of the images in this (or any) online article as a source of "accurate" paint colors. What I hope you can appreciate in this piece is how these paints compare relative to one another.
To compare paints, I sprayed each color onto a ~1.8cm2 square area of white polystyrene, masked off on a grid of identically sized squares. To ensure as much paint opacity as possible, each color was applied first as a dry coat followed by a wet coat. I used the same airbrush, an H&S Evolution with a 0.2mm tip, to spray all the squares. I cleaned the airbrush completely between each color. Yes, the grid took quite a while to shoot. The crew in the underground lab was kept rather busy. When complete, I removed the tape and any paint that had wicked under the mask was scraped off with an X-Acto blade producing equally sized and spaced squares. Whew.
| | |
| --- | --- |
| | |
A quick glance at the chart reveals that all four lines show a fair amount of similarity for all the colors tested. Of the four, the line that to my eye showed the most deviation from the other three was Vallejo. The Mission Models range tracked quite closely to the LifeColor RLM colors. Given my previously stated bias for this range of RLM paints, I couldn't be happier. In general, Mission Models, Gunze, and LifeColor were in agreement on most of the RLM colors. Moreover, if we assume the old RLM-82/83 reversal for the Gunze paints, the agreement is even closer.
Table 1: Catalog numbers of the Mission Models, LifeColor, Gunze, and Vallejo paints used in this study.
| | | | | | |
| --- | --- | --- | --- | --- | --- |
| Color | RLM | Mission | LifeColor | Gunze | Vallejo |
| Grau | 02 | MMP-056 | UA-504 | C60 | 70.886 |
| Hellblau I | 65 | MMP-057 | UA-503 | 115 | 71.255 |
| Graugrün | 74 | MMP-049 | UA-507 | 36 | 71.258 |
| Grauviolett | 75 | MMP-050 | UA-508 | 37 | 71.259 |
| Lichtblau | 76 | MMP-051 | UA-509 | 117 | 71.257 |
| Hellblau I | 78 | MMP-055 | UA-512 | 118 | 71.101 |
| Braunviolett | 81 | MMP-052 | UA-510 | 121 | 71.264 |
| Lichtgrün | 82 | MMP-053 | UA-511 | 122 | 71.022 |
| Dunkelgrün | 83 | MMP-054 | UA-132 | 123 | 71.011 |

Conclusion
Mission Model paints have taken many in the modeling world by surprise. Modelers with previous experience with acrylic paints marvel at how differently Mission paints behave: less airbrush tip-dry, less overspray, no clogging, and a tough, scratch-resistant finish. I've received emails from even long-time enamel and lacquer users that have switched to the Mission line after giving them a try.
Not only are Mission Models paints the easiest most forgiving paint I've ever used, they're also about as "accurate" as the corresponding LifeColor paints. For me this is truly the best of both worlds. In addition to the RLM colors presented here RLM 66, 70 and 71 are in the works.
A complete listing of the new Mission Models colors due in May is provided below. If you're tired of fighting with your airbrush and want to enjoy painting with a forgiving accurate paint, give Mission Models a try.
Now go paint something!
For additional information on Mission Paints and other build articles by John check out his site Model Paint Solutions (https://modelpaintsol.com).
Below is a complete listing of the new colors being added to the Mission Models Paint Line:
MMP-049 

Graugrun RLM-74


MMP-050 

Grauviolet RLM-75


MMP-051 

Lichtblau RLM-76


MMP-052 

Braunviolet RLM-81


MMP-053 

Hellgrun RLM-82


MMP-054 

Dunkelgrün RLM-83


MMP-055 

Hellblau RLM-78


MMP-056 

Grau RLM-02


MMP-057 

Hellblau RLM-65


MMP-058 

US Dark Green FS-34079


MMP-059 

US Interior Green FS-34151


MMP-060 

Dark Tan FS-30219


MMP-061 

US Blue Grey FS-35189


MMP-062 

USN/USMC Sea Blue FS-35042


MMP-063 

Light Gull Grey FS-36440


MMP-064 

Dark Gull Grey FS-36231


MMP-065 

Gloss Sea Blue FS-15042


MMP-066 

US Medium Green FS-34102


MMP-067 Yellow Zinc Chromate
MMP-066 US Medium Green FS-34102
MMP-067 Yellow Zinc Chromate
MMP-068 Green Zinc Chromate
MMP-069 Light Gull Gray FS-16440
MMP-070 

Radome Tan FS-33613


MMP-071 

Intermediate Blue FS 35164


MMP-072 

Medium Gray FS-35237


MMP-073 

Light Ghost Gray FS-36375


MMP-074 

Dark Ghost Gray  FS-36320


MMP-075 

Light Sea Grey


MMP-076 

RAF Middle Stone


MMP-077 

RAF Dark Green


MMP-078 

RAF Dark Earth


MMP-079 

RAF Interior Green


MMP-080 

RAF underside Sky 610


MMP-081 

LRDG Pink


MMP-082 

German WWII Elfnbein Interor White


MMP-083 

Have Glass Grey FS-36170


MMP-084 

IDF Green


MMP-085 

Russian WWII 4B0 FS-34257


MMP-086 

US Army Sand FS-30277


MMM-002 

Cold Rolled Steel


MMM-003 

Faded Aluminum


MMM-004 Copper
MMW-006 

Transparent Dust 1