Internet Modeler : New Releases : Tools
RSS News Feed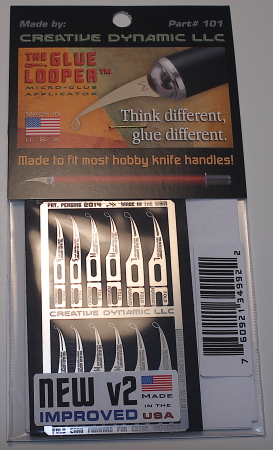 The Glue Looper Version 2
Back in August of 2013 I was given the honor of reviewing The Glue Looper put out by Creative Dynamic LLC. It's a good tool, one a modeler uses to apply thin cement to their model. It had decent accuracy of where the glue would go but there was one aspect I didn't like as I kept using it. For me, the glue would leave the loop all at once. Now, that definitely isn't a big problem when using plastic liquid cement because capillary action meant the glue would spread out through out the entire joint. But when it came to using CA, if you had a lot of glue in the loop, then it all would be deposited at once. If you weren't careful on how you placed the Looper inside the seam, then you could have CA on the surface.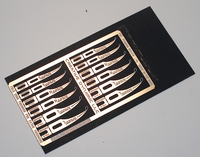 Well, Creative Dynamic LLC figured out a way to stop that from happening. In fact, with Version 2 of the Glue Looper you can control how much glue comes out of the loop. I believe this is because Creative Dynamic LLC put a groove in the main part of the Looper, where the loop meets the "shank" (I don't know what else to call it). With care, you can not only put a concise drop of cement where you need it, but you can also drain the loop by drawing it across a seam, instead of having the glue come out all at once. Nice.
There are two other changes Creative Dynamic LLC made to the Looper, both important in my opinion. The first is The Glue Looper is now made out of steel. Version 1 of the Looper was made out of brass and while good, their recommendation of removing dried CA from the loop was to burn it out (the same recommendation for the steel). As we know, after so many times of burning brass, that brass can not only become soft but can also burn away. That's why I believe they included four Loopers (for each size) in a package.
The other change to Version 2 is they added an larger foldable portion to the bottom of the Looper, where it fits into a blade handle. I thought the first Looper was "flimsy" in this area and if you weren't able to tighten your handle enough around the Looper, it was going to move on you at the worst time. So with the extra heft, the Looper will not move at all.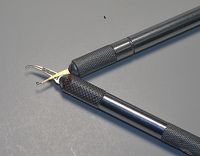 If you're wondering if it's worth buying Version 2 if you already own Version 1, I say most definitely! The amount of change made to Version 2 warrants another purchase. If you thought Version 1 was the "bees knees" for modeling, then Version 2 will seem like a breakthrough of the higest importance.
Huge, HUGE thanks to Creative Dynamic LLC for not only sending me Version 2 of The Glue Looper, but also allowing me to use it in its prototype stage. It's another win for the modeling community and a tool every modeler should have in their toolbox.