Internet Modeler : New Releases : Tools
RSS News Feed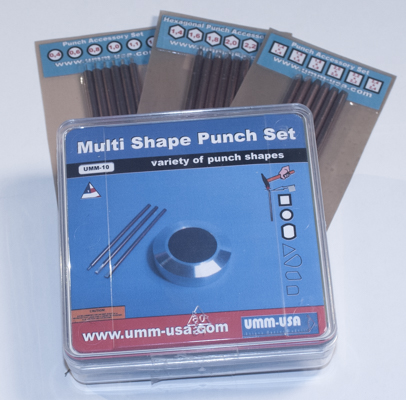 UMM-USA Multi Shape Punches
A while ago I reviewed the Multi Shape Punch Set from UMM-USA. It's a tool you use when you want to create different shapes - in different sizes - out of a material like thin sheet aluminum. Since that review UMM-USA has released a number of other shapes in various sizes.
For this review UMM-USA sent three:
| | |
| --- | --- |
| Round Punch Accessory Set (0.4-1.2) | |
| Hexagonal Punch Accessory Set 3 (1.4-2.4) | |
| Square Punch Accessory Set 2 (1.4-2.4) | |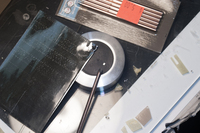 You can see in this photo how the punch set and accessory punches are used. First you set the hardened rubber disk on a hard, flat surface, select the shape-punch you want to use, set the aluminum sheet on the rubber disk, set the shape-punch on the aluminum sheet and using your own hammer, punch through the aluminum sheet producing the shaped piece wanted. One thing I have learned, unfortunately, is you want to use a "smaller, lighter" hammer. I used a "regular" construction-type hammer on the smallest Round punch and broke the punch. All it takes is a light tap with the hammer to produce the actual part.
If you find you need various sized and shaped parts for your builds than using these tools from UMM-USA is a must. My thanks to UMM-USA for providing the tools.