Internet Modeler : New Releases : Tools
RSS News Feed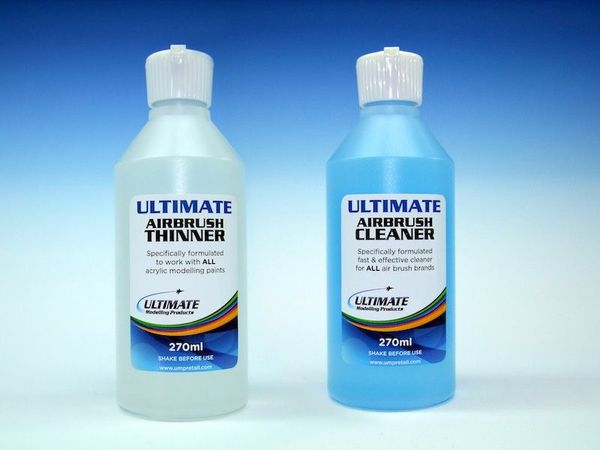 Ultimate Airbrush Cleaner and Thinner
I was excited when I learned about Ultimate's airbrushing liquids, mainly the Thinner. At the time I had some Hataka paints I needed to review and Hataka hadn't released their thinner at that time. Fast forward a little bit and both the Ultimate and Hataka thinners showed up at the same time, so I was fortunate enough to try both on naturally Hataka paints, but I've also had the chance to try the Ultimate Airbrush Thinner on other acrylic paints as well.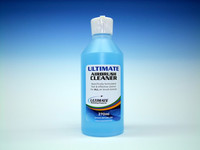 First up is the Airbrush Cleaner, though. It's not meant to deep-clean your airbrush (for example, if you have accumulated dried paint on your airbrush parts) instead it's meant to be used to clean your airbrush between spraying sessions. And for this it does an excellent job. Not only use it to spray between airbrushing but also use it to clean the airbrush right after use. This is how I typically clean my airbrush: first spray some liquid through it after painting, then take it apart and clean each part separately. Do this everytime you use your airbrush and you won't accumulate dried paint.
But it was the thinner I was looking forward to using the most. I've tried it successfully with the following paints: Polly Scale, Vallejo, Mister Kit and Hataka. My usual thinner of choice for acrylic paints is the "blue" windshield washer fluid. It works great and has taken me through painting thus far. So it was good to finally have another thinner to use, especially when it came to Hataka as their thinner only showed up at the same time.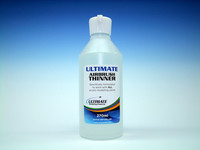 My typical way of thinning is to thin the paint to consistency of milk. Seriously. Roll the liquid around in your cup or jar and if it looks to be the same thickness of milk, you're good to go. But if you want a more "scientific" way of thinning paint, the Ulimate Thinner comes with a thinning chart for most acrylic paints (and naturally, since Hataka is the newest brand of acrylic paint, it's not included unfortunately).
Suffice it to say I liked what happened when I used the Ultimate Thinner with all four brands. In fact, I like using the Ultimate Thinner more than using Hataka's own: I first sprayed the interior of the Brengun Letov Š-16 using blue windshield washer thinner and used Hataka's thinner when I sprayed Kovozávody Prostějov's Zlin Z-226B, then switched to Ulimate when I sprayed the AZ Model Spitfire Mk.IX's oxygen bottles. I liked how Ultimate worked on the "grain" of the paint compared to Hataka. The bottles came out a lot "smoother" than the interior of the Š-16 (take a look at the Hataka article to see what I mean).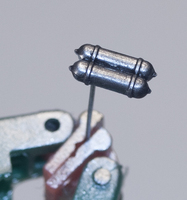 So if you're looking for a thinner that will work with multiple brands of acrylic paint, then Ultimate is your brand of choice. In fact, when all the other specific-brand thinners are gone, I will only be buying Ultimate from this point forward.
Huge, huge thanks to Ultimate Modelling Products for providing both the Airbrush Cleaner and Airbrushing Thinning liquids.