Internet Modeler : Features : Space/Sci Fi
RSS News Feed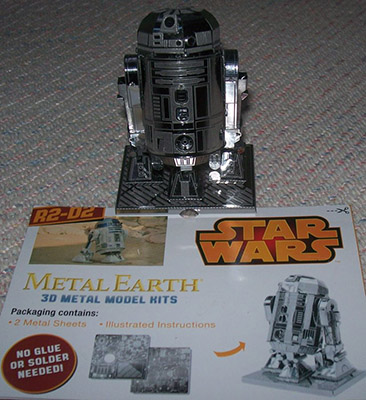 Metal Earth Creations and Our Most Valued 'Droid'
No, no: not 'Middle Earth'! Not where Bilbo Baggins and our other favorite stalwart heroes venture out on long perilous journeys, and must overcome 'Perils of Pauline'-esque series of dangers from the nefarious Dark Forces!
I mean Metal Earth®, in the here-and-now, whose engineers and craftsmen have managed to find a portal to 'a Faraway Galaxy A Long Long Time Ago…', where Luke Skywalker and our OTHER favorite stalwart heroes venture out on long perilous journeys to face 'Perils of Pauline'-esque dangers from the nefarious Dark Forces!
Metal Earth has a remarkable and growing line of kits, to a formula new to me, and possibly new to most of us modelers. They're computer-generated 3-dimensional CAD/CAM cutouts:  Origami via precut stainless steel plates.
They don't look like our regular kits and aren't hobby-shop staples… at least, not yet.  I've seen them at Magic Mouse Toys in downtown Seattle, and at the nearby Bartell Drugs.  I expect they're in toy, novelty, and maybe office supply sections at lots of general retail outlets.  Look for 12x17 centimeter (about 5x6 ½ inch) blue envelopes.
I learned first hand about Metal Earth because of my advanced age, relatively speaking…
We all have to endure Trials of Life.  One of mine occurs yearly, during three days each May.  It comes in the form of remarks:  'How's the OLD MAN?  Eyesight not so faded you can't read this card?  Fingers not too arthritic for you to open this present?'
It seems that Ken Murphy, whom I've known for an astonishing number of DECADES, was born three days after me.  During each anniversary of those three days, he's only tolerable AFTERwards.
This last May—probably realizing how hopeless would be any search for a boxed plastic model kit not already in my stash—he gave me something different.  It's in Metal Earth's Star Wars series:  a model of R2-D2, the little robot we know and love… and wish we could have as personal assistant.
Opening the envelope (not box) found R2-D2's components on two stainless-steel metal sheets, eight-thousandths of an inch thick.  Components are laser-cut—so the printouts say—and have very tiny connections to the sheet, like our plastic kit sprues, but smaller:  closer to brass photoetched frets.  Instructions are printed on a single folded yellow A4 (metric letter-sized) sheet.  There's a parts map.  Not much text, nor is much needed:  general advice 'To create the best connections'; a warning about sharp edges; and small 'balloons' pointing to parts in the build that need special handling, or where a fitting sequence needs to be clarified.  The build guide is basically a stepped set of diagrams, from subassemblies to final.
The manufacturer warns that this is not toy, and not recommended for small children.  14+ is the suggested age.  (I exceed this comfortably… which Ken will happily point out is by three days more than he does…)
On to the build, starting with tools.  Nothing is needed modelers don't have at hand already.  As promised in the packaging, "No glue or solder needed."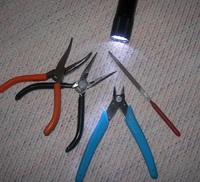 I used standard fine-point Xuron® snippers to cut the parts free, then a fine, narrow flat-blade needle file to clean up each tiny metallic equivalent of a sprue-gate scar.  I do mean tiny:  the connection points taper almost to nothing as they reach a component's edge.  By comparison, the tabs to be used to connect the parts to each other are much wider:  thirty thousandths of an inch!
Most parts work requires simple straight bends, often at right angles.  For these, I used two pairs of fine needle-nose pliers, one with straight jaws, the other with jaws that curve over to about a 30-degree angle. For certain substructures, angled jaws made the bends easier to see and make.
You'll also need some rounding or forming tools.  Many components require rounding flat sheets into simple curved ones. (No attempt whatever is made to bend parts into compound curves.)  See this picture of the three forms I used:  high precision, no expense spared!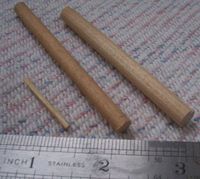 There's one other tool I found essential, one I've never used on a kit build before:  a small LED flashlight.  Some steps require maneuvering, just so, a whole set of tabs into a matching set of slots.  I would backlight the slotted piece so I could see to move the tabs around into the light coming through the slots.  Those slots are just barely larger than the tabs, which as I've said are only thirty thousandths wide by eight thousandths thick.  I needed sharply contrasting light and dark to see holes that small.
The diagrams, in the form of exploded views, show components being folded and tabbed together. The sequence of steps is sensibly done, with the very smallest parts being gathered into subassemblies, which in the last couple of steps are put together into the whole assembly.
With R2-D2, the flow was:  head, main body, arms, feet, then major assembly onto the baseplate.  Each step required subcomponents—many quite small—bent appropriately and tabbed into larger parts.  At each step, those tiny tabs and slots were always perfectly matched… theoretical CAD/CAM perfection conclusively demonstrated.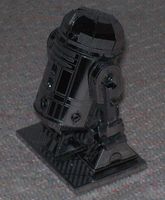 Once together, two substructures are joined by merely twisting or folding over each tiny tab.  These are quite sturdy enough, small though they are.  But having to un-bend or un-twist them is difficult and risks breakage.  Similarly, most fold lines are perforated, and are therefore easily bent… but they mustn't be re-bent in the opposite direction, upon realization that you've made a mistake.  In short:  read the directions, match the parts in your hand to the right diagram, and make sure you're doing the right thing before you twist or bend.
(I'm a fan of the 'Calvin & Hobbes' cartoon strip, and mourn its passing… but hold onto lessons from it, such as when our heroes took a WHOLE AFTERNOON to build a Phantom jet kit.  In the course of which, Hobbes asks, "Shouldn't we read the instructions?" –to receive Calvin's contemptuous comeback:  "Do I look like a sissy?")
Be a sissy:  follow Metal Earth's assembly instructions!
In ancient times, mere mortals like us had to appease the gods with offerings.  In our 'Enlightened Age' (!) we profess not to believe in the need for that… except that we modelers are in fear and awe of the Carpet Monster, who force sacrifices from us—like it or not—in the form of tiny irreplaceable model components.  What theology they follow at Metal Earth isn't stated, but they do provide spares for several of their tinier parts.  I had to use a couple, even though I try to frustrate the Carpet Monster by working over a tile floor.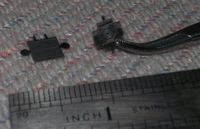 At the end, setting down the completed little R2-D2 gave a very satisfying sense of accomplishment.  After how long?  As I've written before, my modeling is not on any regular schedule, but rather Catch-as-Catch-Can. I don't keep logs of build times, like some of you more organized and conscientious builders. I bent small parts, and made subassemblies from them, in roughly 10-20 minute work sessions. Final gathering of the sub assemblies was done in one continuous two-hour time slot.  Probably the whole build took about 5 hours.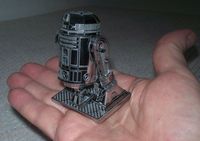 It seemed then that all in all, the work was much like for a good plastic model.  No one who's ever build one such should have any trouble with these metal kits.  If you've been adding lots of photoetch parts to your builds—replacement cockpits and wheel wells—you'll find working with Metal Earth parts a cinch.  Even with little or no photoetch parts experience, though, don't hesitate to try one of these kits.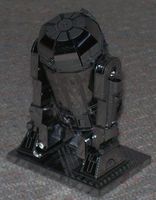 However, let's be clear on certain limitations of these models. Without compound curves, they cannot exactly follow the lines of the subject. There are visible seams between many of the panel edges. There is no reference whatsoever to painting or decals.  The closest to the latter:  some insignia is engraved into some larger panels on the aircraft models; there's nothing like that on R2-D2.
I wonder whether trying at least a bit of blue trim would improve the model.  I'm not contemplating painting most of his body white first, then trimming. I doubt the attempt would either look good, or show off this kit at its best.
These kits do not make a suitable basis for accurate scale modeling. They give a steel impression of their subjects.  An interesting build exercise in its own right; a break from conventional modeling; something different.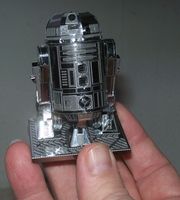 There's no shortage of subjects:
For tabletop architect/engineers:  how about a Ferris Wheel, London's Tower Bridge, the U.S. Capitol Building, Eiffel Tower, and Himeji Castle?
For armor guys:  Sherman, T-34, and Tiger I tanks
For airplane buffs:  Graf Zeppelin, Spirit of St. Louis, SR-71 Blackbird, Bell UH-1, and—how could there NOT be?—a P-51 Mustang
For space cadets:  Apollo Lunar Module, and the Mars Rover
For vintage auto fans:  the epitome of classic cool American 'iron':  the 1965 Ford Mustang
For model shipwrights:  the Titanic and Golden Hind
For seekers of the unconventional:  farm tractor, steam locomotive, San Francisco cable car
For Nature lovers ( or perhaps haters?):  a scorpion and a dragonfly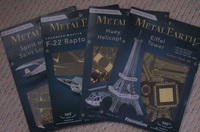 If the Star Wars saga interests you, there are more models than R2-D2.  Some equipment that appeared with our favorite hero-types:
Han Solo is better than Val Kilmer, Tom Cruise, and the other 'Top Gun' pilots—because they have to fire missiles and guns from their Tomcats to defeat the Bad Guys… whereas he effortlessly zips the big Millennium Falcon through asteroid belts with such skillful dodgeball tactics that pursuing enemy spaceships all crash and blow up.  The Falcon is a Metal Earth kit.  So are Luke's X-Wing Fighter, and Darth Vader's minions' Tie Fighter, and the big armored menace on the snow planet:  that AT-AT walking tank.
For aspiring citizens of that other space epic series, the Federation in the 24th Century, where our OTHER OTHER favorite stalwart heroes, Captains Kirk and Piccard, with Spock and Data and Worf, venture out on long space treks to overcome 'Perils of Pauline'-esque series of dangers from the nefarious Dark Forces…  There's a Klingon Bird of Prey, to oppose the 'D' version of your favorite NCC – 1701 starship!
This is not a comprehensive list, and probably since I wrote this article, more have been added.  Fire up your Web browser to see what's available from Metal Earth today.  They come from Fascinations®, whose slogan is "Wonders created by physicists".  IPMS contest-winning accurate replicas, they are not… but they are wonderful!