Internet Modeler : Features : Space/Sci Fi
RSS News Feed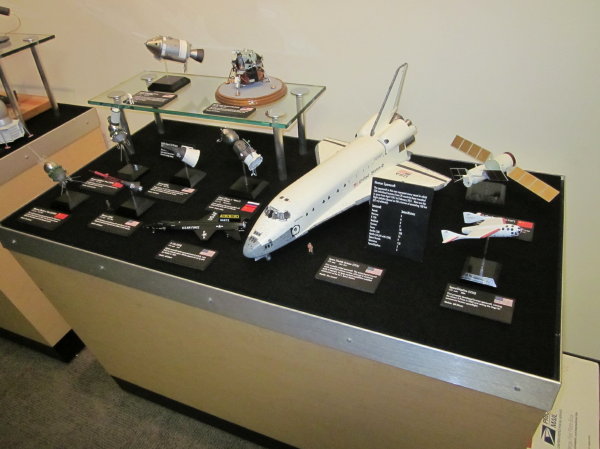 Museum of Flight Model Display: 50 Years of Human Spaceflight
Introduction
The NorthWest Scale Modelers (NWSM) club has partnered for close to 20 years with the Museum of Flight (MoF) in Seattle.  NWSM - the majority of whose "members" are also IPMS/Seattle members - puts on an annual model show in exchange for use of a room for its monthly meetings.  In recent years, that fruitful collaboration has expanded to include a full time presence in the MoF, featuring quarterly themed model displays near the entrance to the Personal Courage Wing.
Past Displays
Stephen Tontoni has been the primary ringleader of these displays, which are always planned in advance in cooperation with the MoF.  IPMS/Seattle members have also been key contributors to the exhibitions, which since 2006 have included:
Movie Aircraft
Liftoff! (50 years of space exploration)
Blue Angels & SeaFair
Dogfight! (WW2 aircraft)
Small Air Forces
Come Fly with Me! (Airliners)
Maximum Effort! (WW2 US Bombers)
50 Years of NASA
The Great War in the Air
Spanish Civil War
Naval Aviation
Bent Throttles! 100 Years of Air Racing
Fantastic Voyages: Hardware of Science Fiction
Firsts/Record Setters
Strangers in a Strange Land (Captured Aircraft)
Summer of Titans: The Battle of Britain
Korean Air War
Human Spaceflight
With April 12, 2011 marking the 50th anniversary of Yuri Gagarin's flight aboard Vostok 1, the first human spaceflight, Ron Hobbs of the MoF asked NWSM to stage a display commemorating the event and its aftermath.  Stephen approached me to organize the display.  Planning and recruiting began in early 2010 and the display was installed on February, 3, 2011.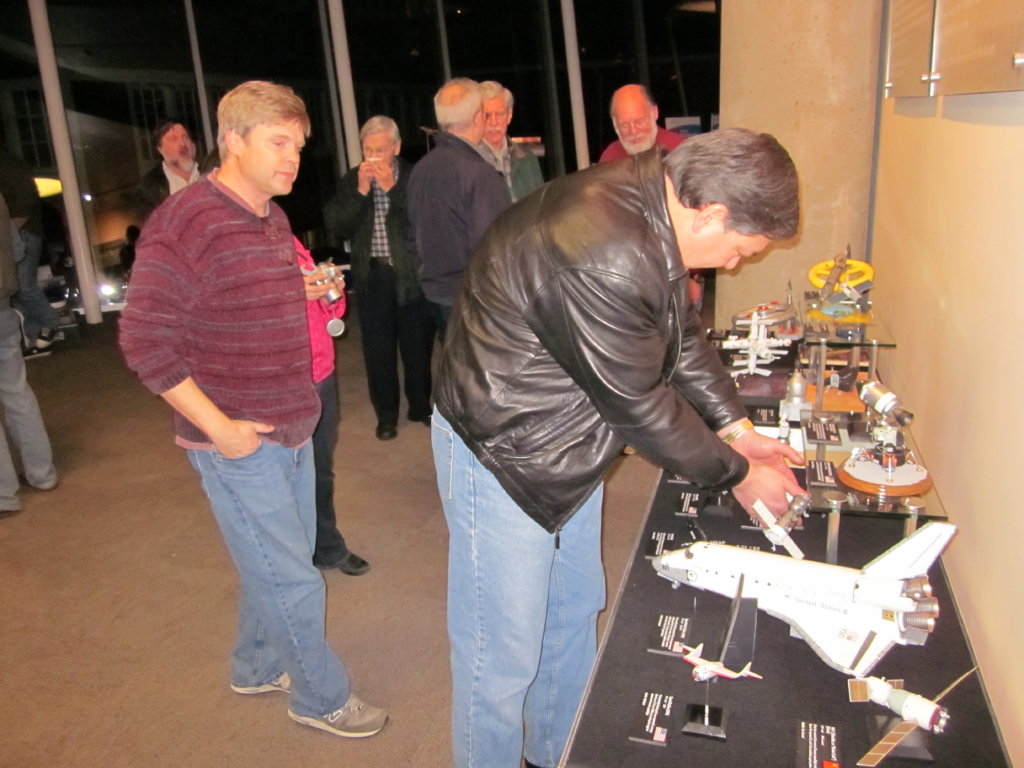 From the beginning, it seemed appropriate and more important - really cool - to include models of every flown human spacecraft in a common scale.  1/72 was really the only choice there, driven by the very large space shuttle orbiter.  This collection turned out as planned - really cool - and fills one of the two display cases.  It consists of the following models:
Восток (Vostok, or "East") (USSR) - RealSpace, Don Conrard
Mercury (USA) - RealSpace, Bill Glinski
X-15A (USA) - Revell/Monogram, Bill Glinski
Восход (Voskhod, or "Dawn") (USSR) - RealSpace, John Summerford
Gemini (USA) - RealSpace, Bill Glinski
Союз (Soyuz, or "Union") (USSR / Russia) - RealSpace, Morgan Girling
Apollo Command / Service Module (CSM) (USA) - RealSpace, Bill Glinski
Apollo Lunar Module (LM) (USA) - Airfix, Paul Peterson
Space Shuttle Orbiter (USA) - Monogram, Don Conrard
神舟 (Shenzhou, or "Divine Craft") (China) - Trumpeter, Don Conrard
SpaceShipOne (USA) - AModel, Bill Glinski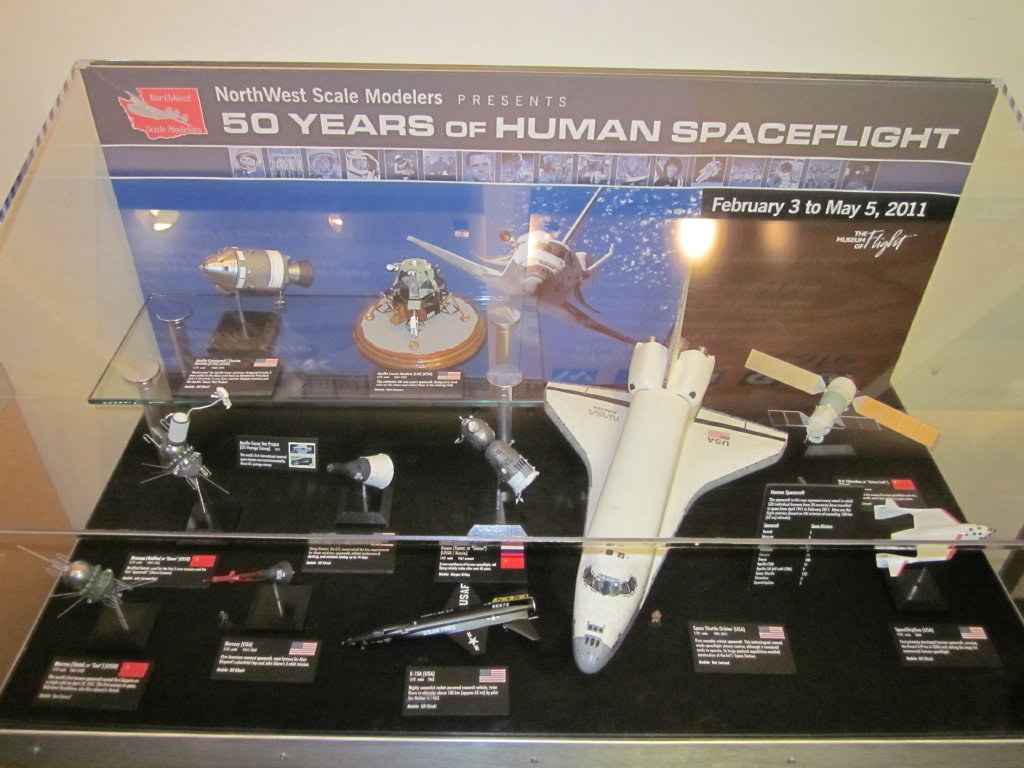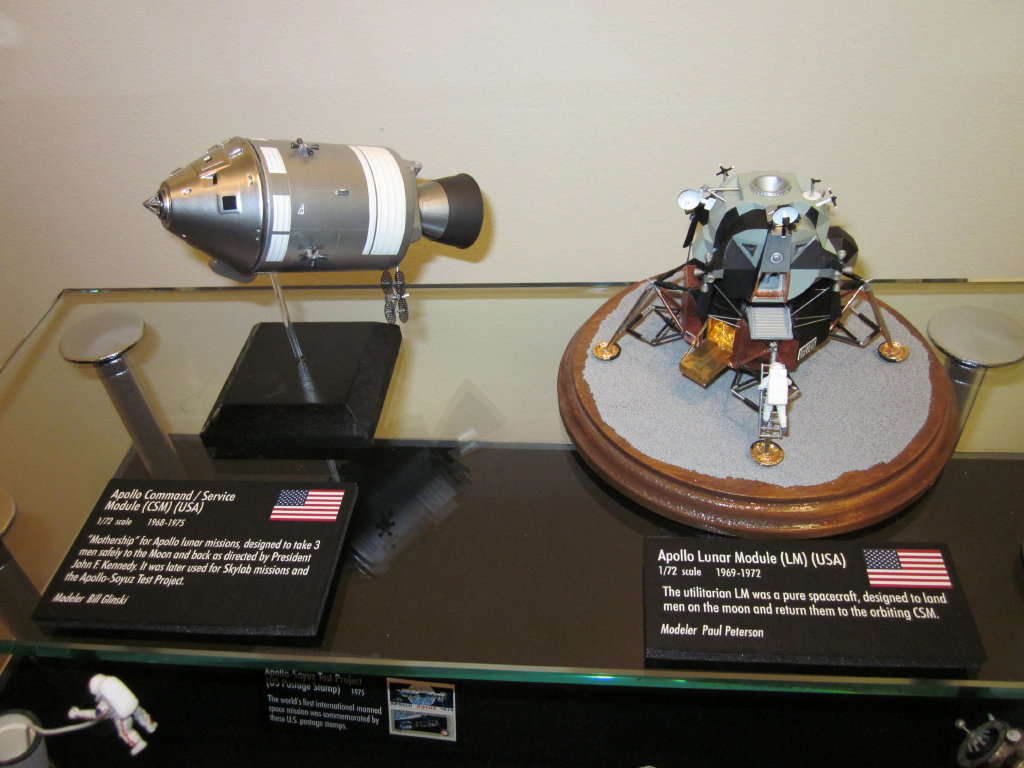 The human spaceflight story is more than just these spacecraft, however.  The visions of people like Robert Goddard, Wernher von Braun, Willy Ley, Chesley Bonestell, and others are represented by a diverse collection of rockets, space stations, and other varied vehicles in (and above!) the other display case.  This collection consists of the following models:
Goddard Rocket (1/72, Scratchbuilt, Jim Schubert)
V-2 (A-4) (1/72, Condor, Jim Schubert)
3 Stage Rocket (Von Braun)  (1/265, Glencoe, Neil Makar)
Soviet LEK Lunar Lander (1/72, Paper model (Jon Leslie site), Scott Kruize)
Boeing / USAF X-20 Dyna-Soar (1/48, Collect-Aire, Ralph Braun)
USAF Manned Orbital Laboratory (1/144, New Ware, Tim Nelson)
Space Station (Collier's Magazine) (1/350, Lindbergh, Terry Moore)
Space Station (Disney)  (1/300, Glencoe, Steve Hilby)
Convair Atlas Space Station  (1/98, Hawk, Steve Hilby)
Space Station Салют 1 (Salyut, or "Salute") and Soyuz 11 (1/144, New Ware, Tim Nelson)
Space Station Мир (Mir, or "Peace") (1/144, Revell/Monogram, John DeRosia)
Orion (Constellation) (1/72, Paper model (Jon Leslie site), Ron Hobbs)
Skylab (hanging overhead) (1/144, Paper model (Jon Leslie site), Tim Nelson)
International Space Station (hanging overhead) (1/144, Revell AG, John DeRosia)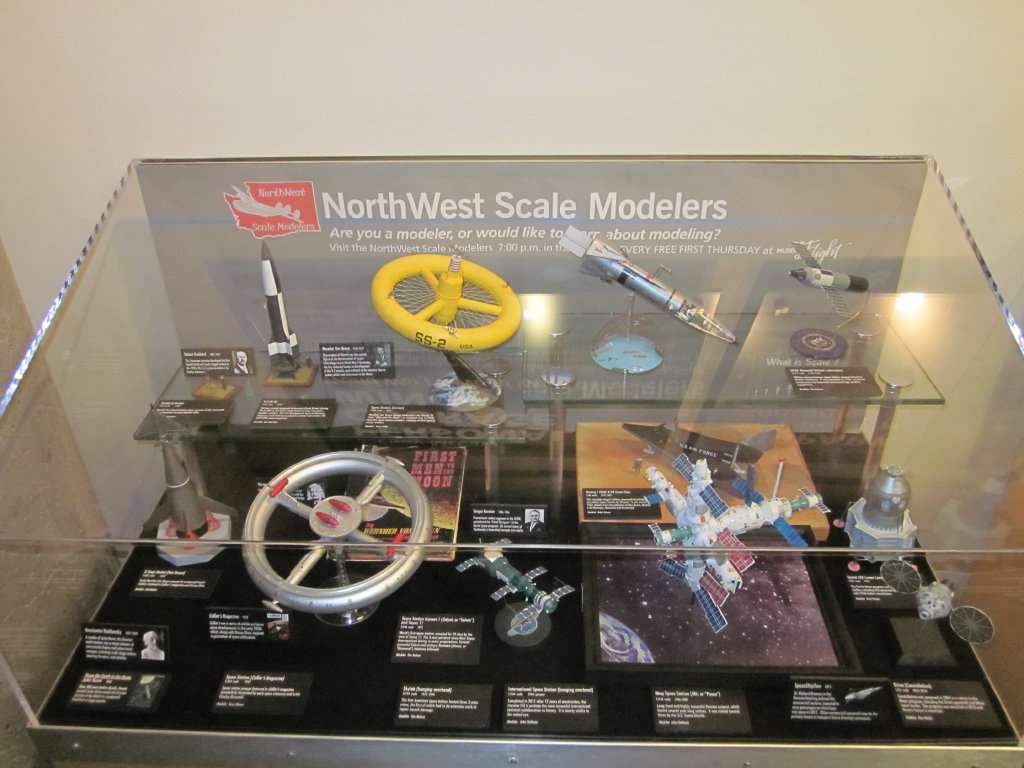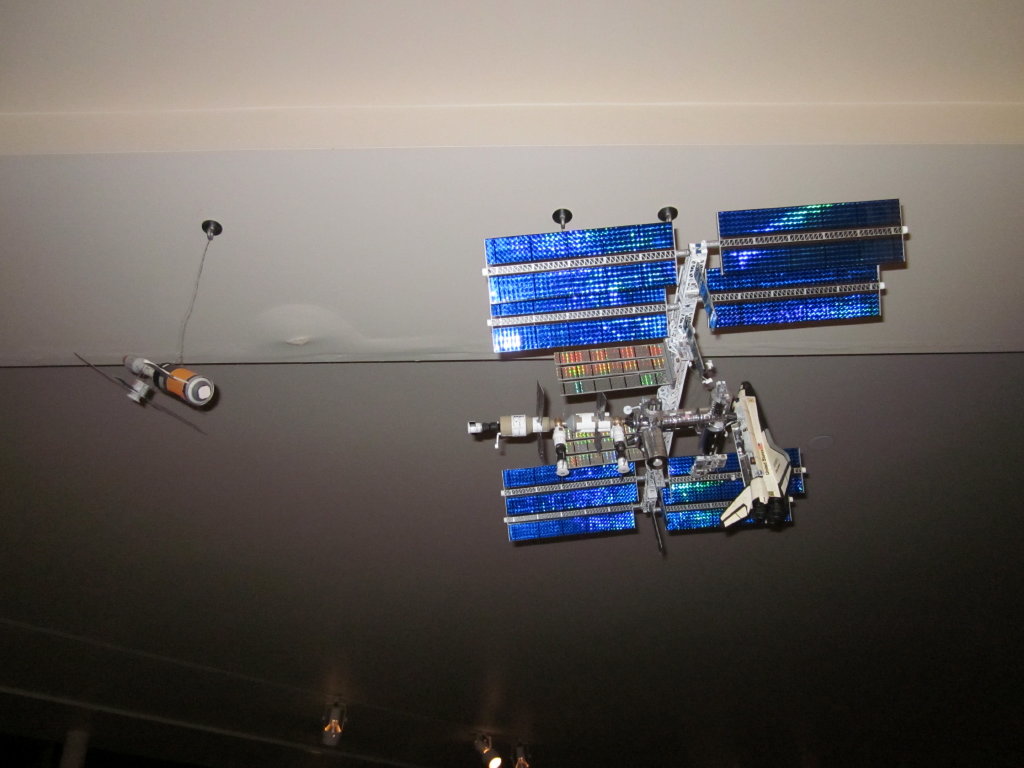 Thanks to all of the modelers whose hard work made this display a success.  Bill Glinski in particular, did yeoman work to build 5 models specifically for this display.  Working with the MoF, hanging models have become a recent enhancement to these displays; what more can be said about John DeRosia's spectacular ISS? (Quite a bit, as it turns out - see John's article that will accompany this one in due course.)  It was a treat to have the MoF's own Ron Hobbs contribute a model.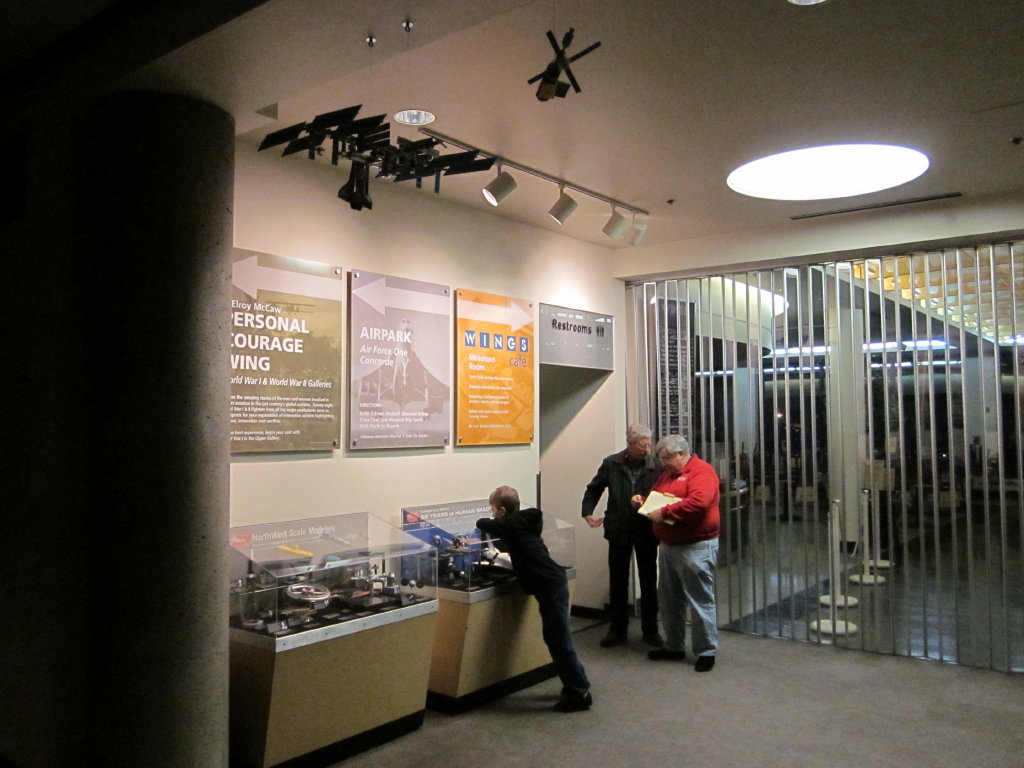 You have until May 5, 2011 - the 50th anniversary of Alan Shepard's 15 minute sub-orbital flight aboard "Freedom 7", as it turns out - to come enjoy this exhibit.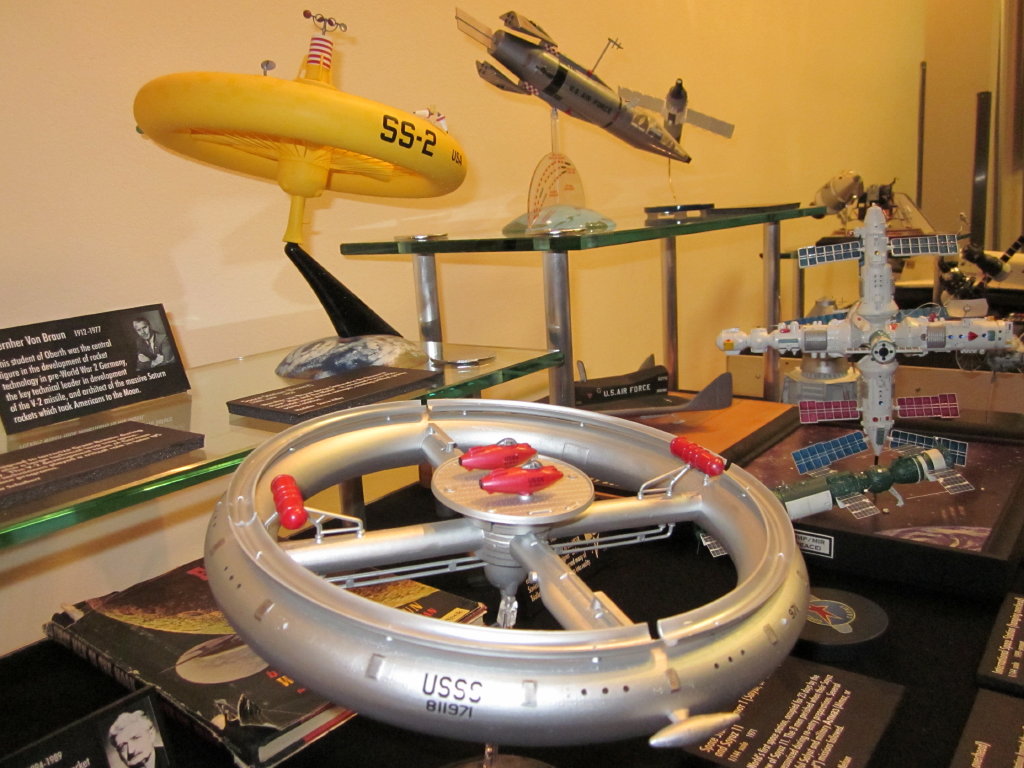 Future Displays
Looking ahead, future committed NWSM displays at the MoF include the following:
Barbarossa: The Eastern Front
100 Years of U.S. Navy Aviation
Swords <=> Plowshares
Pacific War: The Beginning (Pearl Harbor, CBI, Coral Sea, Midway, etc.)
Air War Falklands/Malvinas
Air War Western Desert (WW2)
Yellow Peril! (Training Aircraft)
The Boeing Company
Conquistadors of the Sky; Latin American Aviation
Fighters of the Axis (WW2)
Bump Cowls and Wheel Pants: Aviation's Golden Age
Arab/Israel Wars (1967 and 73)
If you're in Seattle, come check out the Museum of Flight and the NWSM model display.  In your own hometown, look into the possibility of your model club collaborating with a local museum or library - it's a natural partnership that's a win-win for everyone involved.
References
Museum of Flight, Seattle, WA
Jon Leslie's Lower Hudson Valley Paper Model E-Gift Shop (wonderful site full of great paper models of space fact and fiction)