Internet Modeler : Features : Special Reports
RSS News Feed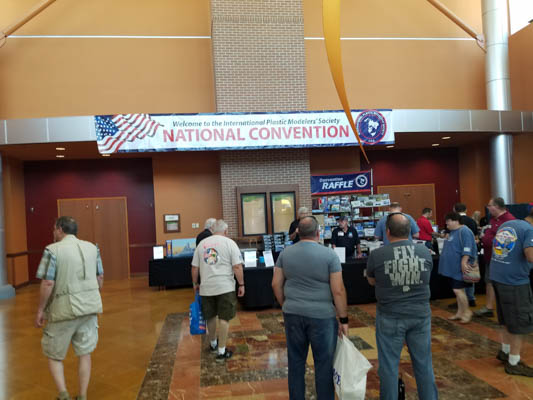 IPMS/USA Nationals in Omaha, Nebraska, 2022
IPMS/Fort Crook in (and mostly around) Omaha, Nebraska, put on another stellar IPMS/USA National Convention and Contest, their fourth. The first contest was "way" back in 1994 and to a person just getting into competitions it was a remarkable event. But, their latest three - 2012, 2017 and the newest, 2022 - were even better and, in the end, way better run. Fort Crook now has it down to a science and IPMS/USA should be proud of what they have accomplished.
Okay, full disclosure. I had - have - been a member of IPMS/Fort Crook since I was a wee 2nd Lt., newly stationed at Offutt AFB, NE, back when it was still the Strategic Air Command (SAC). I have formed lasting friendships and consider all of the IPMS/Fort Crook members the best of the bunch and all my friends. Heck, they still let me come to town and regale them with tales from the correct scales, er, 1/144 and 1/72 modeling worlds.
In any event, they put on a heck of a Convention. Everything is in place and if you ever need anything, ask any of them. Scott Hackney is the best at being the Convention chair and his wife Nancy is helping every step of the way. Heck, all of the significant others of the members are there helping out, ensuring a first-rate experience.
Were there problems? Probably, but the general masses had no idea, it's always so well ran. Truly, the members of Fort Crook - and other helpers, especially from IPMS/Lincoln - are there to help and ensure everything seems to be running smoothly.
Of course one of the most important items at the show are the vendors, and while it seemed like there were less than 2017, it wasn't because there weren't enough. It was because of people not wanting to travel or vendors from the past that truly no longer existed. But still, there was a lot to peruse and it truly was the largest hobby shop in the world, for that time.
Now an explanation of the images I provide. Most of the coverage - during and after - tends to concentrate on the larger models, and leaves out a lot in 1/72 and 1/144. Of course it comes down to personal preference, but me, I prefer 1/144 and 1/72. So you'll see mostly images of models in those scales. In addition, I tried to take photos of the Arma Hobby kits that were entered as well because I am impressed with their quality and subject matter as of late, and really wanted to see how other modelers were tackling their kits.
Regardless, it was a great time and I definitely hope they host again, albeit with a new team. Scott and company have been doing this for three Conventions already.
.