Internet Modeler : Features : Special Reports
RSS News Feed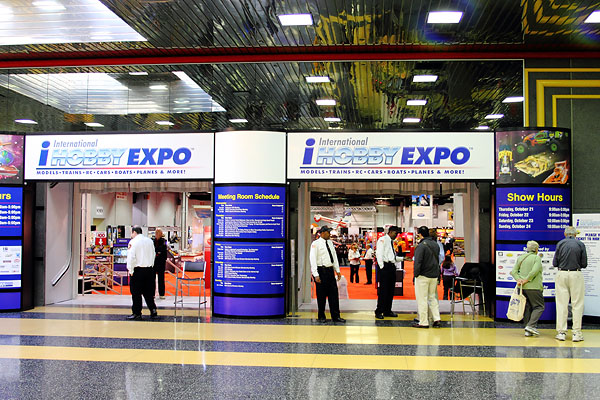 iHobby Expo 2010
It's that time of year again, when industry leaders descend on Chicago and offer up their latest news at the iHobby Expo. This year seemed a bit better in turnout over last year, although I'd wait for final official numbers to verify any of that. The overall impression in talking with a great many people, though, is that the economic downturn over the last couple of years might be turning upward. That's nothing but good news for us on the receiving end, as we can expect to see some great stuff coming down the road.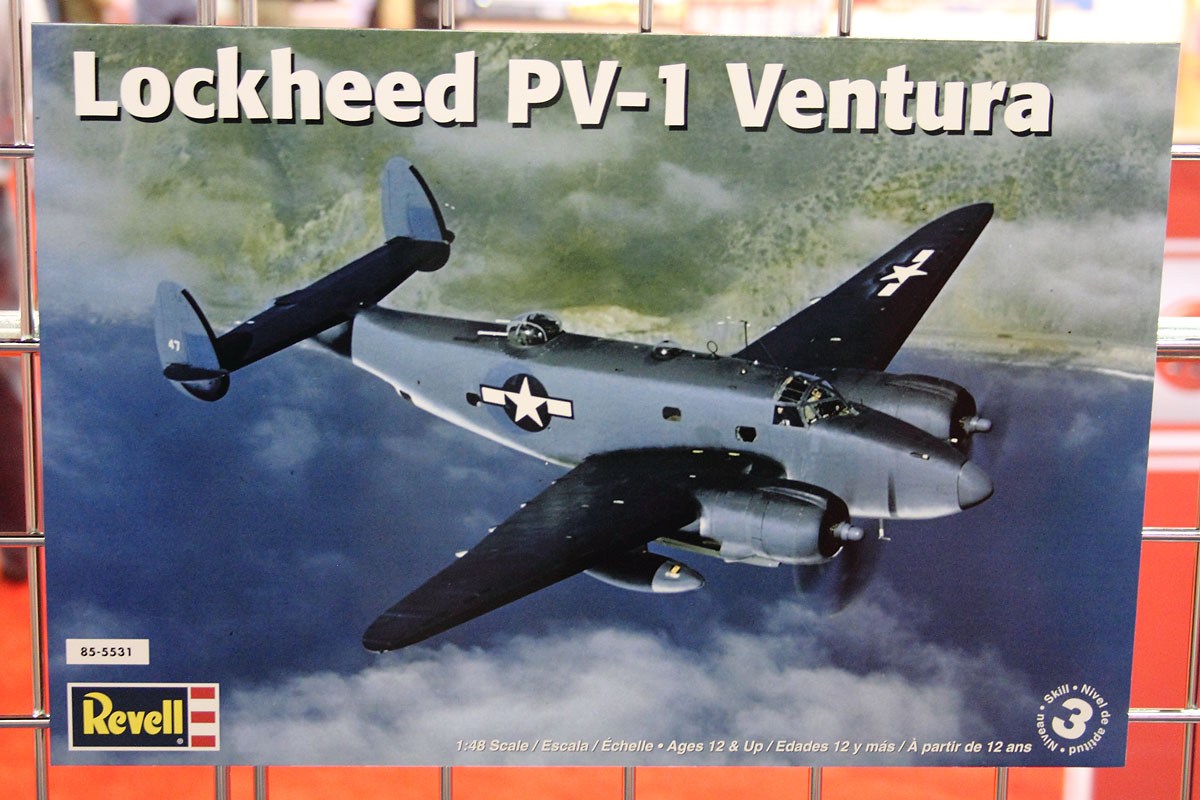 Starting off with the kits, the big news (old news for those who were following my posts on our Facebook page) is the upcoming 1/48 Lockheed PV-1 Ventura by Revell. This is their first new-tool aircraft kit in quite a few years, and scuttlebutt has it that we will be seeing a continuation of this trend in the future, with new tooling in aviation kits showing up in following years as well. What those subjects might be, no one knows, but there are quite a few classical subjects that desperately need to be done (like the Ventura). Extending their relationship with Revell Germany, we will also see reboxings of the large 1/32 He 111P and the new 1/72 B-17 under the Revell ProModeler line. Popular reissues will include the 1/72 B-52 with X-15 and a resurrection of the old Renwal Blueprint series, starting with the 1/32 Self-Propelled Howitzer.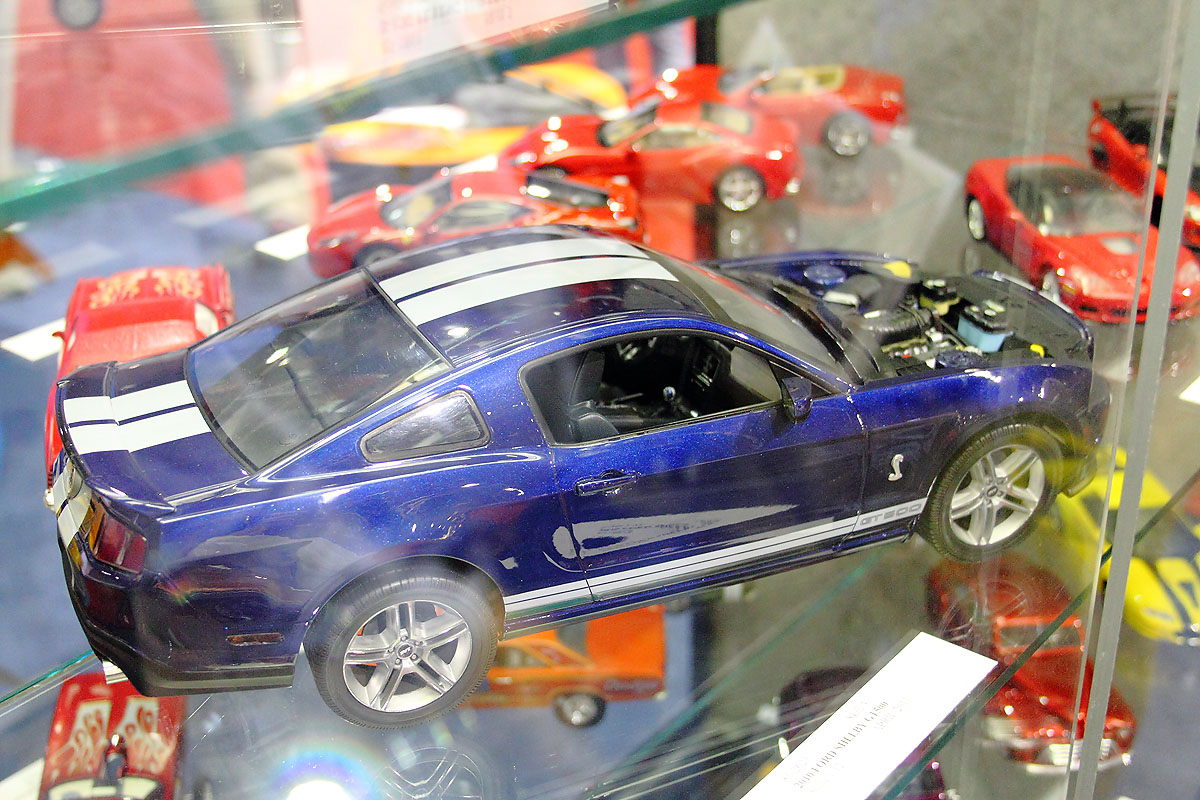 In another new move by Revell, we will see their first new-tool 1/12 car kit in many, many years. This will be the 2010 Ford Shelby GT500, and the build up sure looked every bit the part of this modern Mustang classic. In the more traditional scale of 1/25, we'll see a 2010 Camaro SS, two Ferraris (okay, in 1/24; the 458 Italia and the California), and some classic muscle in the form of a 1970 Plymouth Superbird, a 1969 Chevy Nova, and a 1962 Chevy Impala SS.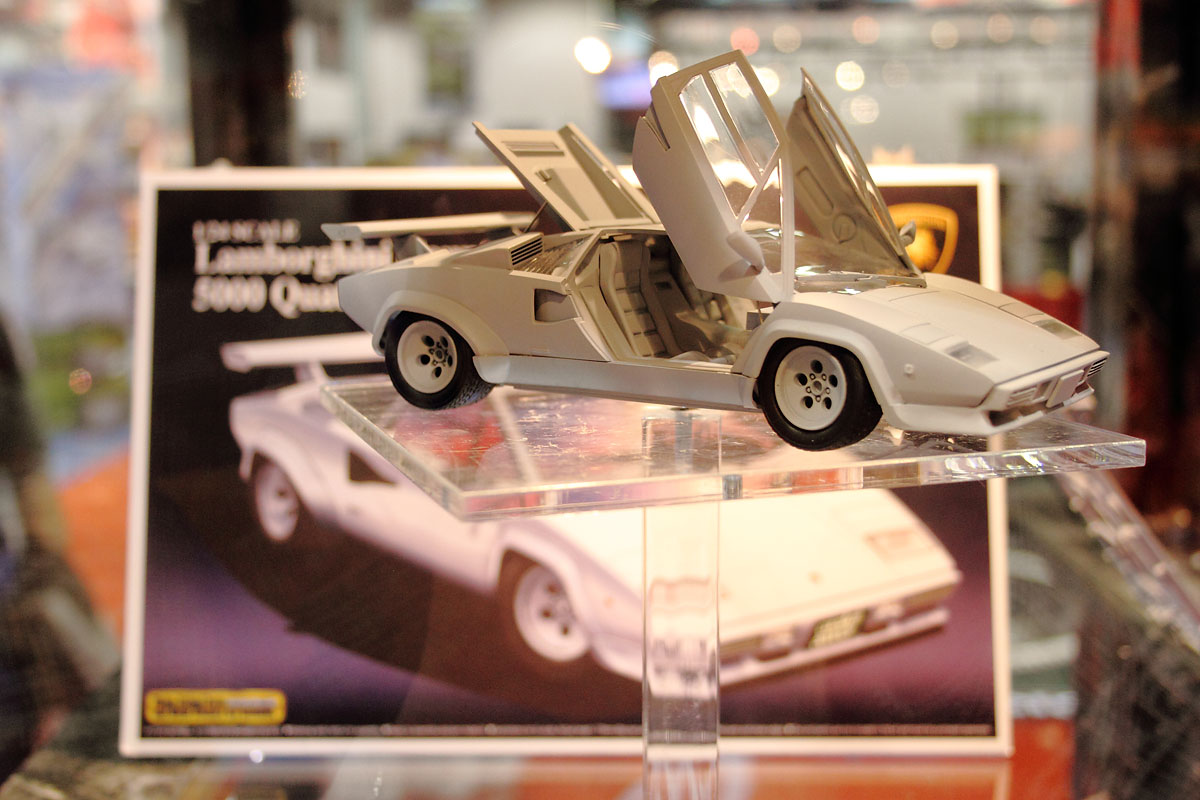 While on the subjects of cars, Aoshima at the MRC booth had test shots of their new Lamorghini Countach. These include both the Countach LP400 and the 5000 QV. The build-up and sprue shots looked very impressive, with extensive detail. Also from Aoshima is a new-tool 1/350 PT-boat set that includes a PBY Catalina. Detailing throughout those two kits are very impressive, and should make for a great small project. For the more esoteric, yet still interesting, Aoshima has also produce a 1/32 model of the
Muses-C
space vehicle. This small vessel was designed to land on an asteroid and then return to Earth.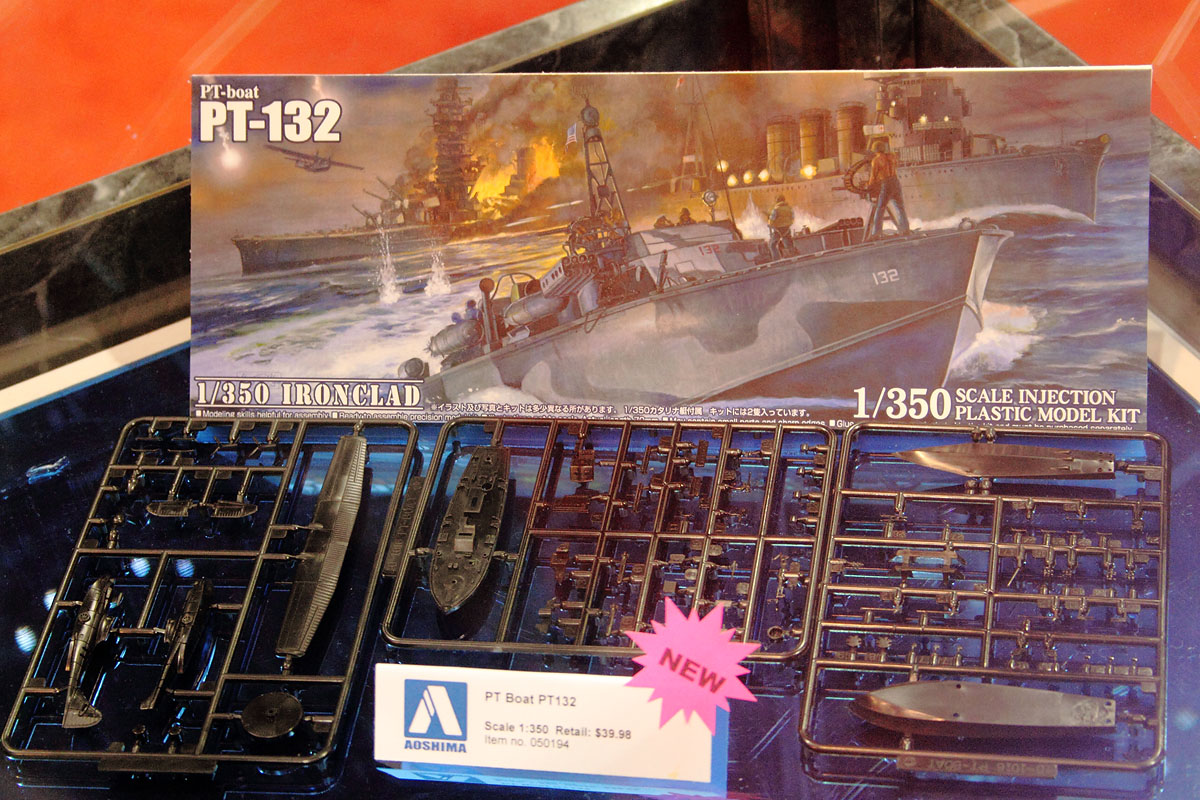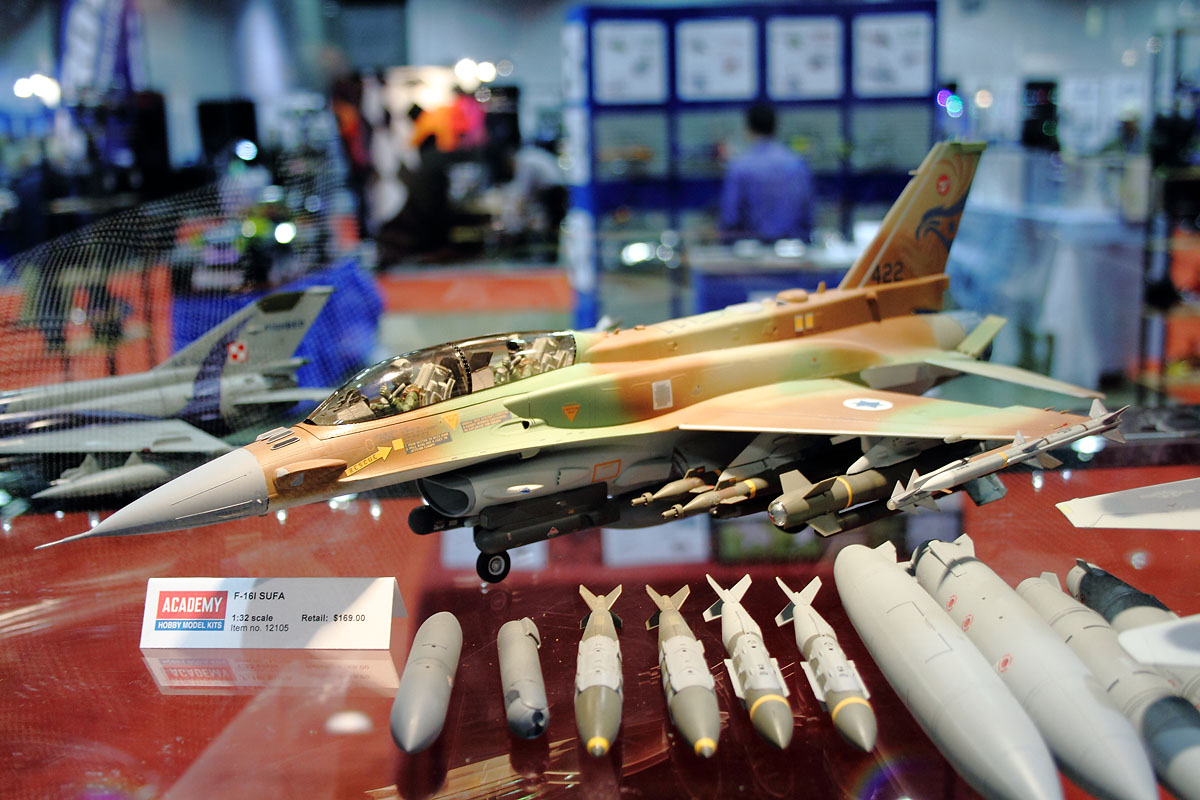 While still at the MRC corral, Academy had a few items on display, including an impressive build-up of the 1/32 F-16I and the 1/48 MiG-21 in Polish markings. Also in the same case was a build-up of the 1/48 F-15C MSIP-II, while the box for the 1/48 F-111C was on display. Mentioned in the catalog, but not on display, is the new-tool 1/72 F-4B Phantom II (let's hope this is just the beginning of a new Phantom phamily) and several 1/144 aircraft: F-22, Eurofighter Typhoon, Rafale, and JAS-39. Armor had a few new items in the case, including the ROK Army K9 Thunder self-propelled howitzer.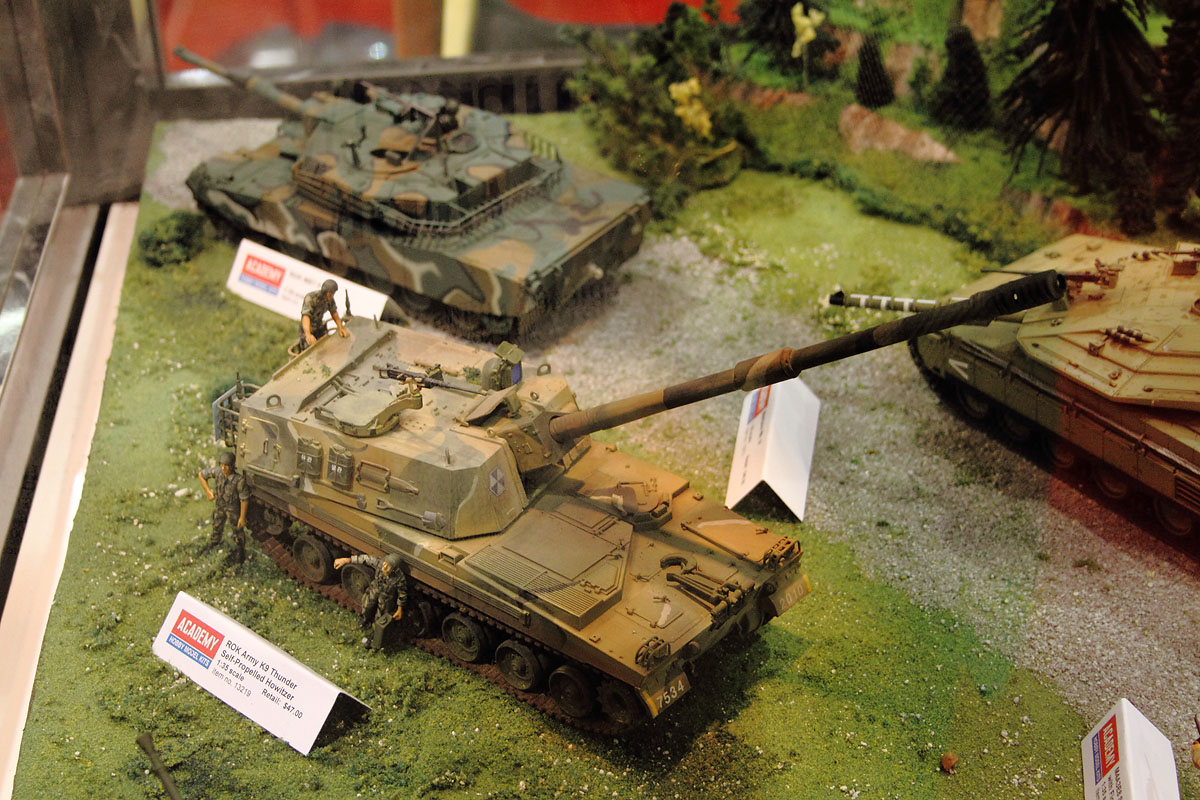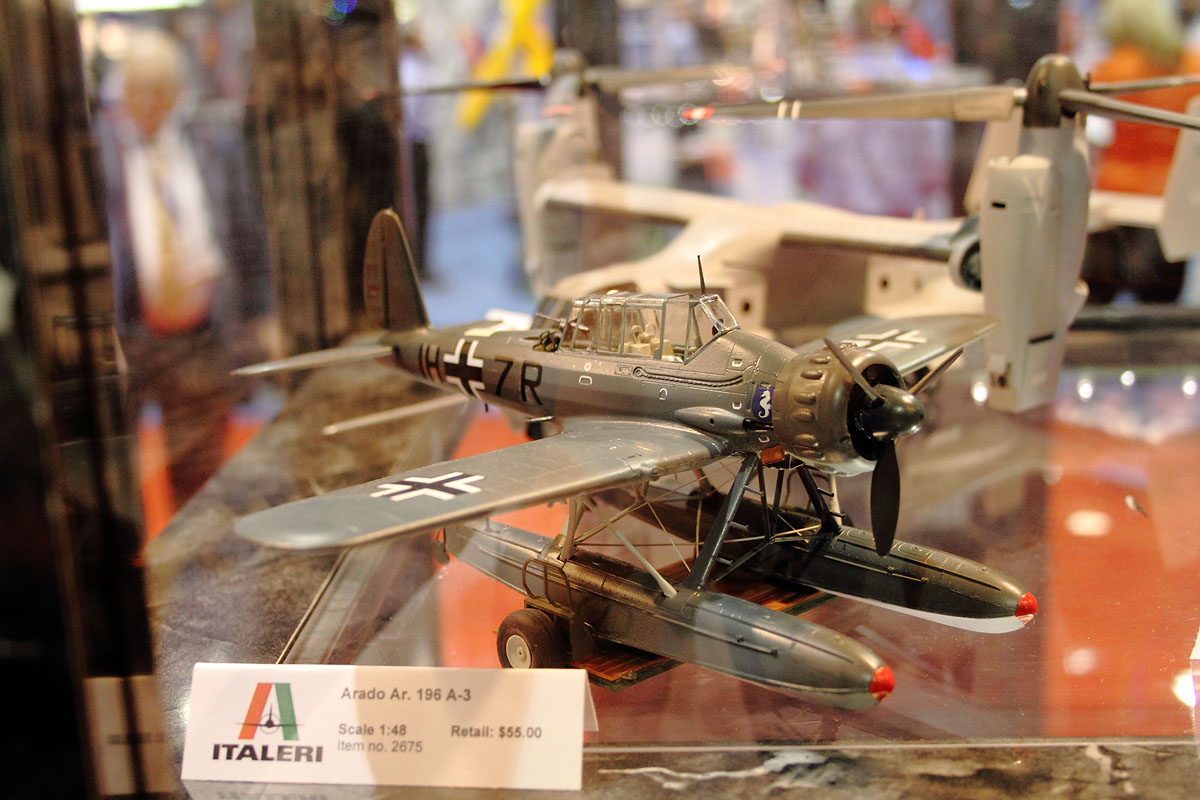 On the Italeri side, the display selection was pretty light as well. While the 1/48 E-2C Hawkeye took up much of the case, tucked away on the side of it was the 1/48 Arado Ar 196. It seems that this famous German floatplane has really been getting some good attention lately, with new kits in both 1/48 and 1/32 (the latter due out from Revell shortly). In box form was the 1/35 German U-boat Biber and the 1/48 German Weapons set. The latter looked to be quite thorough, covering all sorts of WW2 Luftwaffe bombs.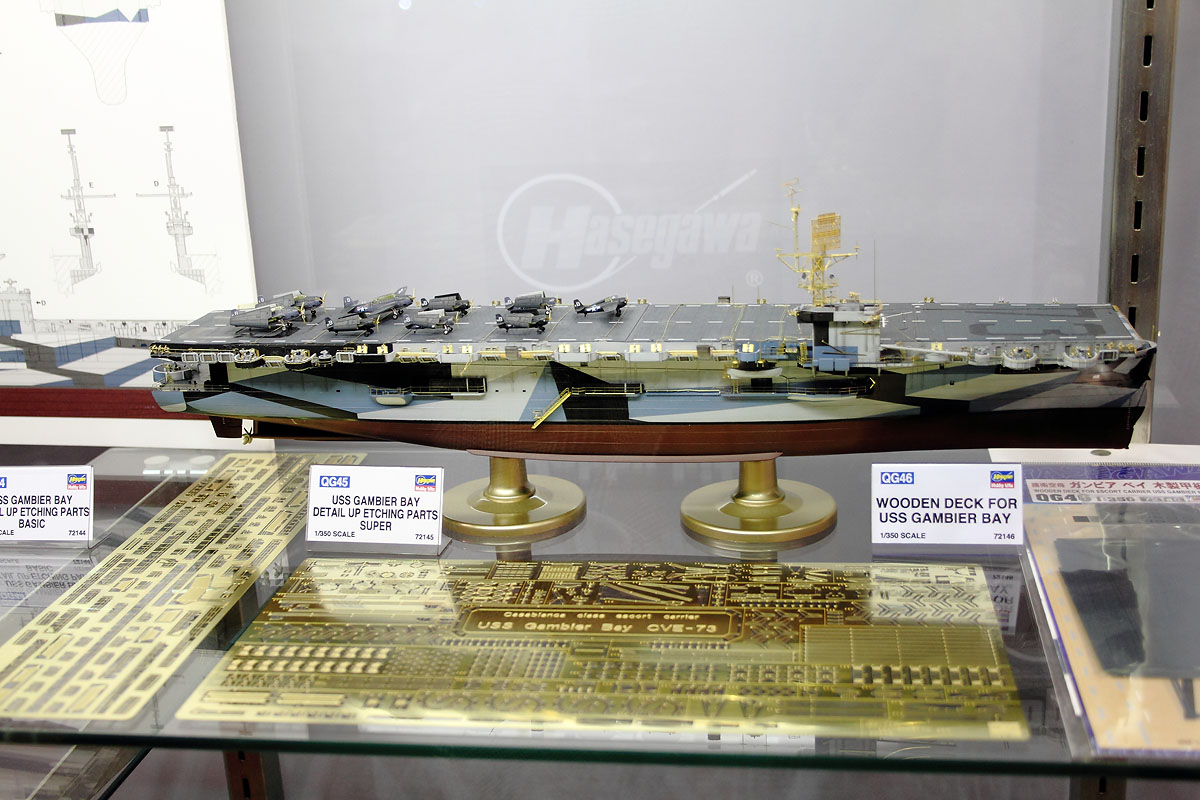 Hasegawa was at this show, and their booth had a very impressive build-up of the upcoming CVE-73 USS Gambier Bay. This looks very impressive out of the box, but Hasegawa has gone one step further. Well, okay, four steps further, with two photoetch sets, a wooden deck set, and an aircraft set. The photoetch is separated into a basic railing set and a much more detailed set providing cranes, antennae, and even propellers for the aircraft. The wooden deck looked very good in the packaging, while the aircraft covered Wildcats, Dauntlesses, and Avengers.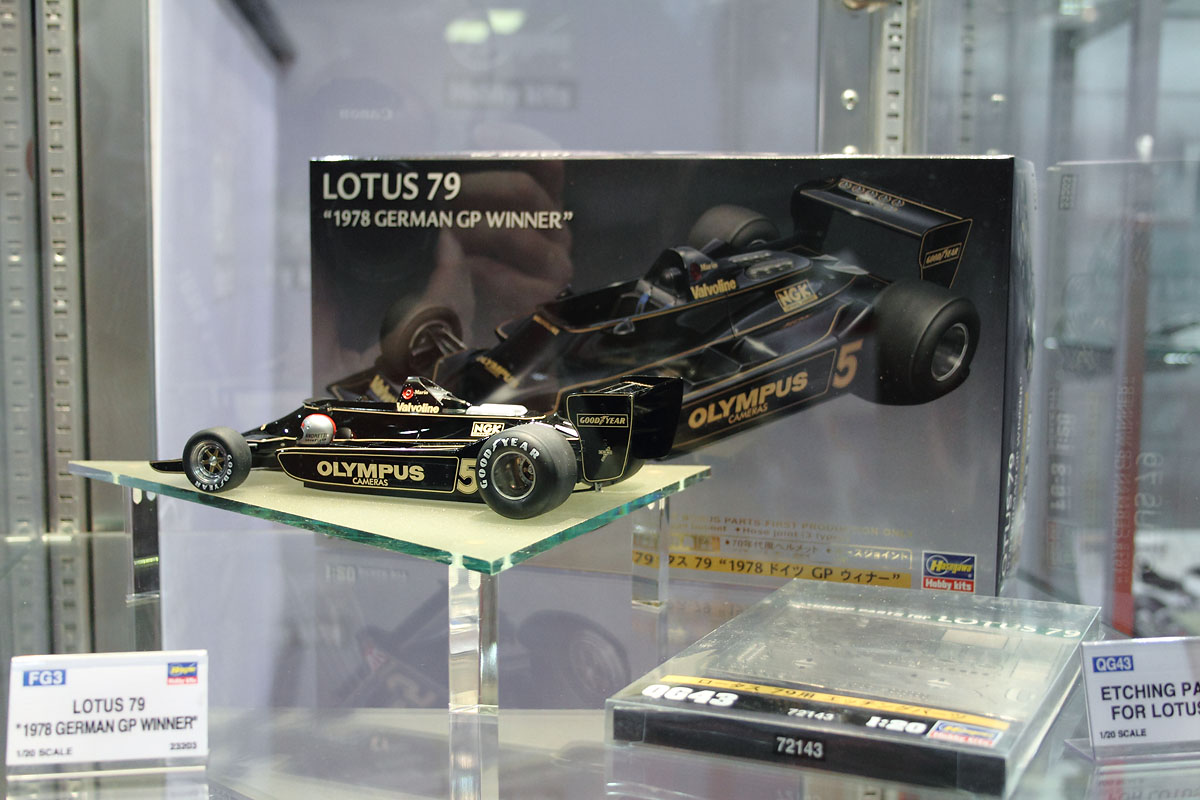 For aircraft, Hasegawa had a handful of nicely done build-ups of some of their latest releases. These included the 1/72 F-16I, the 1/32 Bf 109F-4 with Hans-Joachim Marseille, the 1/48 F-22, the 1/72 Ju 188, and the 1/144 Embraer E170. For those more interested in space vehicles, Hasegawa is releasing their 1/200 Space Shuttle with the Hubble Telescope, as well as with the 747 carrier aircraft. Other upcoming releases, all in 1/72, include an Fw 190D-9 combo and an I-16 combo, a Harrier GR.9, a Mitsubishi G3M, an E-2C Hawkeye, and an RF-4B. On the automotive front, Hasegawa has a couple new 1/20 race cars, the 1978 Lotus 79 German GP Winner and the 1975 Ferrari 312T Monaco GP Winner. Both of these kits also have add-on etched part sets available for those wanting extra detailing.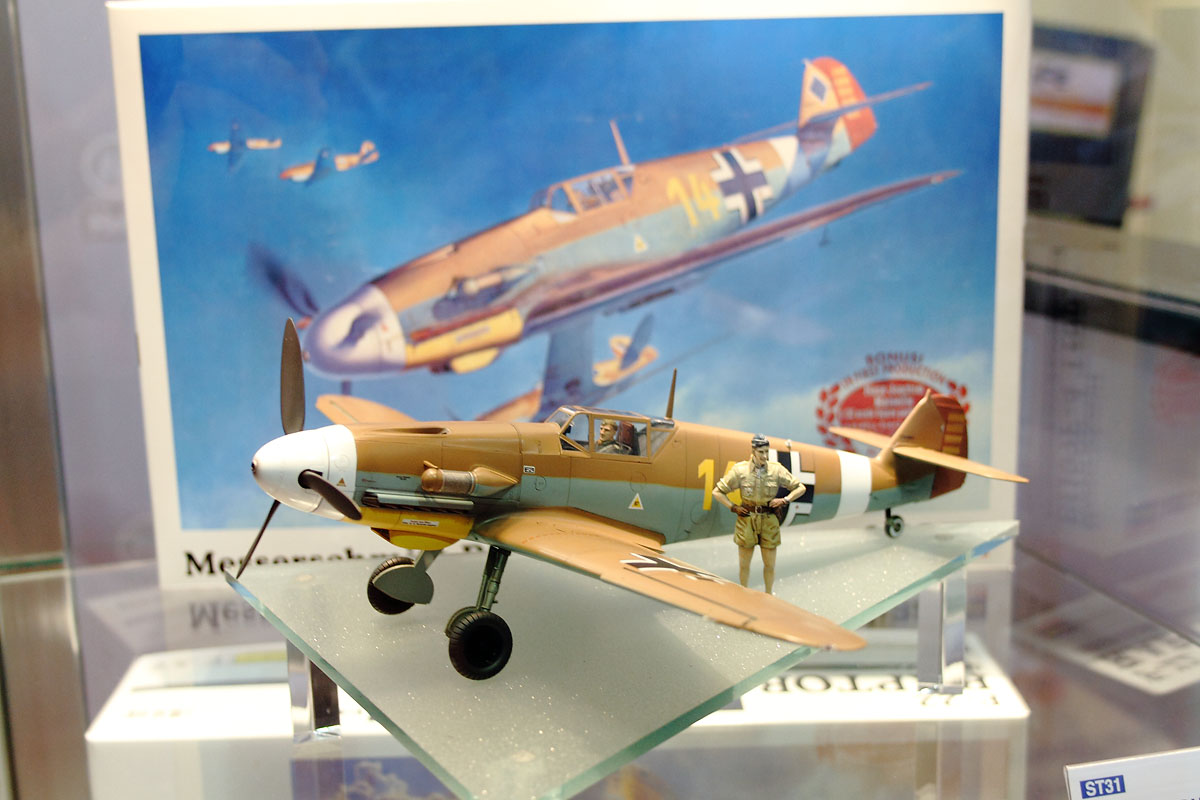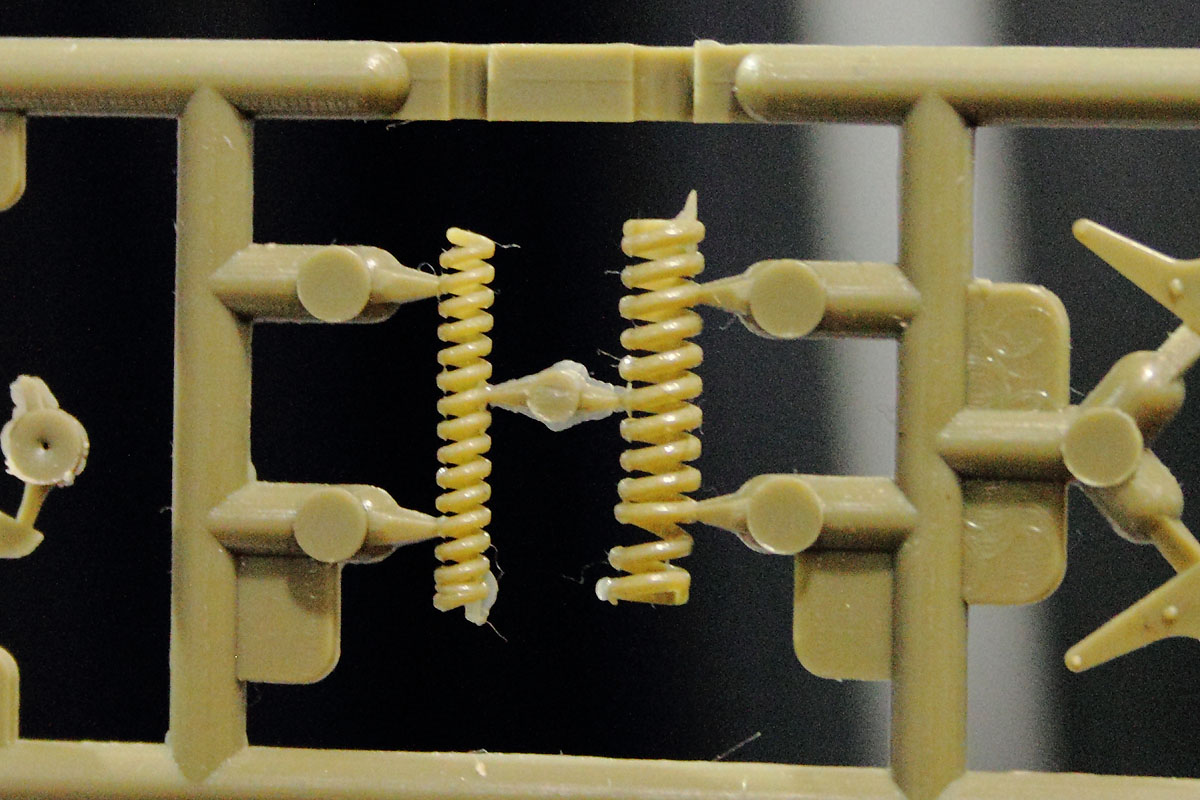 Merit International is a name not many know, but they are the US distributor for AFV Club, and they had some of their latest subjects on hand. A test shot of the 1/48 F-5F was rotating in their display case, but the most impressive stuff has to be reserved for their armor subjects. The 1/35 M2A1 105mm Howitzer really has to be seen to be believed. So, here, you can see it: injection molded functional recoil springs. Yes, you heard that right, FUNCTIONAL recoil springs. In injection plastic. This was truly amazing to behold, and the rest of the detail is not far behind. Plans for this one are to create accurate 105mm howitzers from both WW2 and Vietnam.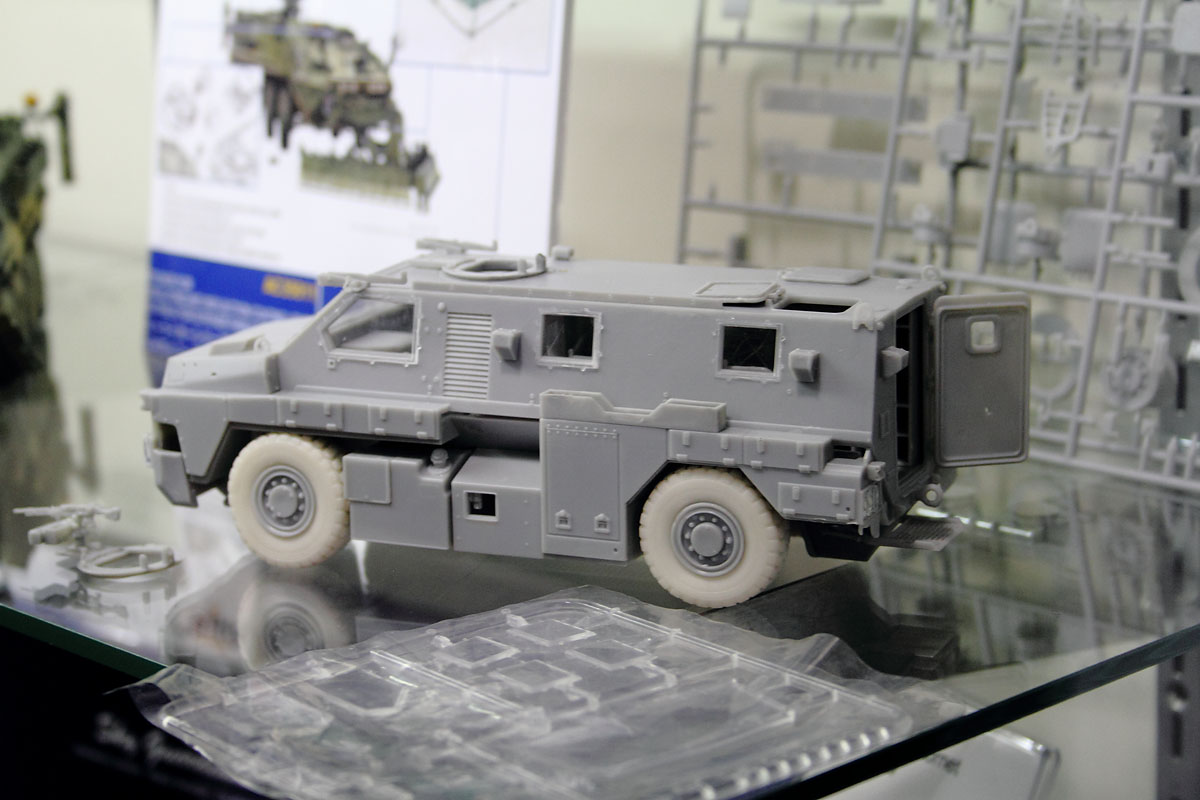 A new kit on display was the Bushmaster 1/35 M-RAP. Now I'm not too familiar with modern armored cars, but this one looks really neat. Good detailing throughout, and it should make for a really interesting piece on the shelf. Opposite that kit on the shelf was AFV Club's latest submarine kit, in 1/350 scale. For those wanting a nice Gato Class submarine in 1/350, this kit looks to fit the bill. There were two upper hull pieces shown, marking two different variants in limber holes. Expect multiple versions of this kit in the future (perhaps even a post-war Balao? We can hope).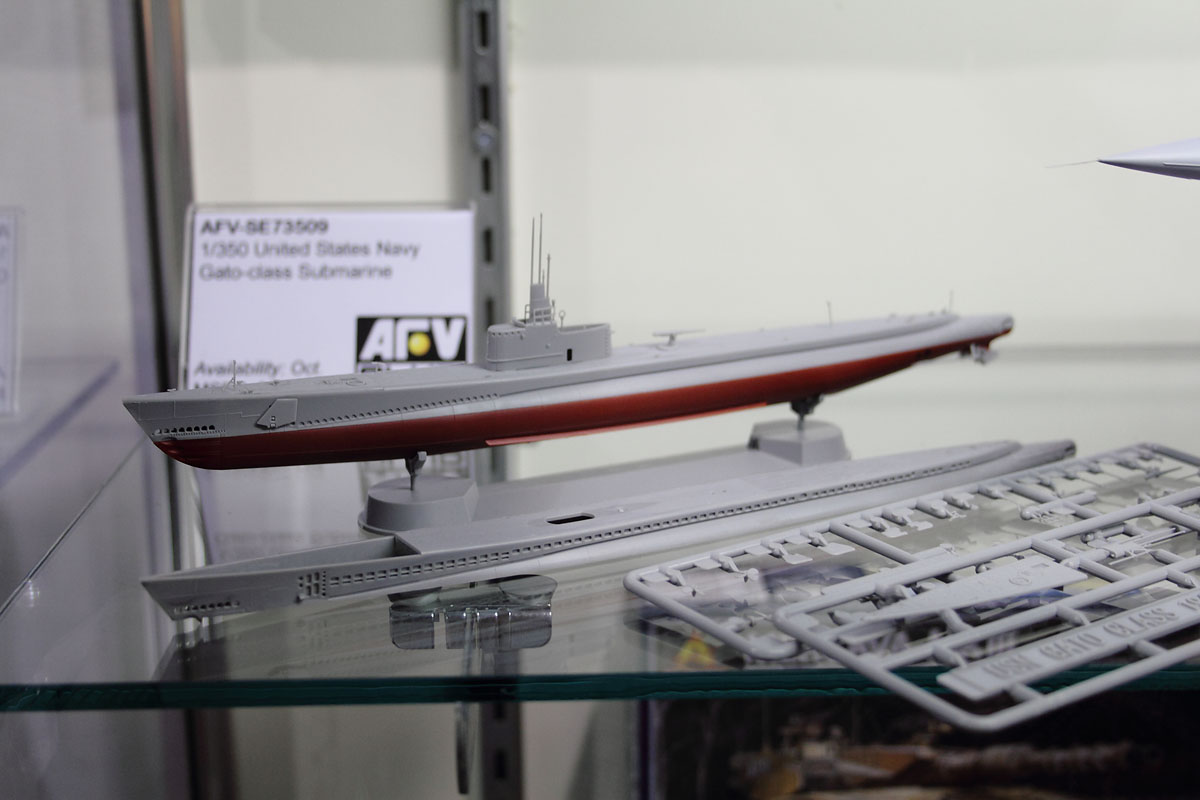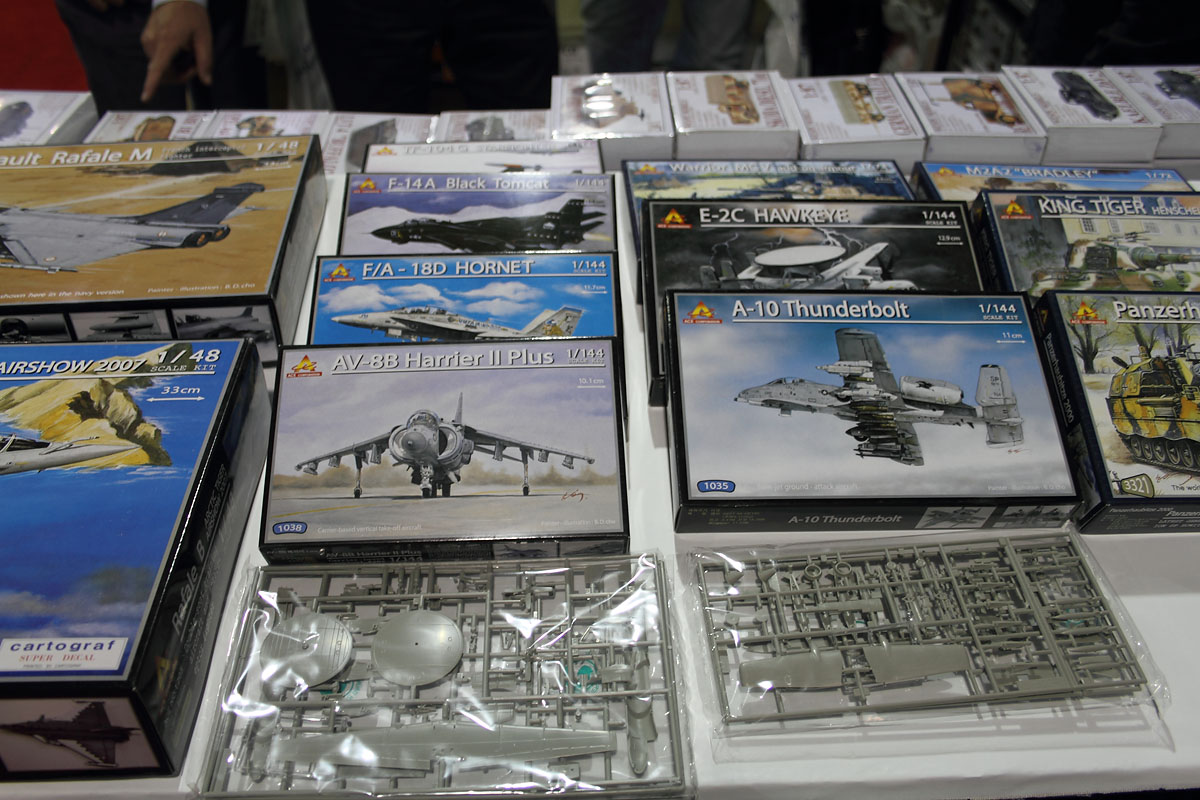 Finally, there was a large selection of kits on display from Ace Corporation. These are reboxings of other manufacturer's kits (note, these ARE reboxings, not poor copies like a different Ace company did back in the 1980s). The lineup is impressive, with quite a few 1/144 aircraft, some 1/72 armor, and a couple 1/48 aircraft. These include the 1/144 E-2C Hawkeye & TF-104G, the 1/72 King Tiger with Henschel turret, and the 1/48 Dassault Rafale.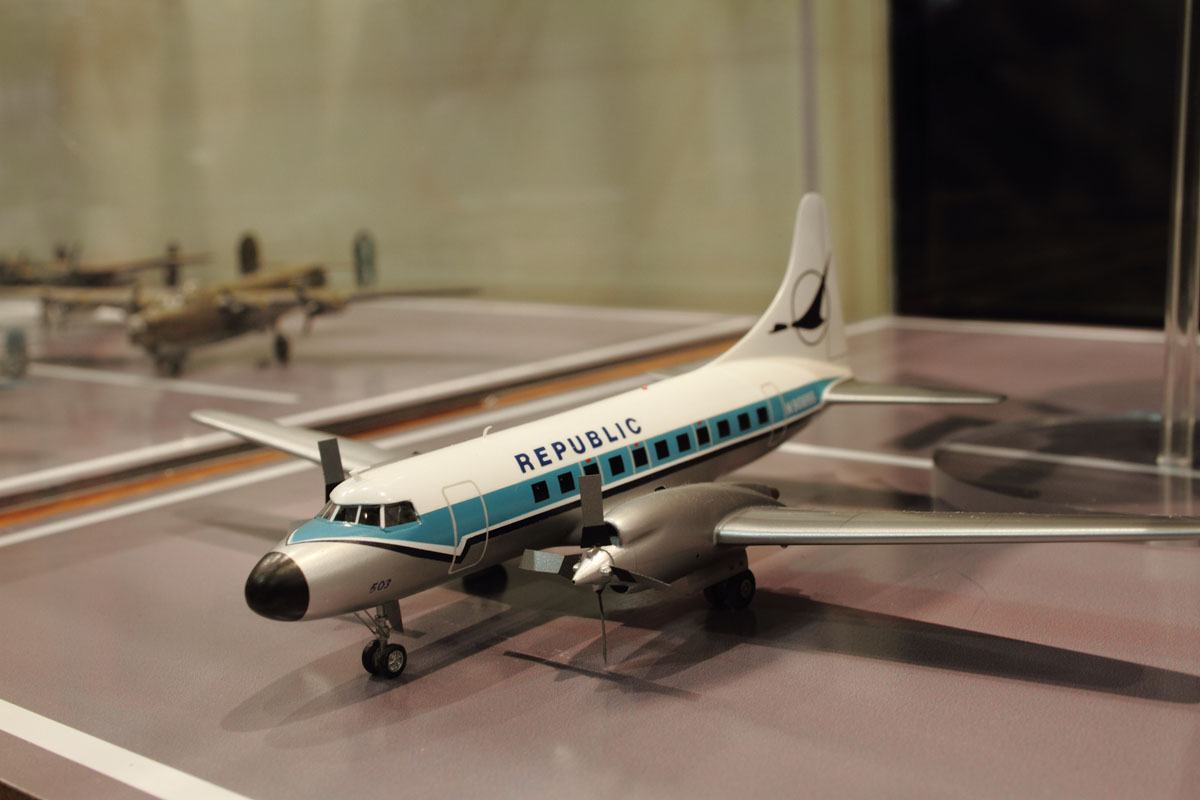 Minicraft is still soldiering on, and we have some exciting new-tool kit news from them. First up, while not entirely a new-tool, is still a welcome release. That is the 1/144 Junkers Ju 88C. This is built off of their existing Ju 88A kit, but with a new gun nose. There are some great marking options for the Ju 88C, two of which will be included in the box. On the airliner side, we're going to see Convair twins from them in 1/144. Plans exist for both the piston-engined version and the turboprop ones. Specific variants and marking options are still in the works, but these will be really welcome when they hit the shelves. No release date on those, but start looking around the first of the year, give or take a few months.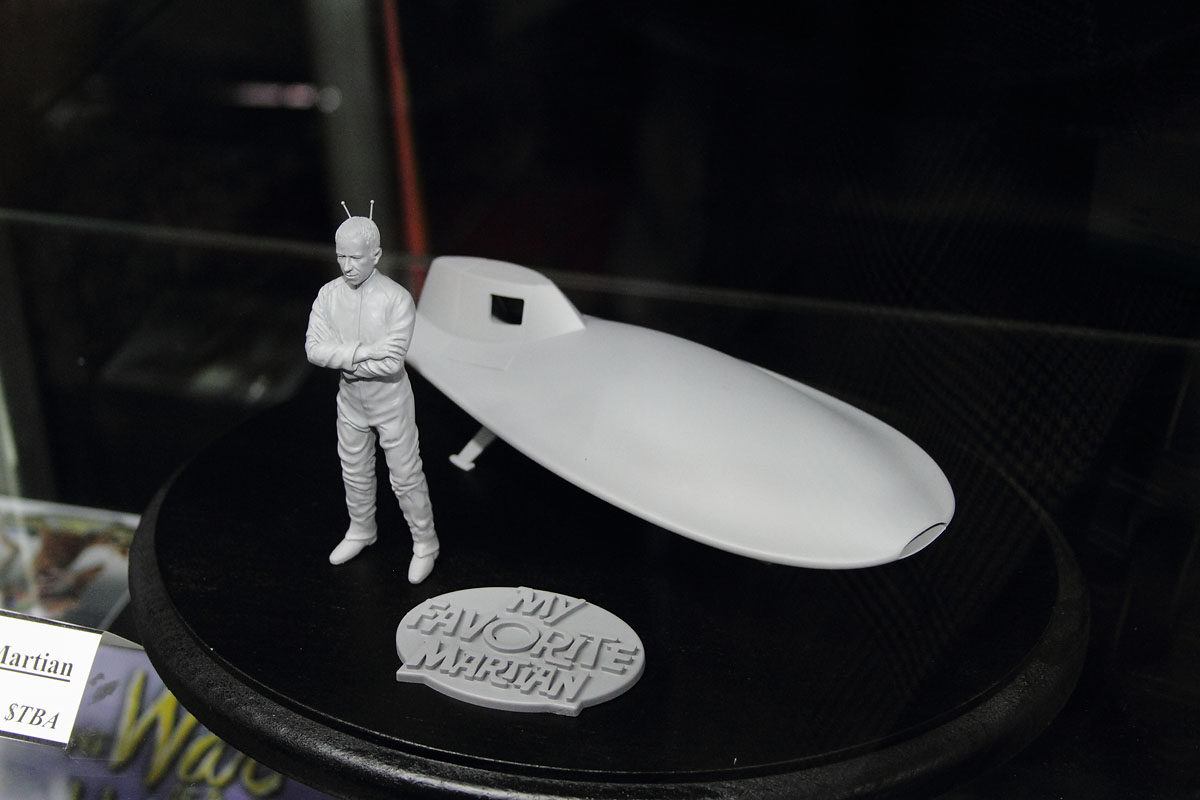 Pegasus had some exciting stuff for the sci-fi and non-traditional modeler. Who would have thought that we'd have a 1/18 model of a great white shark? Not only do we have one now, but it comes with two heads! The urge to scratchbuild a 1/18 Roy Scheider and Richard Dreyfuss has increased considerably. For those who don't want to scratchbuild a famous figure, the next release from Pegasus is Martin, from My Favorite Martian. Complete with extended antennae, this will also come with his ship, fully detailed with a complete interior.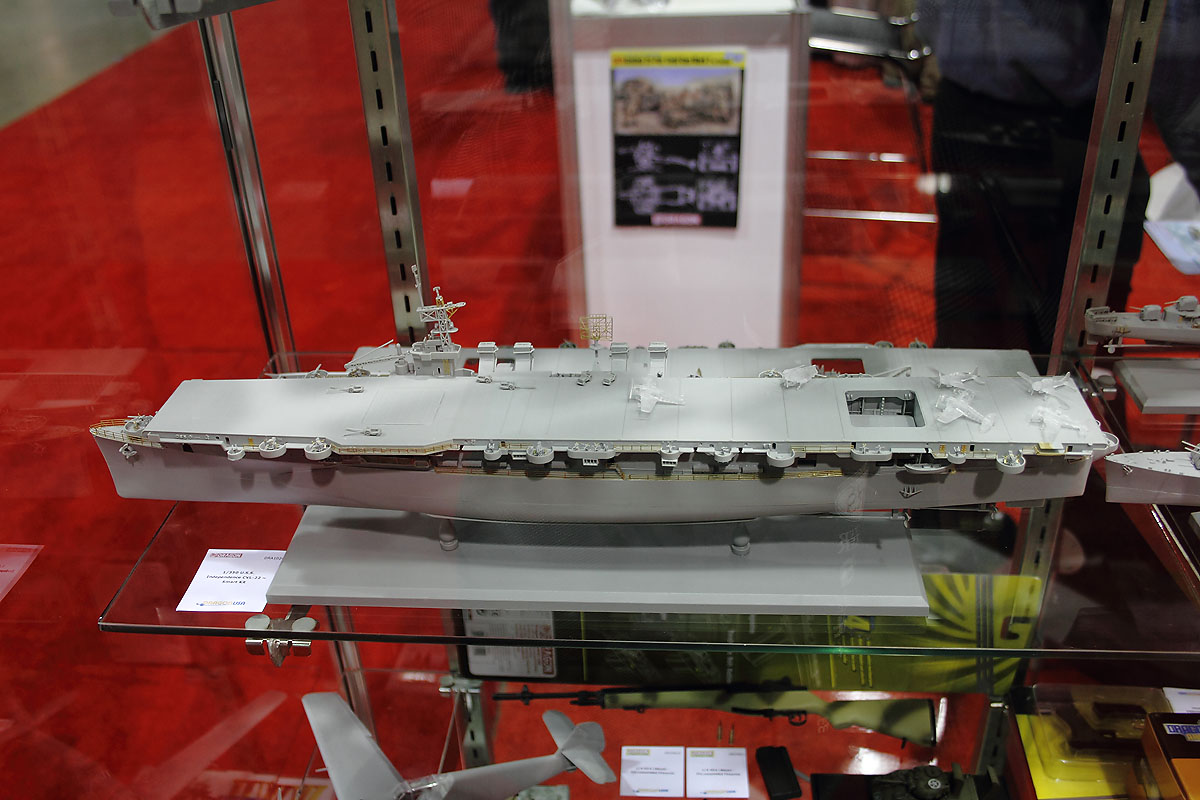 Dragon USA had a good selection of test shot build-ups on display, including their impressive upcoming CVL-22 USS Independence. Although I had known of some of the work done on this model, seeing it in the flesh, built up, really shows off the level of detail Dragon is putting into this model. There is a full hangar deck underneath the main deck, with separate elevators giving access to that area. While the basic hull fittings and photoetch look great, I was very impressed by the diminutive tractors. These are incredibly tiny, yet still have exposed engine details. Other ship kits on display include the HMS Daring, the USS Chevalier, and the upcoming German Zerstorer, all in 1/350.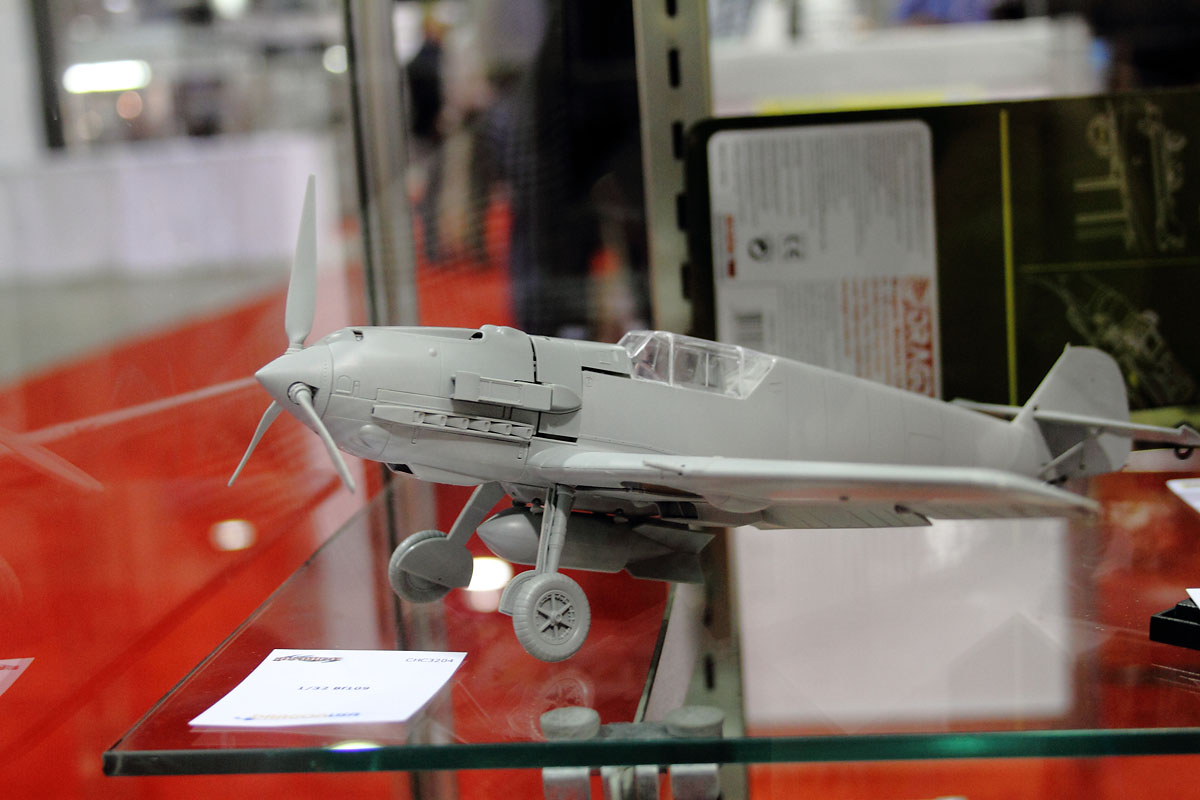 In 1/32, a test shot of the new Dragon Messerschmitt Bf 109E was on display. In the last couple years we have gone from having only a couple ancient 109E kits in this scale to having a wide variety of high quality modern toolings. Dragon's looks to be at the top of the list of accurate and detailed Bf 109Es, though, so be sure to keep an eye out for this one on your local hobby shop shelves.
At the Stevens International booth, Kinetic had a couple of new subjects on display with sprue shots. First up is the 1/48 Mirage 2000N. Slated for a November 2010 release, this looks to be quite nice in detailing. I know that the existing kits of this plane either suffer from accuracy issues or fit issues, so hopefully this new kit eliminates those problems and gives 1/48 scale modelers an accurate and easy to build Mirage 2000. I am sure we will see the single seater version before too long as well.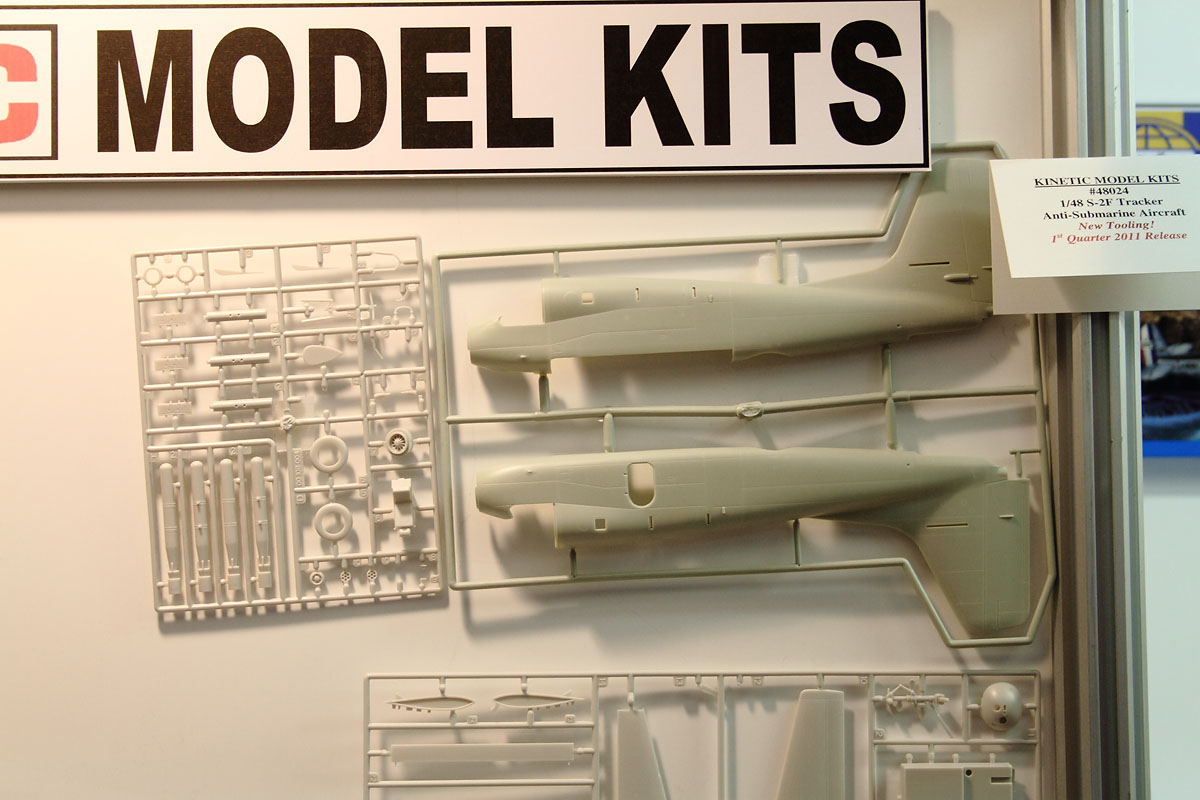 Also on display was a few sprue shots of the upcoming 1/48 Grumman S-2F Tracker. This was labeled with a 1st Quarter 2011 release date, and quick examination of the sprues shows that this will easily be the best injection molded 1/48 S-2 kit out there. Yes, okay, there isn't any other one, but still, I doubt this will disappoint. The sprue shots had the fuselage halves, clearly showing an open crew door, and the instrument panel hints at a nicely detailed interior. Some nice torpedoes are included, and it looks like we will have a full weapons bay to put them in.
Over on the Trumpeter side, the most impressive display was the 1/200 USS Arizona. This has an imminent release date, and while the test shot is of a pre-release example, it still looked very impressive. Turned metal barrels and photoetch make this a full multimedia production, and it will definitely be a long term project for the modeler. If you want an Arizona, though, you'll be hard pressed to find a more impressive model out of the box.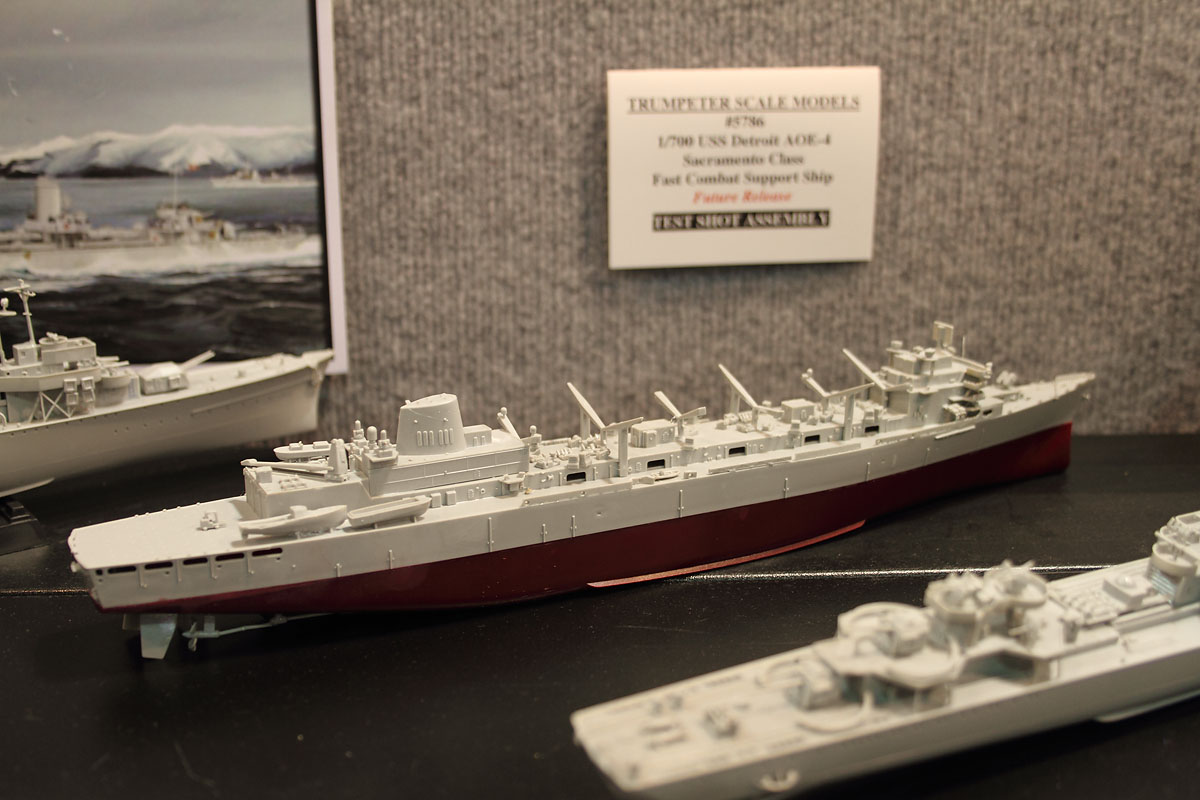 Still on the subject of ships, Trumpeter will be continuing their expansion in 1/350 and 1/700 scales. In 1/350, two examples of the German Zerstorer ships were on display, one the Z-23 from 1944 and the other being the Z-30 from 1942. In 1/700 we have a very interesting subject choice. This is the USS Detroit AOE-4 Sacramento Class Fast Combat Support Ship. This is a big ship, roughly the same length as the larger 1/350 German destroyers. That said, I would like to see Trumpeter scale this one up to 1/350, as it is an interesting subject and a ship with interesting lines.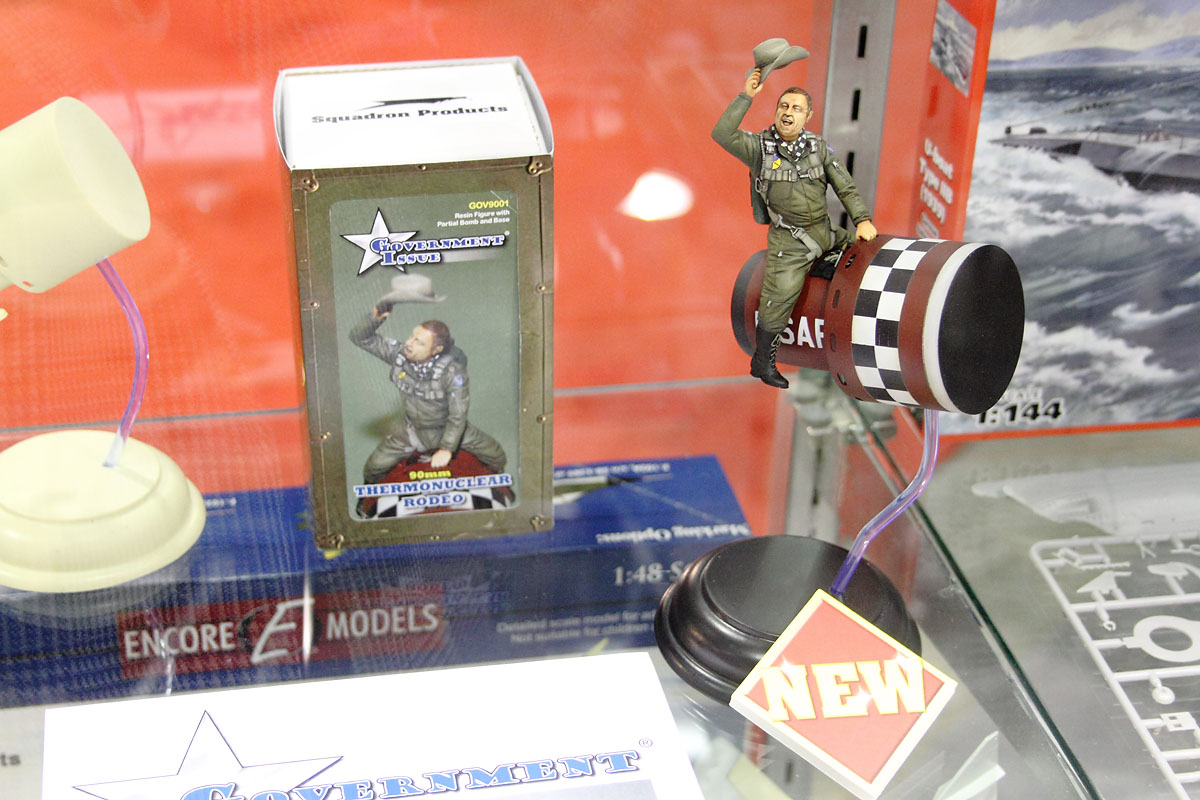 Squadron/MMD had their usual large booth, with plenty on display. Much has already been seen, such as the Encore 1/48 F-102 and 1/72 Beech 18, but there were some new items of interest. In the figure genre, the best of the bunch was the Thermonuclear  Rodeo figure. In a scene reminiscent of that classic Cold War movie "Dr. Strangelove", this figure pays homage to the closing scene of that film.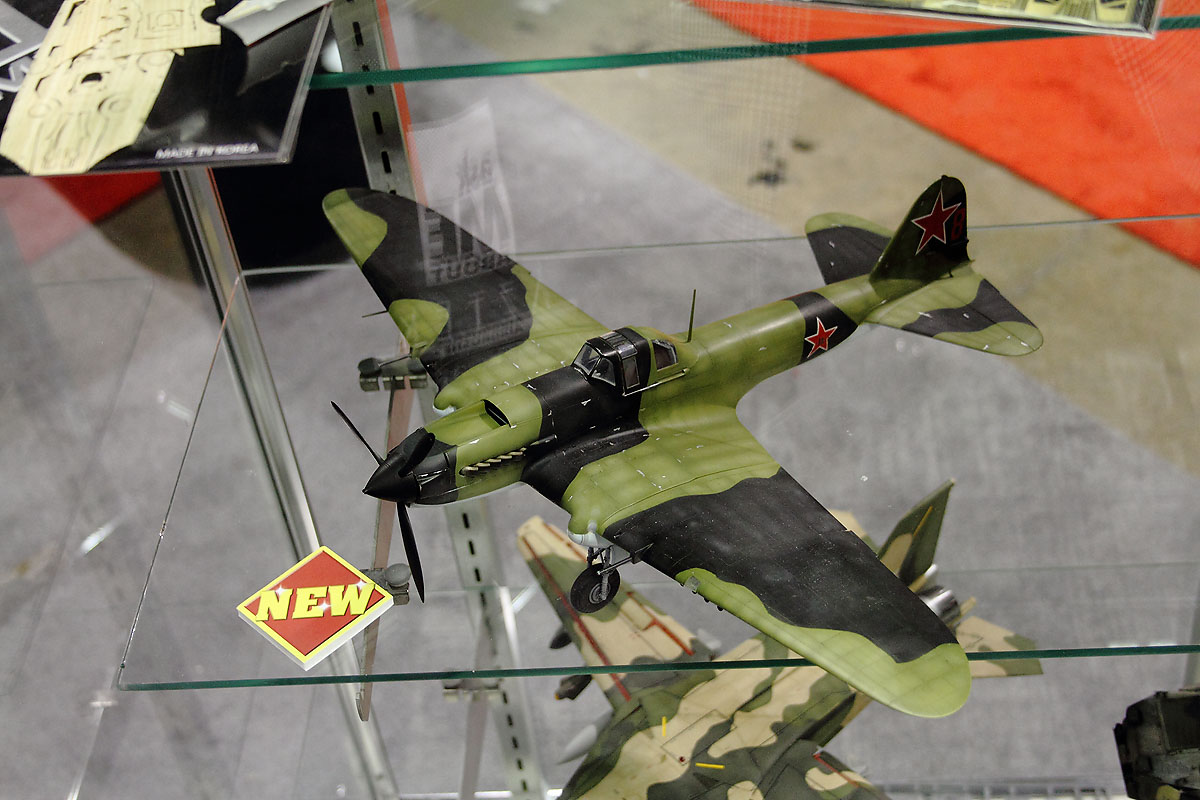 On the Hobby Boss side, there was a build up of the 1/32 Ilyushin Il-2, and that looks quite impressive. Under that shelf were sprue test shots of two new kits coming up. For the armor aficionado we'll see a new 1/35 Merkava. That looked to be pretty impressive, with high levels of detailing. Next to that was the sprues of a 1/32 Spitfire. I suppose if you want to raise the ire of modelers, you can choose to create a kit of either a Spitfire or a Bf 109, but at quick glance this looks to be a decent kit with nice detailing and a logical parts breakdown. I would not be surprised if we see multiple variants from this beginning.
Moebius Models had quite a few exciting projects ready for release or nearing release. For the figure modelers, expect to see Bela Lugosi and Elvira soon. The Lugosi as Dracula model looked quite good, with a beautiful supporting structure. Of course, who could not love Elvira, and this figure is beautifully done, with the Mistress of the Dark reclining on her red sofa. Both of these figures are large (I forgot to write down the exact scales), and will really pay off from some careful paint work.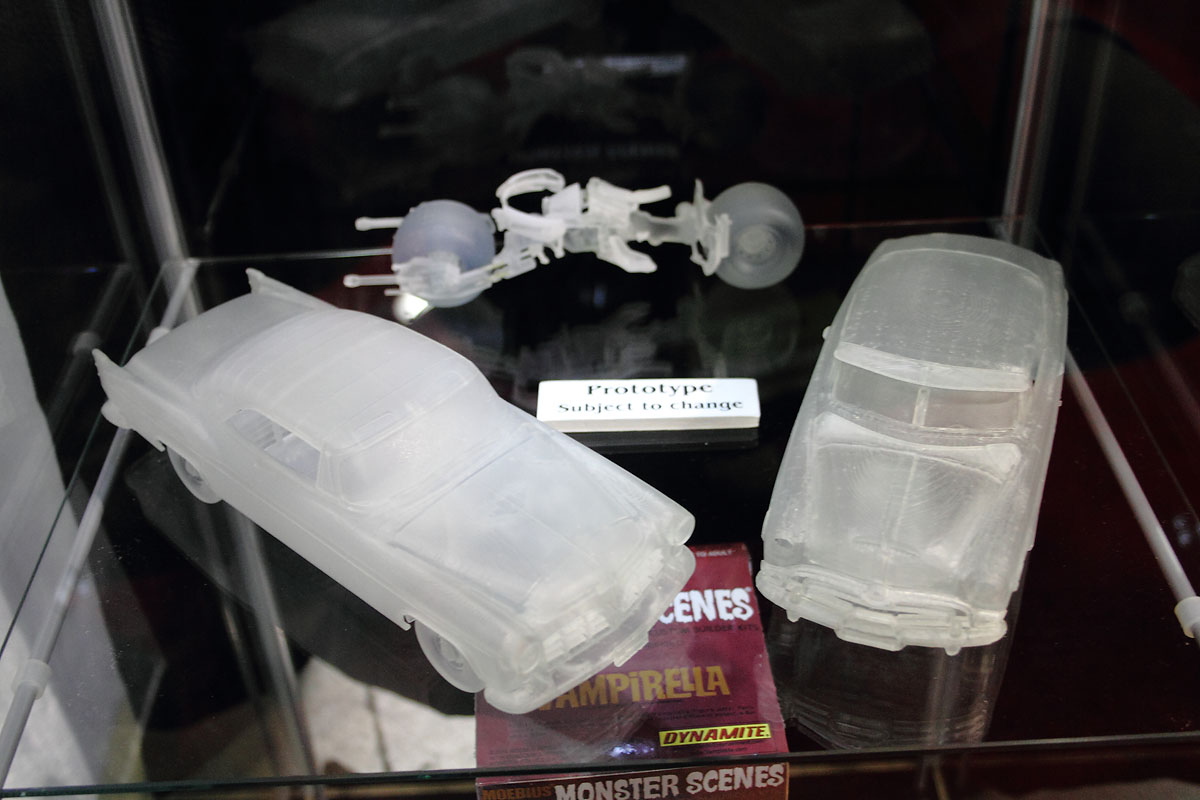 For those interested in automotive subjects, the Hudson Hornet is imminent on release, and we could see that before year's end. The test shot looked very impressive, and I am sure this one will be extremely popular. Sitting next to it, the Chrysler is also close to being finished, needing just a bit more tweaking to please the home office. Expect that to hit the shelves in early 2011.
Space and sci-fi are another big part of Moebius, and here we will see a reissue of their popular Moonbus. This time, though, it will be pre-finished, offering a nice alternative for those who want a quick and easy display model. Also on display were two Battlestar Galactica kits. First up is the Galactica herself. This was shown as a full build-up and it looked quite impressive. Next is the Cylon Raider, and while this one was unfinished, the test shot did a beautiful job of capturing that aggressive look to the Raider.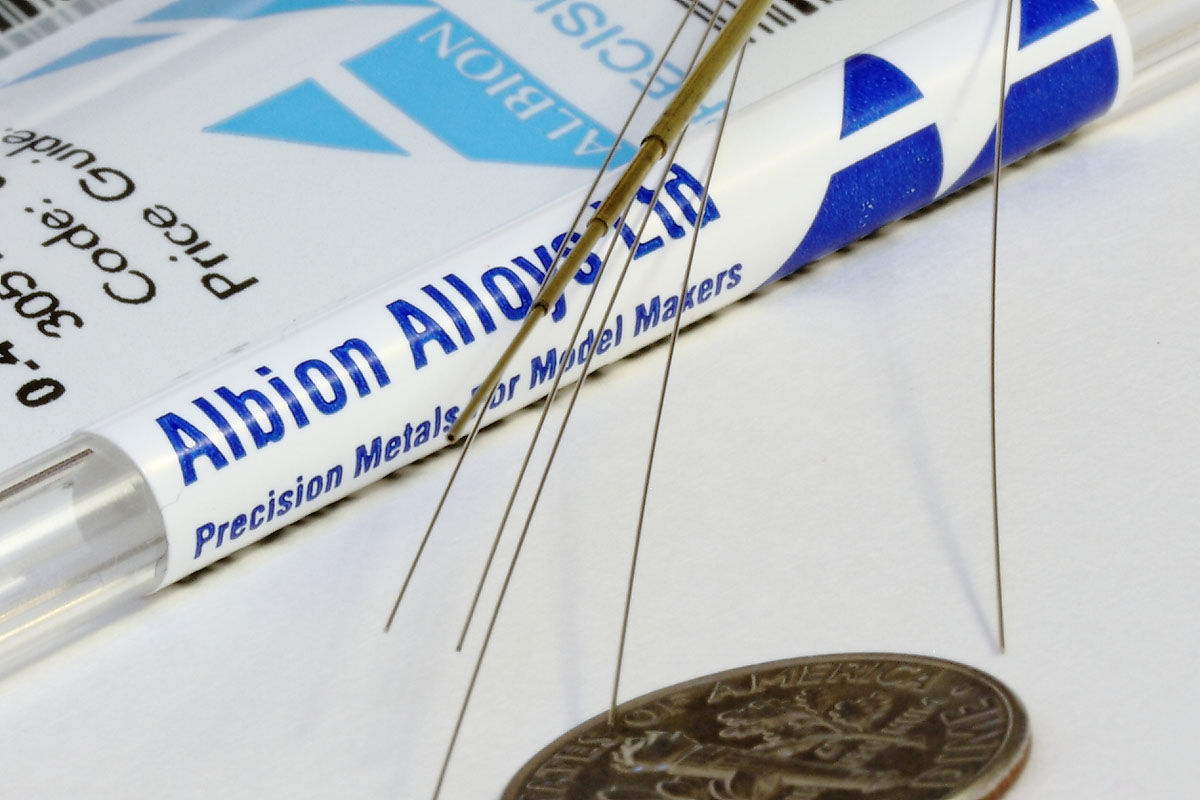 Moving beyond the model kits, the selection of accessories and tools was constant from the previous years, with some interesting new additions. First up is Albion Alloys. This company provides a broad selection of tubing, rod, and angle stock in brass, aluminum, and nickel silver. Packaging is sturdy, and the pricing is very affordable. The best part, though, is the sizes. For the brass and nickel silver, the smallest size starts out at 0.3mm/0.1mm outside/inside diameters. To give an idea of that size, they would make for an effective 1/144 cannon barrel. As you move up the sizes, the larger sizes can snugly and smoothly take the smaller sizes. This is so useful that the company packages a specific Slide Fit Tube Selection, which contains 0.4mm, 0.6mm, 0.8mm, and 1.0mm brass tubing. The nickel silver tube selection stops at 1mm, while brass and aluminum goes up to 5mm (there is no micro aluminum tubing selection).
For the rod selection, the nickel silver options include 0.1mm, 0.2mm, 0.33mm, and 0.45mm, while the brass covers 0.5mm, 0.8mm, 1.0mm, and 1.5mm. The nickel silver rod could easily be used for biplane rigging in most scales. For the angle stock, these are all in brass and include 90-degree, U channel, and C channel stock. The 90-degree stock comes in 1mm, 2mm, and 3mm sizes, while the U channel comes in 1mm and 1.5mm sizes. The C channel comes in 1mm by 1.5mm, 1mm by 2.5mm, and 1mm by 3mm sizes.
The packaging sorts all of these into three price points, and although the prices were in Euros, the most expensive one looks to be coming in at less than $10.
Alpha Precision Abrasives was present at the show with their colorful booth, and for those not familiar with that name, these are the folks behind the Flex-i-File system. I've long been a proponent of having high quality tools on the workbench (high quality tools provide high quality results, after all), and the broad selection of abrasive material provided by this company makes their catalog an essential item for any modeler. Their Plastic Sanding Needles are really impressive, coming to a sharp point that will allow you to sand in even the tightest corners. They also have several options for very fine sanding films, with one set going up to 60,000 grit! If you need to get a high shine on your model, this is the company to go to.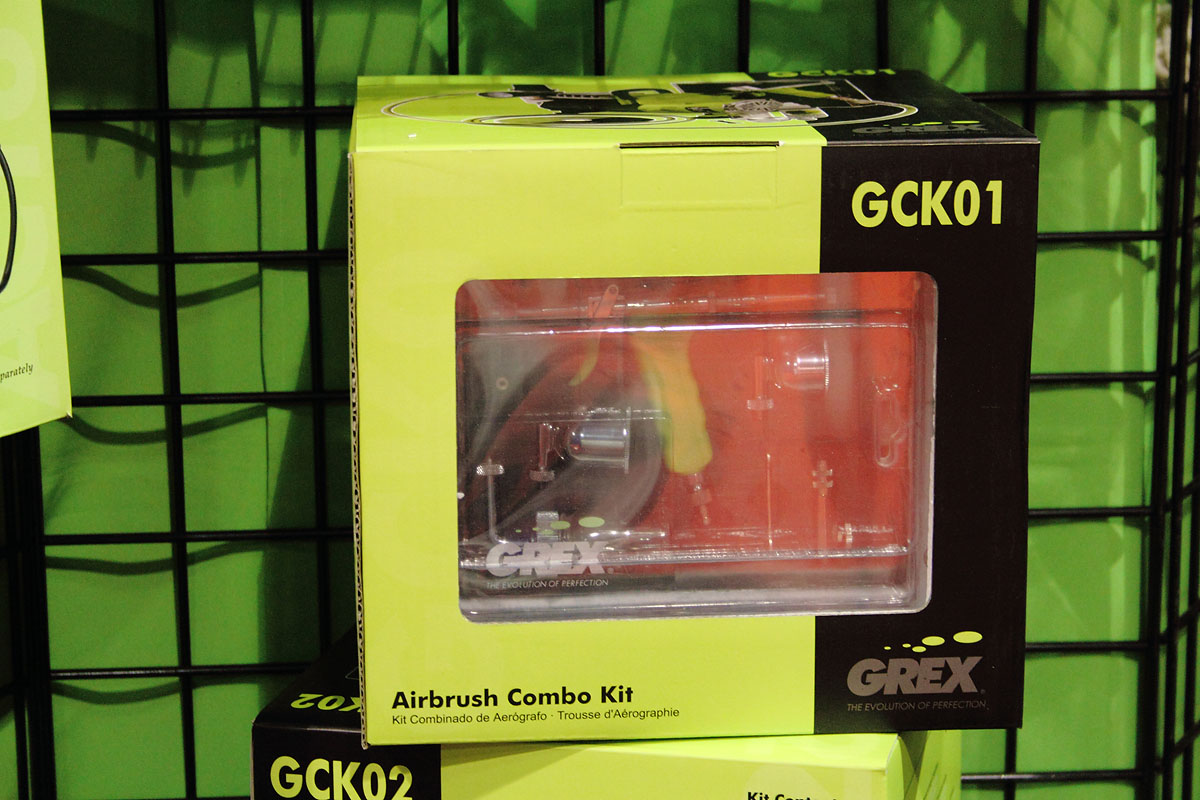 Grex had their colorful bright green and black booth there, and was showing off their interesting trigger-type airbrushes. These have quite a few innovative features, ranging from Quick-Fit needle caps to a preset adjustment knob to multiple interchangeable cups. For those who are looking for a more traditional airbrush, Grex has a line of those as well, covering both single action and dual action. For those looking at getting into airbrushing for the first time, Grex has an Airbrush Combo Kit that combines the airbrush with a compressor and all the necessary accessories to start airbrushing right out of the box (well, you provide the paint, of course).
Osprey Publishing had their latest titles on display, including some of the new series they're developing. One of those should be of great interest to the modeler: the Weapon Series, This series covers a specific weapon in detail. The first title in the series was on the Thompson submachine gun, with other titles covering Browning .50 caliber machine guns, Katana swords, the Colt 1911 pistol, and the Kalashnikov AK-47 assault rifle. This series will undoubtedly grow quickly with plenty of interesting subjects out there.
Xuron is still producing the best sprue cutters out there, but they have not rested on their laurels. With the help of a scale modeler, they have improved on their existing design to produce an even better sprue cutter. The Model 2175ET Professional Sprue Cutter has larger, more curved handles that fit in the hand better and provide more stability. The cutting jaws are longer and thinner, allowing for access into tighter spaces. With a shallower angle on the cutting side, the blades cut closer and smoother, resulting in a much better cut with minimal residue.
Alongside the sprue cutter, Xuron has improved their photoetch scissors along similar lines. Again, the handles are longer and more curved, giving a better fit in the hand. As photoetch sets get more and more compact, getting access to the fret is challenging. I had to put up my old Xuron scissors for that reason; the jaws were just too large. The jaws on this new Model 9180ET Professional PE Scissors are longer and thinner, allowing access to even the tightest edge on a PE fret. The cutting blades are just as good as the old scissors, quickly and efficiently cutting the brass with no twisting or pinching. These are easily the best tool for removing parts from the photoetch trees.
Overall, the iHobby Expo was a good experience, with plenty of interesting new kits lined up for the next year. Improvements continue to be made across the board, and our hobby is definitely looking good for 2011.