Internet Modeler : First Look : Aviation
RSS News Feed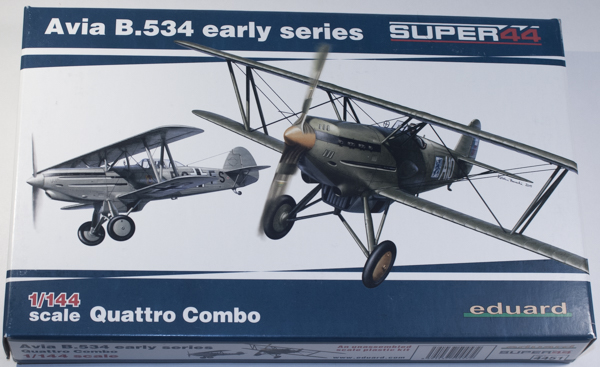 Eduard 1/144 Avia B.534 Early Series
It wasn't surprising Eduard released 1/144 Avia B.534s. The first, single release was at E-Day in 2015 and they followed it up with this Quattro Combo a couple of months later. Since Eduard's kits are considered the best in 1/48 and 1/72, they also hold that distinction – let alone they're the only ones to release them – for 1/144.
As the title states these are four "early" Avia B.534s. Each "type" consists of not only the common parts but different fuselages as well. Since this is a Quattro that means there are four different fuselages provided. There's a single I. serie, a single II. serie and both "early" and "late" III. serie. Because the parts other than the fuselage halves are used for each version you will have spare parts left over. It appears these common parts will also be used for the upcoming Late Series (later III. serie, IV. serie, etc.).
Be sure to pay close attention to the instructions. While there is only one I. serie and one II. serie the issue is smaller but as I mentioned there are parts meant for all the aircraft series so watch what parts are used. You'll need to pay closer attention when you start in on the III. serie since there are multiple markings for both "early" and "late" variants of that series. Thankfully this time Eduard provides you a cockpit, which isn't surprising since this is an open-cockpit aircraft. However, the parts feel a bit "chunky", especially for the scale. No worries, though, as Eduard has released a photoetch set that does include replacement cockpit pieces.
The aircraft catered for in this release are:
B.534 I. serie, 40th Fighter Squadron, Air Regiment 4, Hradec Kralove Air Base, Czechoslovakia, 1937
B.534 II. serie, flown by Ladislav Svetlik, 38th Fighter Squadron, Air Regiment 3, Vajnory Air Base, Czechoslovakia, 1937
B.534 III. serie, 34th Fighter Squadron, Air Regiment 4, Hradec Kralove Air Base, August, 1937
B.534 III. serie, Slovak Air Force, Squadron 13, Piest'any air base, January, 1940
B.534 III. serie, JFS 4, Fu(umlaut)rth-Herzogenaurach, German, Summer, 1942
B.534 III. serie, FFS A/B 115, Wels Air Base, Austria, 1939-1941
Decals are typical Eduard quality and appear to be in register. While the kit does come with masks I feel they're not complete. Yes, there are masks for the canopy and both spatted and un-spatted wheels but they could have gone a lot further. As time goes by I think that while Eduard's quality for their 1/144 kits are top-notch it still feels to me they're not giving them the same level of attention they do the larger scales. For example, in the latest ProfiPACK releases of their 1/72 Avia B.534s they provide masks for the horizontal tail pieces. This is because the green wraps around the upper surfaces to just a little bit on the lower surface. It would have been nice had Eduard provided these masks in this scale, since they offer them for their 1/72 brethren.
It shouldn't take long to build these kits, you'll just want to wait and add the upper wing, struts and if you decide to, the rigging, until after painting and decaling. But even then it shouldn't take long to finish these.
Conclusion
Another excellent release from Eduard in 1/144. I just wish they treated the scale like they did their larger scales and include items that should be included, like the masks mentioned above. Even with that omission, though, I can definitely recommend these kits. It will just take a little longer to create your own masks for the models' undersides.
My thanks to Eduard for the review sample.