Internet Modeler : First Look : Aviation
RSS News Feed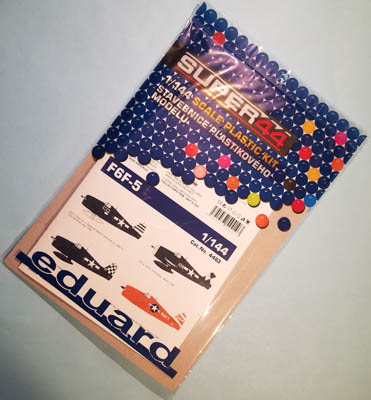 Eduard 1/144 F6F-5
Introduction
The Grumman F6F Hellcat was a direct descendent of the successful – but outdated – F4F Wildcat. The F6F was designed to enhance the best features of the Wildcat – namely its dive – and add to it a better range and higher speed. It was successful seeing it destroyed over 5200 enemy aircraft.
While the F6F mostly didn't see service after WW2, there were some that were kept as night fighters and drones.
Eduard has started to release 1/144 Platz kits under their own banner which has meant them adding their own aftermarket to these releases.
The Kit
The Eduard/Platz 1/144 F6F-5 consists of 36 pieces of gray, injected plastic and a clear sprue with three pieces. The kit also comes with a set of masks for the clear pieces and the main landing gear wheels. Eduard-produced decals are for four Hellcats:
F6F-5, flown by Lt. Daniel Archibald Carmichael Jr, VBF-12, USS Randolph, April 1945
F6F-5, VB-83, USS Essex, March 1945
F6F-5, VF-46, USS Independence, April 1945
F6F-5K, Chincoteague Naval Air Station, Virginia, 1949
The first four machines are finished overall in Sea Blue and the last is a drone, so it's finished overall in Orange. The decals appear to be in register and are nicely printed.
The first construction step has a lot to it. Glue the headrest to the cockpit floor and glue it into the starboard fuselage side, all should be painted first. Glue the cockpit halves together, and glue the wing halves together, both sides. Glue them to the assembled fuselage, along with the horizontal tail surfaces, prop-spinning add in, engine and cowl.
Then glue the wheels to the main gear along with the gear doors prior to moving to the pilot's seat. After that is painted, then add the decal belts, add the decal instrument panel to the plastic piece and glue both into the cockpit. The canopy is also added at this time along with the assembled, external fuel tank. Then everything is glued to the underside of the model after painting and decaling, naturally.
Conclusion
Platz kits are molded to a very high quality, and the F6F-5 definitely shows that quality. Now add Eduard's decals and masks, and you have a superlative rendition of the Hellcat in 1/144. Add Eduard's separate photoetch set and you'll have a very nice looking model.
Huge thanks to Eduard for supplying the model to review.