Internet Modeler : First Look : Aviation
RSS News Feed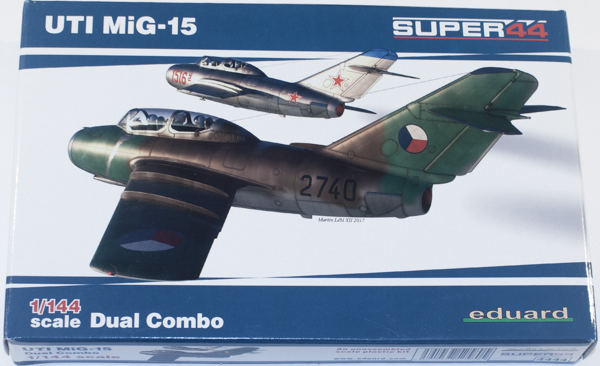 Eduard 1/144 UTI MiG-15 Dual Combo
It was inevitable that since Eduard had already released single-seat MiG-15s a double-seat model was due. And that has happened now that Eduard has released their 1/144 UTI MiG-15 as a dual-combo kit. The only difference between this kit and their single-seaters is the double-seat fuselage so I will refer the reader to the First Look of the single-seat MiG-15. In addition, I built a single-seat MiG-15 so you can see how the single-seat looks, built up.
Decals in this release are for 8 UTI MiG-15s:
UTI MiG-15, 18. sbolp, Pardubice, Czechoslovakia, September 1962
UTI MiG-15, Air Museum Prague – Kbely, Czechoslovakia, end of 1960s
UTI MiG-15, Soviet Union, 1960s through the 1970s
UTI MiG-15, c/n 922226, Hävittäjälentolaivue 31, Rissala Air Base, Finland, Late 1960s
UTI MiG-15, Indonesian Air Force, Jakarta-Kemajoran Air Base, Indonesia, 1960s
UTI MiG-15, Syrian Air Force
UTI MiG-15, Iraqi Air Force, 1980s
UTI MiG-15, Algerian Air Force, 1960s through the 1980s
Naturally, the decals are in register and look really nice. Eduard has also released a photoetch set for this kit so if you want just a little more detail, pick that up as well. Plus, if you need more markings for the kit – say, if you picked up the Overtree release of the kit (without decals and instructions) – JBr Decals has also released two sets of decals for the kit. Plenty of reasons to build more than one UTI MiG-15.
Plenty of thanks are sent to Eduard for the review Dual Combo release.