Internet Modeler : New Releases : Aviation
RSS News Feed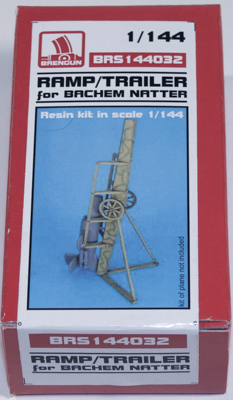 Brengun 1/144 Ramp/Trailer for Bachem Natter
Some time ago Brengun released 1/144 plastic injected Bachem Natters. There were two boxings and I'm still trying to figure out what Brengun means by the "M52/M58" version. In any event these are very nice kits and will look great built-up. However, there wasn't a lot of options in how to display your Natters once they were finished. After the kits had been out for some time, Brengun released two sets that could help in that regard. The first was a complex photoetch-and-resin Launch Tower, the other being this "simpler" Ramp/Trailer.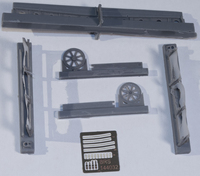 The Ramp/Trailer for the Natter consists of ten pieces of resin and a photoetch fret with 17 brass pieces on it. Pay close attention to the instructions since they show you how all resin parts go together along with how to add all the photoetch pieces. You can build the Ramp/Trailer "stowed, and ready to launch a Natter" or in the process of being towed. Either way it will result in a very unique way to display one of your Brengun (or other manufacturer, like Fox One) 1/144 Bachem Natters. Remember the Brengun boxing comes two kits in one box. Also remember that Brengun released their own aftermarket set for their kits.
Huge thanks to Brengun for sending the Ramp/Trailer in for review.