Internet Modeler : New Releases : Aviation
RSS News Feed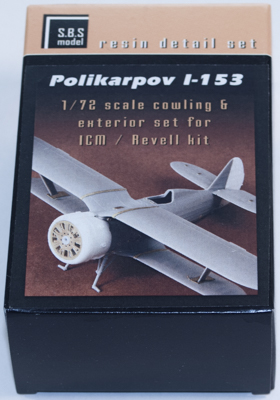 S.B.S. Model 1/72 I-153 Chaika Exterior Set
I have read there isn't much wrong with the ICM 1/72 Polikarpov I-153, especially when you compare it to the Heller kit and its derivatives (SMER, Amodel, etc.). When I was helping to run a VVS modeling site the person I ran it with wrote an article on what was wrong with the Heller, et.al. kit and believe me, it was quite a lot to fix. Thankfully a few years ago ICM brought out their 1/72 kit and it was very welcomed.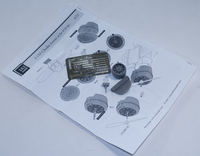 Naturally any kit can be improved upon and S.B.S. Model realized that and brought out this exterior set. It consists of three pieces of resin (replacement cowl, rudder and replacement prop shaft) and two photoetch frets. The first fret contains the "shutters" for the front of the cowl that were used to either keep the engine warm or all the way open, could let more air in to help cool the engine down. The second photoetch set contains "jigs" to help create holes in the lower wing for the rigging tie-downs; rigging tie-downs not only for the lower wing but the upper wing and fuselage as well; wing "straps"; various panel covers; and pieces to add to the rudder.
As I mentioned, every kit can be improved upon and S.B.S. Model's exterior set for the ICM (et.al.) I-153 definitely adds plenty of more detail to the kit.
If you want to see just how great this set adds detail to the model, then pick up Valiant Wings Continuation War: The War Within A War Airframe Extra and took a look at Libor Jekl's masterful build. Stunning.
My thanks to S.B.S. Model for the review set.