Internet Modeler : Features : Armor
RSS News Feed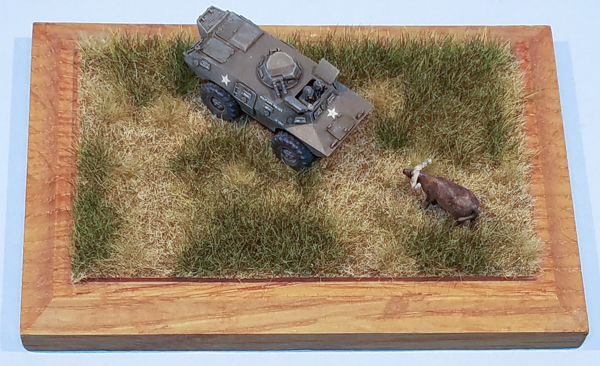 Heroes Models 1/144 V-100 Commando
Introduction
When I was given the opportunity to review the Heroes Models 1/144 V-100 Commando, and seeing the one built-up by the company, I knew I wanted to place it in some sort of diorama. But what should that dio be?
After thinking about it, I thought it would be great to have a water buffalo somewhere in the mix, so why not a "show down" between the two? A member of the Kampfgruppe144 BBS found an N Gauge (1/160) water buffalo on Shapeways so even though a little expensive I thought it was worth it for the diorama.
Construction
There isn't a lot to the kit, as you can see in the First Look. The biggest hurdle with this kit is removing the parts from their pour blocks. Once that is accomplished then construction goes quickly. It was brought about during construction, though, that two of the parts were short-shot and Heroes Models sent replacement parts. Definitely excellent customer service!
While I was originally going to display the hatches closed, I thought it better to show some sort of interaction between the crew and the water buffalo. Unfortunately my figure painting skills aren't honed at all, and I consider this the lowest point of this display.
Thankfully Heroes Models provides masks for the wheels; paint the tires, apply the masks and spray the wheels. Unfortunately these masks are vinyl so they will take some coercion to stay in place. But once in place they work which was nice.
Items I'm still contemplating adding to the Commando are rear-view mirrors on the side. Since I was on a time-crunch for a Group Build I decided to initially leave them off. Now I'm not sure if I'm going to add them or not.
The Diorama
I'm not exactly sure where I acquired the base from, but it could have been one of the local craft stores. The main area of "grass" is actually a "grass mat" from Heki to which I added some "Silflorettes" late summer grass "tufts" from Silflor (purchased from Scenic Express).
The water buffalo was wonderfully 3D printed and whatever striations were present actually gave it more of a "fur feel". I just applied a bunch of different colors - including washes and dry brushing - to give it the look it has. I then painted its nose and eyes with gloss black and left it as-is.
Conclusion
Most of the enjoyment from this build came from coming up with a display-concept for the Heroes Models V-100 Commando, and then actually modeling that concept. I was happy a water buffalo was found as a 3D printed piece and it looks great in the setting.
1/144 is small enough that you can make a number of these vignettes/diorama/displays and not have them take up a lot of space. Plus, 1/144 is small enough that you really need a better way to handle the models aside from just picking up the model itself. So, why not a diorama to hold the model! All it takes is a little bit of imagination.
With thanks to one of the Kampfgruppe144 BBS members, I now title this diorama:
"Me mooove? No, you mooove!"
I definitely thank Heroes Models for the V-100 to review. It set the display-wheels in motion to come up with this diorama.