Internet Modeler : First Look : Armor
RSS News Feed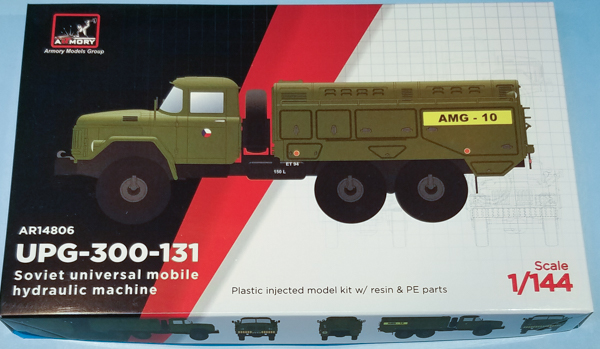 Armory 1/144 UPG-300-131 Soviet Universal Hydraulic Machine
Introduction
"The UPG-300/UPG-300 NGZh-4 mobile hydraulic systems are housed in a special car body mounted on the ZiL-131N cross-country chassis. They are designed to check and adjust aircraft hydraulic systems in field conditions, either with or without hydraulic tank pressurisation.
"The systems comprise three separate main hydraulic systems, which can simultaneously provide pressure to three separate aircraft systems or can be combined to provide hydraulic pressure to one or two aircraft systems.
"The hydraulic systems use the AMG-10/7-50s- 3/NGZh-4 hydraulic fluids pressurised to 5-21 MPa. The flow rate for each of the three hydraulic systems is 20-70 l/min."
A few years ago I provided First Looks on two of Armory's 1/144 trucks based on the ZiL-131 chassis: the ZiL-131 Soviet Cargo Truck and the AT3-4-131/ATZ-4-131 Soviet Modern Refueler. They have continued that line of trucks - and models - with this release of the UPG-300-131 Soviet Universal Hydraulic Machine. What Armory has done makes a lot of sense: provide the "meat" of the truck in injected plastic and then provide the details in resin and photoetch, when applicable. That way they can cover a lot of the vehicles that are based on the ZiL-131.
One thing I truly like about Armory is their boxes. You receive a nice painting on top of a separate piece, that when removed reveals quite a sturdy box that houses the models. Others need to study how Armory does it, especially those that insisit on providing us with flimsy, end-opening boxes.
The Kit
The Armory UPG-300-131 consists of 18 pieces of gray, injected plastic (two pieces on the sprue not being used) and 23 pieces of injected, clear plastic (nine pieces not being used). In addition, there is one piece of resin (the "special car body" mentioned above) as well as a photoetch fret with 27 pieces of brass on the fret. There are decals for five trucks: one Czech; one Soviet; and three Russian Federation. All vehicles are finished overall in "green" (a paint match no provided) In fact, there are no color call-outs at all throughout the instructions so we're left to our own research.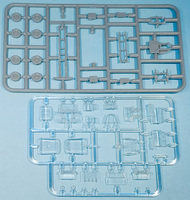 Construction starts with the chassis and other pieces for the underside of the trucks. First is assembled what I assume is a cargo container with a spare tire (and the first piece of photoetch used) then you move on to assembling the drive trains, both front and rear. These are then added to the main chassis, along with the bed frame and two hooks. Then you move to assembling the cab in three different steps before adding the cab to the body. At the same time you add the two fuel tanks.
Finally you add the single-piece "main body" resin piece to the back of the model followed by a whole bunch of photoetch. Take your time and definitely study the instructions as there are quite a number of pieces to add to the "special car body".
Conclusion
My New Year's goal is to build all three of the Armory ZiL-131-based kits at the same time and eventually, place all in a display with an aircraft model, probably a MiG-25. But all of them are future plans.
If you're looking for a relatively modern Russian truck then by all means pick up any of the Armory ZiL-131 vehicles.
I definitely send my thanks to Armory for the review Universal Hydraulic Machine.