Internet Modeler : First Look : Armor
RSS News Feed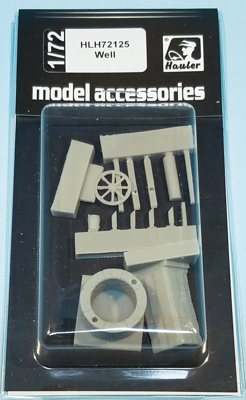 Hauler 1/72 Well
Overview
Lately I've been building a few dioramas, so far mostly in 1/144. However, I try to think ahead and when I saw this well from Hauler, it created another idea for a display in 1/72.
The Well
The Hauler 1/72 Well consists of 14 pieces of gray resin. Construction is relatively simple. Once all parts are cut from their pour blocks (and you'll need to take your time removing the pour block from the main body of the well) then you assemble all the pieces. Each roof support consists of three pieces of resin for a total of six. As you glue these supports to the main well body, you'll need to trap the "rope winder" between them. After you add a piece of rod into one support, then you add the "rope winder wheel" (but maybe after painting the main well first) followed by the roof. There is a separate bucket which is nice, but one thing that isn't included is the "rope". So, use thread or something like that for the rope and be sure to wind it around the "rope winder" before gluing everything together. Leave a piece of the "rope" dangling so it can be attached to the separate bucket.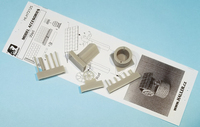 Now you have a well you can add to whatever display you're thinking of. I enjoy building WWI and between-the-wars armored cars, so my plan is to have a display base of grass - with this well added - to use to show off any armored cars.
Huge thanks to Brengun for sending the well to review. Now to build it and another armored car.