Internet Modeler : First Look : Automotive
RSS News Feed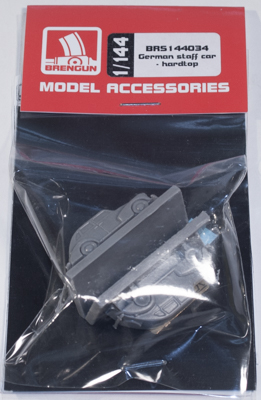 Brengun 1/144 German Staff Car - Hardtop
When I reviewed the US Jeep I mentioned a fret of photoetch labeled "1/144 Cars". Here's another release that uses that generic set of photoetch.
This time Brengun has released a pair of 1/144 German Staff Cars with a hardtop. Because these are "hard tops" there would be a lot of work involved if you wanted to provide some type of interior. Instead, figure out how you're going to paint the windows (I've seen blue and/or black used, but maybe also if you're really good you can provide silouhettes of people to make it interesting) which will require masking if you airbrush those colors on.
There are decals included, one set for "military" and one set for "civilian" so you'll get to create one of each with the inclusion of two cars per package. While the instructions don't show it, you can add the photoetch "flags" from the fret to the military version of the car. Brengun provides a few photos on how they added those flags. There also appear to be a couple of other photoetch items in use in these photos but since the instructions don't show them, you're on your own for interpretation.
And maybe that's what Brengun's intentions were all along: use resources and references to create your "hardtop" for your specific situation. So if you need a German staff car for your diorama or other type of display, then by all means pick up this set. The most difficult part will be the removal of the cars from their pour blocks.
I definitely thank Brengun for these cars. I have a few ideas on how to use them, now I just need to start working on them.