Internet Modeler : First Look : Automotive
RSS News Feed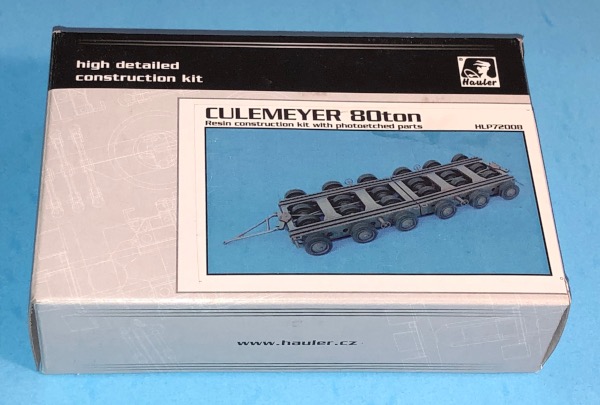 Hauler 1/72 Culemeyer 80 Ton Trailer
The Culemeyer 80 Ton Heavy Trailer
Johann Culemeyer of the Deutsche Reichsbahn Gesellschaft (DRG) was instrumental in the development of the trailer bearing his name. It had its origins in the DRG's realization that it needed to fight its trucking competitors by luring away customers who used the railroad to move their products but weren't close to spur tracks. The DR proposed to move customer's rail cars on specialized trailers with railroad racks mounted on them. These trailers were called Straßenroller, or "street scooters". The street scooters would be backed up to a ramp and the rail cars were loaded onto them. The scooters could be coupled together to haul extremely heavy loads or could transport tanks with the aid of a demountable platform. Prime movers such as the Kaelble Z6R pulled these trailers and could move heavy loads like transformers in excess of 60 tons. The road scooters are the ancestors of the specialized modular trailers currently in use around the world in heavy haulage by specialists such as Mammoet of Belgium.
| | |
| --- | --- |
| | |
The Kit
Hauler's 1/72nd scale kit is made almost entirely of resin. It consists of 50 parts. 26 of them are cast in resin plus there are 24 photo-etched pieces on a single fret. The resin parts have great detail and minimal flash. The kit includes the optional platform for hauling tanks. This is a complex build and you might want to build an alignment jig from plastic I-beams to line up all of the 24 wheels. The PE parts are tiny so have your Optivisor or preferred magnification device on hand.
Conclusion
I like Hauler's penchant for finding off-the-beaten-path modeling subjects such as the Culemeyer 80 ton trailer. It is accurate and well detailed and it will be an enjoyable build. Couple it to Hauler's companion Kaelble Z6R prime mover and you have the basis of a pretty neat diorama. This is a cool kit and I highly recommend it. I would like to thank Hauler for the review sample.
References
https://second.wiki/wiki/strac39fenroller