Internet Modeler : First Look : Automotive
RSS News Feed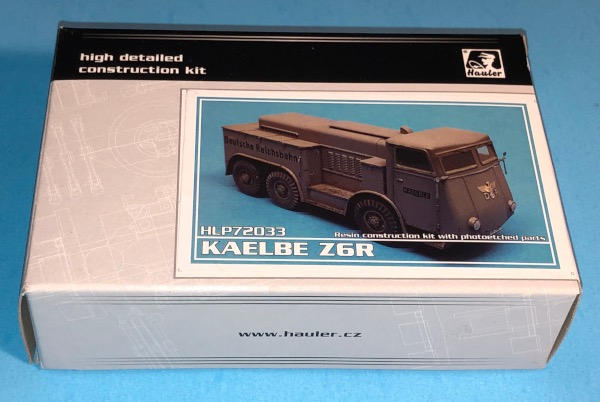 Hauler 1/72 Kaelble Z6R Prime Mover
The Kaelble Z6R Heavy Prime Mover
The Kaelble Z6R was a heavy prime mover commissioned by the Deustche Reichsbahn Gesellschaft (DRG) to pull Culemeyer "road scooter" (Straßenroller) heavy haulage trailers to transport locomotives, railroad cars and other heavy goods.
The Z6R was a 3 axle all-wheel drive truck powered by the 180 hp G150s 4 stroke diesel engine with a 6 speed GMeinder transmission. It also had Knorr compressed-air power steering, Bosch air brakes and a steering 3rd axle. The engine was mounted behind the forward control cab and the radiator was mounted behind the engine. Additional fittings included standing platforms and sand boxes (to supply sand to the tires for extra traction) on both sides of the chassis behind the 4 seat cab. The top speed of the Z6R was 20 Km/h (12.47 mph). Kaelble supplied a single Z6R prime mover to the DRG and it was still listed on the Deutsche Reichsbahn inventory in the British Zone of occupied post-War Germany but its ultimate fate is unknown.
The Kit
Hauler's 1/72nd scale kit is made almost entirely of resin. It consists of 40 parts. You get 20 resin parts plus there are 18 photo-etched pieces on a single fret, an acetate sheet of windows and a small decal sheet. The resin parts are highly detailed and have minimal flash. The largest resin component is the truck's body, a chunky casting which captures the hefty appearance of the prototype.
The cab is a multi-piece assembly with lots of detail. Hauler took advantage of the Z6R's forward control layout to engineer the cab casting so that it drops onto the interior, the roof is attached and then the cab butt-joins to the body. The photo-etch parts include the steering wheel, shifter and hand brake levers, mirrors, turn signal semaphores, grab handles, the Deutsche Reichsbahn cab crest, etc. These parts are tiny so have your Optivisor or preferred magnification device on hand.
Hauler's instructions are well illustrated and feature 9 simple steps. The decal sheet is well printed, in-register and includes Kaelble cab logos, license plates and Deutsche Reichsbahn signage. The color options are the least appealing thing about this model: Dark Gray or Black Gray!
Conclusion
Kaelble only built a single Z6R prime mover so you would be hard pressed to find a more esoteric subject for a model. I applaud Hauler's ability to find these obscure vehicles and produce such high quality models of them. Yes, you could build another P-51 Mustang or Bf109 but Hauler invites you to take the path least traveled. Couple the Kaelble Z6R to Hauler's Culemeyer 80 ton trailer and you will have the makings of an exciting diorama. This is a well engineered kit that I recommend for modelers well versed in working with resin and tiny PE parts. I would like to thank Hauler for the review sample.
References
https://second.wiki/wiki/kaelble
https://second.wiki/wiki/kaelble_z6r3a