Internet Modeler : First Look : Aviation
RSS News Feed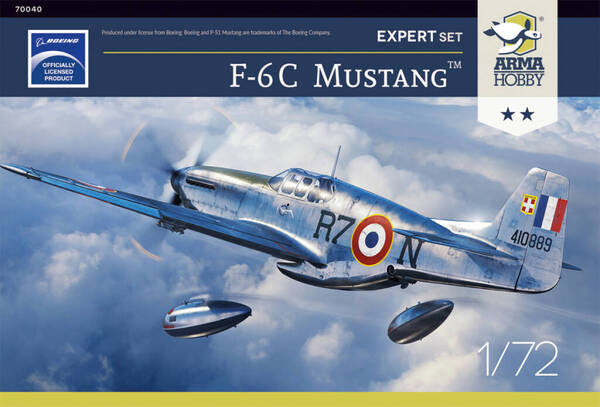 Arma Hobby 1/72 F-6C Mustang Expert Set
Overview
Since we have already provided a First Look at the Arma Hobby P-51B/C Expert Set (which includes markings for one F-6C), and Chris has actually built one, I refer the reader to those articles for what's in the box and how the kit builds.
Markings
The differences between the original Expert Set and this release of the F-6C are new masks and photoetch, along with new decals for different markings. Here are the aircraft Arma Hobby provides decals for:
F-6C-10-NT Mustang, 44-10889/R7-N, GR II.33 Savoie, French Air Forces, April-May 1945

F-6C-1-NA Mustang, 43-12400/ZM-O, pilot: Cpt. E.B. ''Blackie'' Travis, 12th Tactical Reconnaissance Squadron, 67th Tactical Reconnaissance Group, Middle Wallop, England, spring 1944

F-6C-1-NA Mustang, 43-12404/266, 26th Fighter Squadron, 51st Fighter Group, China 1944-45




F-6C-5-NT Mustang, 42-103604/600, pilot: Maj. E.O. McComas, 118th Tactical Reconnaissance Squadron, 23rd Fighter Group, Chengkung China, October 1944



The decals are nicely printed and offer all stencling that was provided for in the first release. Note that Arma has replaced the vinyl masks in the original release with ones made from the beloved "yellow tape". Also be aware that Arma has created the template to create the extra panel specific for the F-6C on the photoetch fret.
Plenty of thanks given to Arma Hobby for providing the review kit.