Internet Modeler : First Look : Aviation
RSS News Feed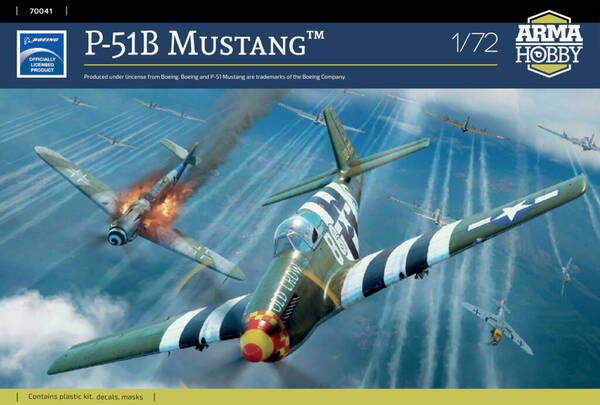 Arma Hobby 1/72 P-51B Mustang
Overview
Since we have already provided a First Look at the Arma Hobby P-51B/C Expert Set - and Chris has actually built one - I refer the reader to those articles for what's in the box and how the kit builds.
Markings
The differences between the original Expert Set and this release of the P-51B are new masks and no photoetch, along with new decals for different markings. Here are the aircraft Arma Hobby provides decals for:
P-51B-15-NA Mustang, No. 43-248423/B6-S, "Old Crow", pilot: Cpt. Clarence "Bud" Anderson, 363rd Fighter Squadron, 357th Fighter Group, June-July 1944
P-51B-7-NA Mustang, No. 43-6964/C3-G, "The Mighty Midget", pilot: 1st. Lt. James H. Clark, 382nd Fighter Squadron, 363rd Fighter Group, Maupertus, France, July 1944
P-51B-10-NA Mustang, No. 42-106473/G4-N , "Geronimo", pilot: Cpt. John Pugh, 362nd Fighter Squadron, 357th Fighter Group, June 1944


P-51B-15-NA Mustang, No. 42-106872/PE-T, "Patty Ann II", pilot: John F. Thornell jr., 328th Fighter Squadron, 352nd Fighter Group



The decals are nicely printed and offer all stencling that was provided for in the first release. Note that Arma has replaced the vinyl masks in the original release with ones made from the beloved "yellow tape".
Note that the 3D printed parts displayed in the photo aren't part of the "regular release". In order to obtain the 3D printed parts (which consists of a new pilot's seat (with seat belts), two sets of exhaust stacks and the underside radiator front) you needed to make a pre-order of the kit. In fact, most of Arma Hobby's releases are now that way: pre-order the kit and you receive 3D printed parts. Definitely a good incentive to pre-order Arma Hobby kits.
Plenty of thanks given to Arma Hobby for providing the review kit.