Internet Modeler : First Look : Aviation
RSS News Feed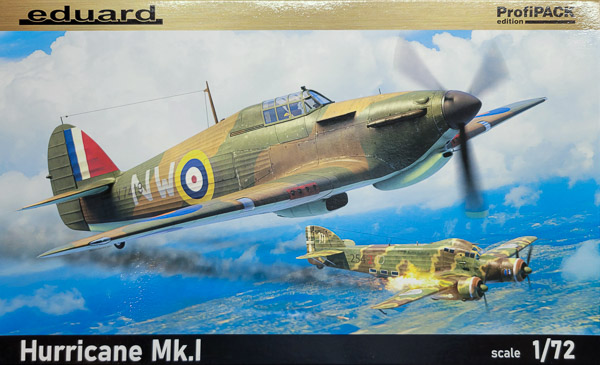 Eduard 1/72 Hurricane Mk I Profipack
Overview
The Hawker Hurricane was the backbone of the Battle of Britain, flying alongside the Supermarine Spitfire. As such, it is one of the more popular subjects of aviation books and websites out there, and it has seen a similar popularity in model kit form. Just about everyone has a Hurricane in their lineup, it seems, and now Eduard joins those ranks.
The Kit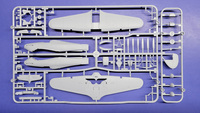 Eduard has come out with some great combo setups in their catalog, where they take another company's plastic and marry it up with their own aftermarket details and decals. Such is the case with this release, which pairs up the superb Arma 1/72 Hawker Hurricane Mk I with Eduard's nice photoetch and masks. The decal sheet provides options for six different aircraft, and everything combined makes for a great Hurricane boxing to pick up.
Starting with the plastic bits, the Arma Hurricane kit has been out a while now, and we've reviewed it in the past here. You get a single sprue of gray parts and a single sprue of clear. The detailing across the board is excellent, with petite recessed surface scribing and excellent raised cockpit details. With just the plastic parts, this will build up into a very nicely detailed kit. There will be a bit of careful cleanup on the mold lines, but other than that, this kit will build up with minimal fuss.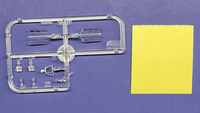 The kit doesn't just have plastic bits, though, and the inclusion of Eduard's photoetch adds just that much more to this model. In typical Eduard fashion, much of these photoetch details are pre-painted, with a second fret of unpainted brass parts for non-cockpit details. These are all small additions for the most part, but they will take the build up to the next level.
While the plastic (and the photoetch) have been available in other packaging for a while, the decal options are what really draw us in to what's in the box, and this kit is no exception. There are six schemes, all which have something interesting about them. The first five options are all finished in dark earth and dark green over sky, while the last one has a unique camouflage.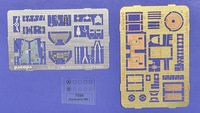 A: P3878 flown by F/O Harold A. C. Bird-Wilson from No 17 Squadron, RAF Debden in July 1940. This plane has an interesting treatment on the leading edge where the Sky underside wraps up in a wavy line towards the top.
B: P3143 from No 310 (Czechoslovak) Squadron, RAF Duxford in September 1940. This aircraft has a red vertical fin that makes up the leading edge of the fin flash, and features four kill markings under the canopy on the left side.
C: P3675 flown by F/Lt Michael L. Robinson from No 601 Squadron, RAF Tangmere in September 1940. This plane likewise has a red forward fin, but more strikingly it has a red lightning bolt running from the nose along the fuselage side, and the spinner is red, white, and blue.
D: V7419 flown by S/Ldr Marmaduke Thomas St John Pattle, CO of No 33 Squadron at Larissa, Greece in March-April 1941. Another example with a full red leading edge to the fin, this plane also features non-standard fuselage codes and a Vokes filter under the cowl.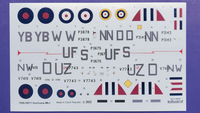 E. V7743 from No 306 (Polish) Squadron, RAF Ternhill in March 1941. Probably the most simple scheme out of all six, this plane has the Polish national marking on the rear fuselage and a unit emblem on the nose, along with large gray aircraft codes on the rear fuselage.
F. V7101 flown by F/Lt George Burges from No 69 Squadron at Luqa, Malta in May-June 1941. This plane is the one that features a unique camouflage of overall dark blue with a desert-camouflaged fin and rudder.
Any one of these schemes will resulting in an interesting Hurricane, making the choice all the more difficult, but one could always just buy a few extra Arma Hurricanes to build the other options.
Conclusion
If you missed the Arma Hurricane the first time around, here's another chance to pick one up, and if you have an extra one or two, this release will provide even more interesting options. My thanks to Eduard for the review sample.