Internet Modeler : First Look : Aviation
RSS News Feed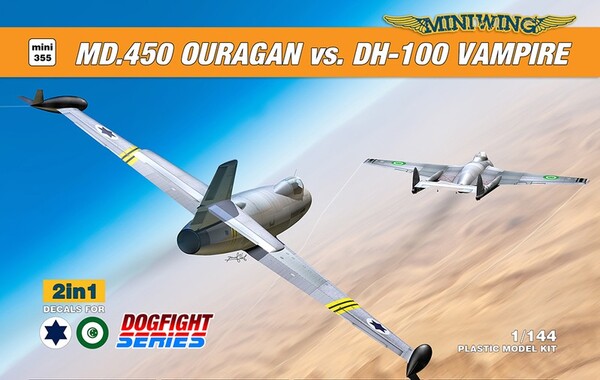 Miniwing 1/144 MD.450 Ouragan vs. DH-100 Vampire
Overview
In a first for Miniwing, they have released what is called a 2-in-1 "Dogfight Series" release. This one couples an Israeli MD.450 Ouragan versus an Egyptian DH-100 Vampire. This consists of the Miniwing MD.450 Ouragan and the Mark I DH-100 Vampire FB.52.
I've reviewed both the Ouragan and the Vampire in the past, so refer to those articles for how each model is broken out. This article will concentrate on just the markings provided for both kits.
The Markings
You receive decals for only two aircraft in this release.
Dassault MD.450 Ouragan, 4128/28, Israeli Defence Force Air Force (finished overall in natural metal)
D.H. Vampire FB.52, 1567, 31 Sqn, Egyptian Air Force (finished overall in natural metal)
Decals appear to be in register and are nicely printed. However, there are no seat belt decals and only one instrument panel decal, which is just for the Ouragan and nothing for the Vampire.
Building each shouldn't be difficult, but I've read you need to be careful with assembling the booms to the Vampire's fuselage. Other than that, they should be straight-forward builds. I'm in the midst of building an Ouragan and it's not a difficult kit to put together.
Conclusion
Miniwing has created a very unique boxing, showing both sides of an air fight. I hope to place these in an in-flight mode, as shown on the box top, to give a unique view of these jets.
Huge thanks to Miniwing for sending the review boxing.