Internet Modeler : First Look : Aviation
RSS News Feed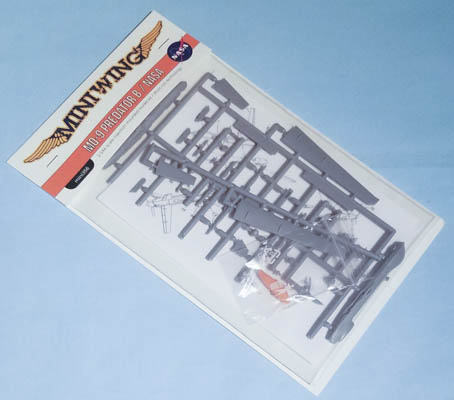 Miniwing 1/144 MQ-9 Predator B / NASA
Overview
I've reviewed Miniwing's MQ-9 in the past, plus I finished one in 2022. Please refer to those articles for details on the kit. I will only outline the difference between those and this release in this First Look.
The Kit
The Miniwing 1/144 Miniwing 1/144 MQ-9 Reaper consists of 34 pieces of gray, injected plastic; included in this releast is a 3D printed ADS-B pod for hanging under the port wing. The markings are for only one Reaper, the "Ikhana" flown by NASA in its initial form.
Pay close attention to the instructions as it shows which pylon to use, and in which area of the port wing, as well as which holes to fill for the pylons not being used.
Unfortunately this is an earlier Reaper so the landing gear is a bit different. Refer to this article on the Ikhana as well as Angus' build on the 1/144 forum for details.
Conclusion
This is a unique MQ-9 flown by NASA for a specific purpose. Miniwing is to be congratulated for adding the 3D printed ADS-B pod so you can build the Ikhana. Just be aware that you'll need to modify the landing gear to make it more accurate. Also note that while NASA is still flying this Reaper, newer, later versions have it with different additions to the airframe. This model is for this specifc Reaper at a specific time of its life.
My thanks to Miniwing for sending this Reper to review.