Internet Modeler : First Look : Aviation
RSS News Feed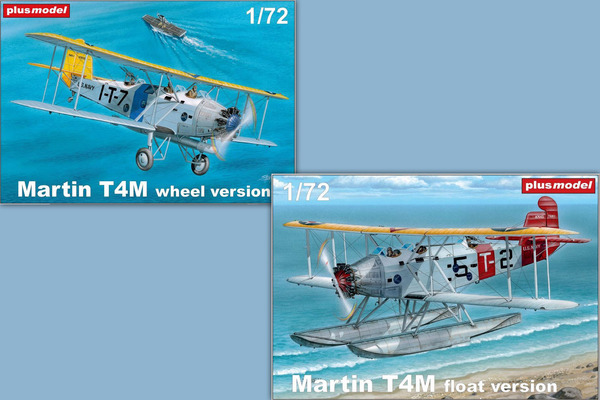 PlusModel 1/72 Martin T4M
Introduction
Unfortunately a lot of between-the-wars ('tweener) aircraft don't have many - or any - references written about them. Until the time that they do, we rely on Wikipedia. Hopefully one of these days we'll see a comprehensive reference written on the Martin T4M, and many other 'tweeners. Until then, from Wikipedia:
"The Martin Model 74 was designed and developed by the Glenn L. Martin Company as a result of testing of the experimental radial-engined developments of the Martin T3M, the XT3M-3 and XT3M-4. The resulting prototype, designated XT4M-1, first flew in April 1927, and was purchased by the U.S. Navy for further evaluation.
"The XT4M-1 had new single-bay fabric-covered metal wings of shorter span than the wooden wings of the T3M. It was powered by a Pratt & Whitney Hornet, (as used by the XT3M-3), and was fitted with a revised rudder. The fuselage was similar to that of the T3M-2, and like the earlier aircraft, could be fitted with either a wheeled undercarriage or floats.
"As a result of the successful trials, the U.S. Navy ordered 102 similar production aircraft from Martin as the T4M-1 on June 30, 1927. Martin sold their Cleveland factory, which had built the T4M, to the Great Lakes Aircraft Company in October 1928, which resulted in Great Lakes receiving an order for 18 aircraft with slightly modified undercarriages as the TG-1. On 2 July 1930, the U.S. Navy placed an order for 32 aircraft, powered by a more powerful Wright Cyclone radial engines with the Detroit Aircraft Corporation, as the TE-1. Detroit, however, passed the order to Great Lakes, which by this time was a subsidiary, and the aircraft were built as TG-2s."
This isn't the first kit of the T4M in 1/72. Esoteric Models made the first in vaccuum-formed plastic in 1987 and Arpol created one in resin in 2005. I had been contemplating buying Ardpol's until I read that PlusModel was about to release theirs, and I'm glad I waited.
The Kit
PlusModel has released two boxings of the Martin T4M in 1/72, a "wheel version" and a "float version". Each kit is identical in contents except for decals and instructions. That means you'll be left with wheels and landing gear if you're building the float version, and floats and their struts if building the wheeled version. Each consists of 94 picees of gray, injected plastic and a clear injected sprue with 11 pieces. Also included is an engine made out of 29 pieces of resin. For the "wheel version" decals are for four T4Ms:
BuNo. A7883, Torpedo Squadron Two (VT-2B) "The flying sea dragons", USS Saratoga (CV-3), February 1930 (red tail)
BuNo. A7638, Torpedo Squadron One (VT-1B), USS Lexington (CV-2), 1929 (lemon yellow tail)
BuNo. A7641, Torpedo Squadron One (VT-1B), USS Lexington (CV-2) 1929 (lemon yellow tail)
BuNo. A7641, Torpedo Squadron One (VT-1B) "Bomb riding torpedo", USS Lexington (CV-2) 1933 (lemon yellow tail)
The "float version" contains decals for three T4Ms:
BuNo. A7876, Torpedo Squadron None-S (VT-9S), USS Wright (AV-1), 1930 (lemon yellow tail)
BuNo. A7605, Torpedo Squadron Five-A (VT-5A), USS Jason (AV-2), Pearl Harbor, 1931 (red tail)
BuNo. A7616, Torpedo Squadron Five-A (VT-5A), Pearl Harbor, 1928 (red tail)
Decals are nicely printed and really look nice.
One nice feature of this kit is that all control surfaces are separate: ailerons, stabs and rudder, so can be posed how you like. Because of this, the first construction step is adding these to their flying surfaces. Then attention turns to the cockpit.
And out of the box it's a very nice cockpit. Not only is the tubular structure molded in to the fuselage halves, but also present as separate parts that sit between the halves. In addition there are two seats, two control wheels and two instrument panels. Also included is the rear gunner's seat and back rest plus flooring for all three stations. Injected clear plastic takes care of the windows in the fuselage sides. The only thing missing with this kit are seat belts so use the ones you think best. Now that the cockpit is finished fuselage halves can be joined.
Next, the lower wings and struts are added, followed by the tail surfaces. While the next instruction step has you add the upper wing, I would wait until after painting, along with adding the guns and gun ring.
As mentioned, resin takes care of the engine and it's here you'll assemble all the pieces together, the only thing missing is any kind of ignition harness. It will definitely look good built-up, and it should, since it's right out in the open for all to see.
Now the two different instruction sheets deviate, one showing how to build the floats and struts, the other how to put the landing gear together. That might be the trickier one given that there are three struts per side so lining all up, making sure they're straight and true could take some modeling finesse.
Finally the torpedo is assembled and added to the model, if desired.
Thankfully the instructions contain a complete rigging diagram, something that will definitely help when rigging this large model.
Conclusion
The PlusModel 1/72 Martin T4Ms are really nice kits, produced excellently. There is a smidge of flash to remove, but nothing to complain about. My hope is that PlusModel sells plenty of these to help continue them releasing 'tweeners, especially US ones. Given my review of the Aeronaut Thomas-Morse MB-3 book - and there were more of that produced than the T4M - maybe they'll tackle that one, next.
Huge thanks to PlusModel for the review kits.