Internet Modeler : First Look : Ships
RSS News Feed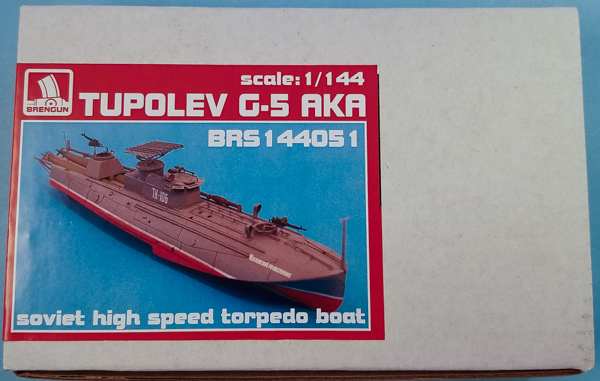 Brengun 1/144 Tupolev G-5 AKA Torpedo Boat
Introduction
Taken from Wikpedia:
"The G-5 was a Soviet motor torpedo boat design built before and during World War II. Approximately 300 were built, of which 73 were lost during the war. Four were exported to the Spanish Republican Navy during the Spanish Civil War and others were transferred to North Korea after the war. Three were captured by the Finns, but only two were used before all three had to be returned to the Soviets after the Moscow Armistice in 1944."
Unfortunately I can't find anything on-line about the "AKA" version of the G-5. Looking at the kit contents, it appears this one was equipped with a Katyusha-type launching system on the top of the superstructure (but no rockets are included).
A few years ago I reviewed the "XIII" version of this kit so you can see what that version looks like as well.
The Kit
The Brengun 1/144 Tupolev G-5 AKA Torpedo Boat consists of 27 pieces of gray resin and a photoetch fret with a lot of pieces. There are decals for one boat, an unnamed "TK-106" painted Light Gray Green on top and Dark Gray on the bottom.
There aren't a lot of pieces to this model, but most of them are small and delicate so you'll definitely want to take your time. Most of the photoetch will need to be bent (for example the rudders and the window-piece for the superstructure, etc.) so you'll want some small tool to help with the bending.
Conclusion
It will look great once it's finished but take your time to build it and you'll have a unique piece of naval history on your shelf.
Many, many thanks to Brengun for allowing me to review this boat.