Internet Modeler : New Releases : Aviation
RSS News Feed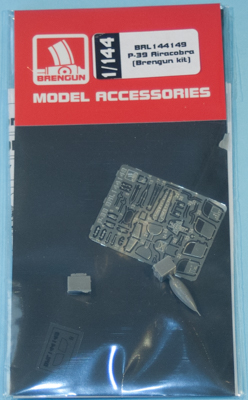 Brengun 1/144 P-39 Accessories
As is their style, which I'm grateful for, Brengun has released a set of accessories for their 1/144 line of P-39 kits. There are plenty of items to help these kits look better and will result in a more detailed model.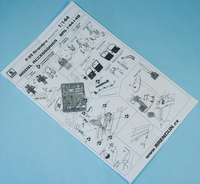 For the cockpit Brengun includes an instrument panel; control stick (although I will probably create a more 3-D-like one out of sprue); a fold-up replacement seat with seat belts; and replacement cockpit doors with added internal details. For the cockpit doors Brengun also provides a piece of clear film to be used as windows. On the outside, Brengun supplies again, the already mentioned doors; replacement landing gear doors (both main and nose gear); oleo scissors for all landing gear; a replacement antenna; an end for the wing pitot tube; and a spent-shell casing for the external gun pods. Also included in the set are two pieces of resin: an external fuel tank and its pylon. Also included on the photoetch fret is the sway bar for the fuel tank which needs to be folded and bent correctly to fit the tank and the pylon.
Plenty of detail to add to your 1/144 P-39 kit.
My thanks to Brengun for the review sample.