Internet Modeler : New Releases : Aviation
RSS News Feed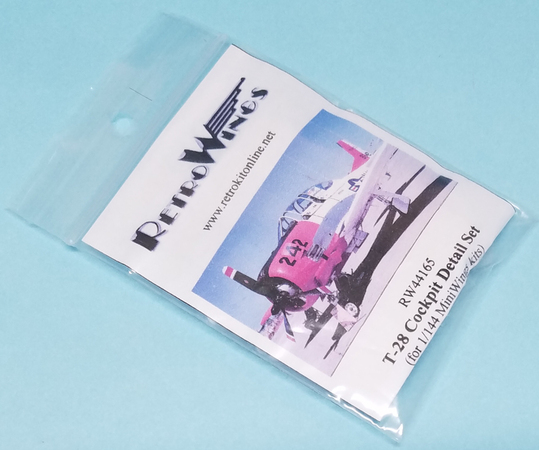 RetroWings 1/144 Miniwing T-28 Cockpit Detail Set
Overview
A short time ago, Miniwing released a series of T-28A Trojans. Lately, Miniwing has re-released the kit into a couple of later marks so you have a choice as to which T-28 you want to build.
The Cockpit
The RetroWings 1/144 T-28 cockpit for the Miniwing kit consists of five pieces of resin: the main cockpit tub; two seats; and two control sticks.
These resin parts directly replace kit parts 1, 2, 3 and 4, and RetroWings includes two, more-to-scale control sticks.
Conclusion
While the Miniwing cockpit is satisfactory in their 1/144 T-28s, this RetroWing set definitely has more detail and is highly recommended. Open up the canopy and you'll definitely be glad you added this resin cockpit to your model.
Huge thanks to RetrokiT for supplying the cockpit to review. Now to build a Miniwing T-28.