Internet Modeler : New Releases : Book Reviews
RSS News Feed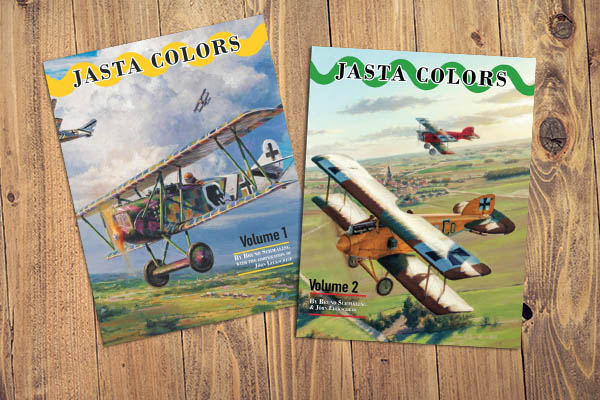 Jasta Colors Volume 1 and Volume 2
Jasta Colors Volume 1
Author: Bruno Schmäling and Jörn Leckscheid
Publisher: Aeronaut Books
ISBN: ‎ 978-1-953201-00-3
Binding: Softcover
Pages: 274
Jasta Colors Volume 2
Author: Bruno Schmäling and Jörn Leckscheid
Publisher: Aeronaut Books
ISBN: ‎ 978-1-953201-01-0
Binding: Softcover
Pages: 242
It is my opinion that in the world of German World War I aviaition literature, especially when it comes to markings and modeling, these two volumes (and hopefully more to come) are the most important to be released in quite a long time. First, to show what aviator's aircraft looked like based on their own memories, and second, to start showing when personal - and group/squadron - markings started to make their appearance.
Volume 1, Research and Sources for Historians and Modelers is broken out thusly:
Table of Contents
Prologue
Traveling Back in Time - The Research Process
Combat Reports
Jagdstaffel War Diaries
Official German report of the "Kommandeur der Flieger"
Reports in the "Flugmeldebuch" and Reports of Flak-Gruppen-Kommandos
Orders Given to the Ground Crew
Pilots Flight Logs and Diaries
Letters and Notes of the Pilots
British G-Reports
Allied Reports on the Markings of German Airplanes
Contemporary Reports in Newspapers and in Other Pubilcations
Testimonies made by Pilots and Ground Crew Members after World War I Concerning the Painting Details of the Aircraft
Publications and Newsletters by Jadgstaffel Members
Written Testimonies and Memories of Pilots and Ground Crew Members
Handwritten Notes of Interviews with Jagdstaffel Members
Taped Interviews with Former Members of Jagdstaffeln
Paintings, Drafts or Scale Models Done by the Pilots After the War
Information in Books and Newspapers
Information Provided by Relatives of Former Jagdstaffel Pilots
Photo Documentation /Photo Albums
Grey Scale Interpretation
Addendums
Endnotes & Sources
As you can see just in the outline of the Table of Contents, Volume 1 deals a lot with the pilots and their speficic schemes. For example, it is here where we know for sure that Victor Schobinger's Albatros D.Va had an underside-blue, tear-drop stripe on the fuselage sides of his aircraft, and not white as was previously thought. This is based on the interview the author had with the leader of Jasta 12.
Volume 2, Evolution and Background of the Markings Summer 1914 - Winter 1916/1917 is broken out thusly:
Table of Contents
The Authors
Collaborators
Acknowledgement
Preface
Introduction
Prologue
Airfield of a German Jagdstaffel in Northern France in October 1914
Preliminary note
The German Fliegertruppe in 1914
Examples of the Individual Markings of Aircraft in 1914
The German Fliegertruppe in 1915
Examples of the Individual Markings of Aircraft in 1915
The German Fliegertruppe in 1916
Examples of the Individual Markings of Aircraft in 1916
The Military Reasons for the Colorful Painting of the German Jagdstaffeln
Indentification of the Aircraft of the Pilot's Own Jagdstaffel
Confirmation of Aerial Victories
The Different Air Combat Conditions
The Letter- and Number Markings of the First German Jagdstaffeln
The Markings and Painting of the First 10 German Jagdstaffeln Autumn 1916-Winter 1916/1917
Royal Prussian Jagdstaffel 1
Royal Prussian Jagdstaffel 2
Royal Prussian Jagdstaffel 3
Royal Prussian Jagdstaffel 4
Royal Prussian Jagdstaffel 5
Royal Prussian Jagdstaffel 6
Royal Prussian Jagdstaffel 7
Royal Prussian Jagdstaffel 8
Royal Prussian Jagdstaffel 9
Royal Prussian Jagdstaffel 10
Fighter Pilots at Two-seater Units
Factory finish of the first Halberstadt and Albatros fighters
The colors of the factory finish of the Halberstadt fighters
Factory Finish of the Fuselages of the Albatros D I, D II and D III
Endnotes
Sources
Volume 2 deals more with the general application of camouflage as a whole for the entire German air force. Yes, there are specific pilot examples, but only to further the research. In addition, there are also profiles and corresponding text for uniquely finished machines; for example the cloud-painted, overall blue Halberstadt D.II flown by Ltn. Theodor Rumpel. Definitely one I want to model.
All in all, I feel these are necessary books when dealing with the German air force of WWI and how their planes were finished. Not only lots of color fodder for modeling, but also a general idea of how - and why - the German pilots finished their aircraft as they did. Highly recommended.
Huge, HUGE thanks to Aeronaut Books for these to review. Contact them direct for ordering information.