Internet Modeler : New Releases : Book Reviews
RSS News Feed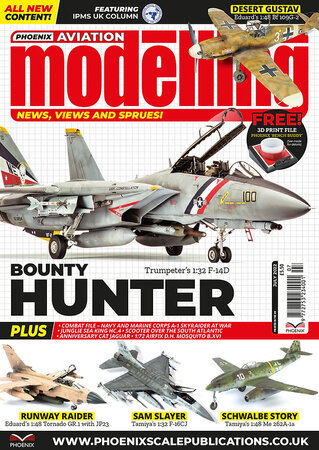 Phoenix Aviation Modelling July 2022
While at the 2022 IPMS/USA National Convention and Contest, Phoenix Publications was in attendance. They gave me this latest issue of their magazine Phoenix Aviation Modelling to review.
The regular sections contained in the magazine are: The Newsstand, short previews of announced models; Czech News, which lists items announced from the Czech modeling manufacturers; In The Box, which consists of a few "in the box" looks; Reviews, which has a two-page spread on a quick build of a model; Accessories, which concentrates on aftermarket items; Decals, previewing some of the latest decal releases; and Bookshelf, providing explanations of some of the newest modeling publications. After the standard sections the actual builds commence.
In the Reviews section, Huw Morgan describes and buildt the Armory 1/144 Me 163 Komets. Finally, a build of a 1/144 subject! It's a good explanation of building the Armory kits (there are two in the box). For the other reviews, this issue has the following: Airfix 1/72 De Havilland Mosquito B.XVI; an artcle called "US Navy and Marine Corps Skyraider's At War" in their Combat File article style; a build of the Tamiya 1/48 Douglas A-1H Skyriader; the Trumpeter 1/32 F-14D Super Tomcat; a Tamiya 1/32 F-16C/J Block 50 with lots of aftermarket; an Airfix 1/72 Douglas A-4Q Skyhawk in Argentinian markings; a build of the Cyber Hobby Seak King HC.4 Falklands War with modeler-updated parts; an Eduard 1/48 Bf 109G2; a nicely done Italeri 1/72 Jaguar; next up is the Tamiya 1/48 Me 262-1A; and finally, the last build article is on the Eduard 1/48 Tornado GR.1. The last section of the magazine is called "The IPMS (UK) Column" containing updates for IPMS (UK).
Overall the magazines are glossy and contain some very nice photographs. Some of the build articles are pretty detailed while others are basically "I built this kit" with a little more detail. This issue is better than the others I reviewed with less grammatical mistakes. Overall it's very well done and good to see the improvements. If I had to complain, it would only be about the article on the 1/72 Mossie. The builder mentions how he had to fix the area of the fuselage around the bomb-bay area, but didn't provide any pictures of that fix. That would have been good to see for what other modelers are in store for.
I definitely thank Phoenix Scale Publications for allowing me to review this magazine.