Internet Modeler : New Releases : Tools
RSS News Feed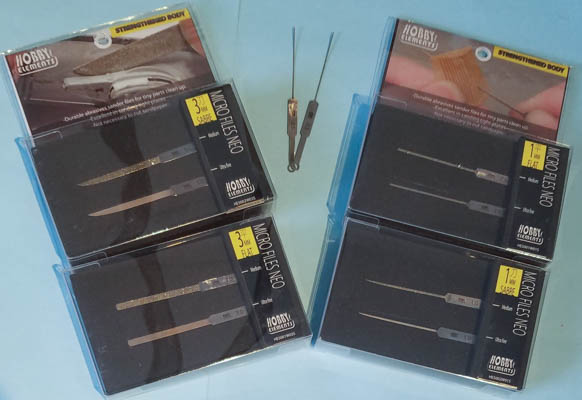 Latest Tools from Hobby Elements
I've been a fan of Hobby Elements since first discovering them some time ago. With their Molding Flash Sander they provided a unique way to handle that area. When they released a bunch of different types of files they really stepped up what a modeling tool could be. But one of the first sets of tools they released were their Micro Flat Files I knew they had a good handle on what a modeling tool should be and how it could be applied.
These Micro Flat Files have been out of production for some time, but thankfully Hobby Elements has revisited them, and made them stronger. The first release of these files saw them quite flexible, which could hinder how they could be applied. But now Hobby Elements has strengthened them and made them even more useful. Plus, they've released them as "Sabre files" with a curved tip, allowing the file to reach other than flat surfaces.

Since I primarily model in 1/72 and 1/144, having small tools really helps to get into difficult-to-reach areas, or areas with small contact points. This is where Hobby Elemenets truly shine, and with the 0.5mm wide file, there truly is no area that can't be reached in those scales. I have most of Hobby Elements tools and find I use them on practically all of my models. I used their Bent Tip files while removing a mold release pip from my KP 1/72 Dewoitine D.500 and they work great removing the layer lines from a Triple Nuts 1/144 JF-17 Thunder's landing gear wheel wells.
I definitely enjoy and use everything I have from Hobby Eleements. But, be sure to check their site frequently as they tend to sell out of their tools, and it could take awhile to restock. Some might think them expensive, coming from Taiwan, but in my opinion good tools are worth every penny. My thanks go to Hobby Elements for sending some of these files for review.