Internet Modeler : First Look : Aviation
RSS News Feed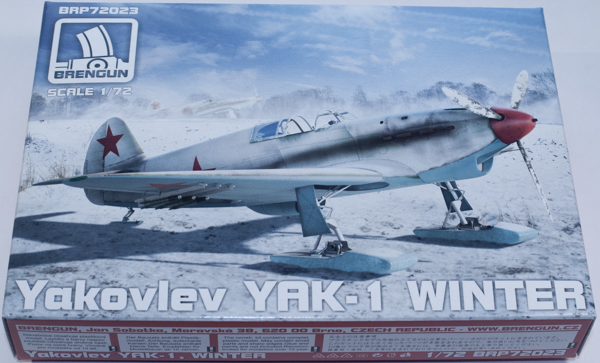 Brengun 1/72 Yak-1 Winter
When Bregun first released their 1/72 Yak-1 series I was elated due to the fact there were only two other releases of the Yak-1 in 1/72 at that time and both were quite rough. While some people still say there are areas to pay attention to, the Brengun 1/72 Yak-1 is still better than those other two.
This time Brengun has re-released their Yak-1, outfitting it for winter. What this means is Brengun has included skis in addition to the standard landing gear. In addition to the skis (both the main gear and the tail ski) Brengun has also included six RS82 rockets in resin to hang on the underside of the wings. These are really well molded, especially considering the fact the rockets and rails are molded together.
The rest of the kit contains everything the initial boxing contained so I'll refer you to my First Look of that kit. For markings in this release there are seven, most in overall "white":
21 IAP Zacharov, Winter 1942
Leningrad, Winter 1942
21 IAO, J. Z. Slepenkov, Winter 1943
Winter 1942 (the only "non-white" aircraft, finished in black and green with blue undersides)
296 IAP, B. N. Eremin, Winter 1942 (red spinner)
30 GIAP, I. VB. Kuznetsov, Winter 1943
Leningrad, WInter 1942 (green spinner and some green on the turtledeck)
Decals appear to be in register and look good.
There are no holes for the RS82 rockets but there are measuring directions on the instruction sheet on where to place them. I would definitely drill holes before construction where these are to go so the final finish won't be harmed while measureing after painting.
Conclusion
Another welcome addition to the 1/72 Yak-1 family from Brengun. Couple it with the additional aftermarket (photoetch, vac canopy and masks) and you'll have an excellent rendition of the Yak-1 on your shelves.
My thanks to Brengun for the review sample.