Internet Modeler : First Look : Aviation
RSS News Feed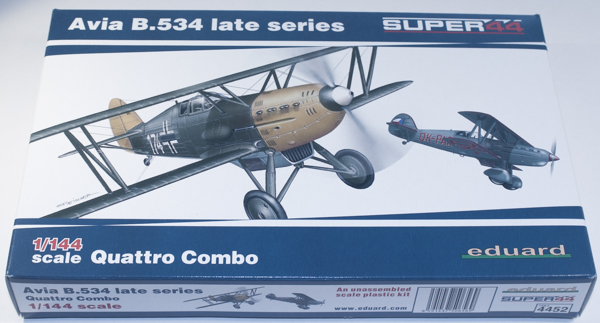 Eduard 1/144 Avia B.534 "Late Series"
A little while ago I posted a review of the Eduard 1/144 Avia B.534 "Early Series"; this time around Eduard has released their 1/144 Avia B.534s as a "late series". There are three distinct types provided for in this release: an "early" 4 serie, later 4 serie and the Avia Bk.534 cannon-armed variant. There is only one scheme for the "early" 4 serie but five markings for the "later" 4 serie and two markings for the Bk.534.
It will be important to pay attention to the instructions because each distinct type has parts meant for that aircraft only. My comments for the first boxing of Eduard 1/144 B.534s still holds true so read that article for the break-down of construction.
It's important to note that not only Eduard has released photoetch for one model, but Brengun has as well. In my opinion both photoetch sets are needed to make a truly first-class model.
And I will still post my one gripe with Eduard and these kits. Eduard provides masks for the clear parts and tires/wheels but doesn't provide masks for the kits' undersides, since the upper color wrapped around the bottom. Of course they include this with the 1/72 kit but not the 1/144 which makes more sense given the size. Be that as it may, though, I do see that thankfully Peewit has released these masks so at least someone has us covered (no pun intended).
Conclusion
These are great kits and should build relatively quickly. Eduard now has three scales covered when it comes to the "go-to" kits for the Avia B.534: 1/48, 1/72 and now 1/144.
My thanks to Eduard for sending this release in for review.