Internet Modeler : New Releases : Aviation
RSS News Feed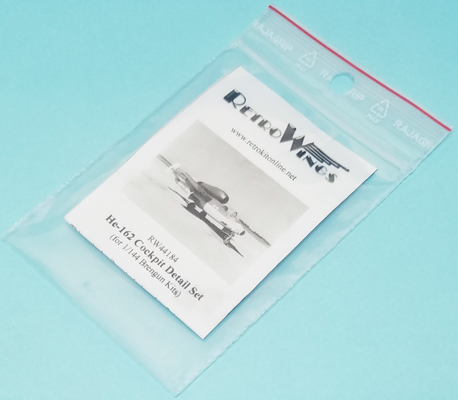 RetroWings 1/144 Brengun He-162 Cockpit Detail Set
Overview
Brengun has released a number of boxings of their 1/144 He-162, the latest being one titled "War Prizes". In addition, Brengun has also released a photoetch set and a set of vacuum-formed canopies for their kits. Now we have this excellent resin cockpit from RetroWings.
The Cockpit
The RetroWings 1/144 He-162 cockpit for the Brengun kit consists of three pieces of resin: the front part of the cockpit tub; the rear part of the cockpit tub; and a control stick.
This set replaces kit parts 9, 10, 11, 18, 21 and 22. However, you will need to perform some kit surgery. The front part of the fuselage halves at the cockpit area - under the windscreen - will need to be removed. In addition, the instructions suggest you create some side-wall detail from plastic strip before adding the cockpit tub pieces.
Conclusion
All-in-all this is a great upgrade for an already excellent kit. Sure there's a little bit of kit surgery but I feel it's well worth it to get the excellent detail the RetroWings cockpit provides. One thing you'll definitely want to do, though, is add Brengun's vacuum-formed canopies to show off all that great detail.
Many thanks to RetrokiT for supplying the cockpit to review.