Internet Modeler : First Look : Aviation
RSS News Feed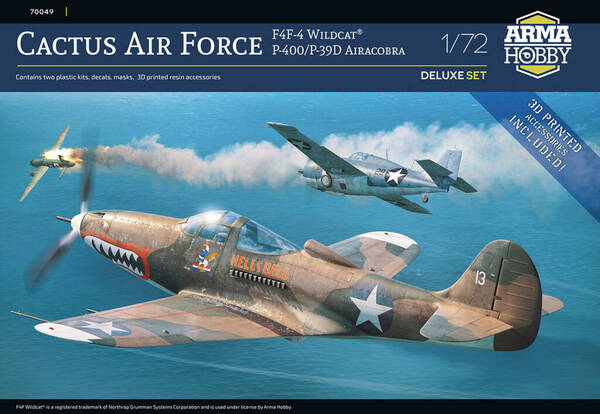 Arma Hobby 1/72 Cactus Air Force (F4F-4 and P-400/P-39D)
Overview
As we have already reviewed both the Arma Hobby 1/72 F4F-4 and P-39Q in the past, I will refer our readers to those First Looks. This article will deal with the differences in this boxing as well as the markings provided in the box.
The Kit
Arma Hobby's instructions lay out the differences between the original P-39Q release, as well as what's needed with this release to make the model either a P-400 or a P-39D. In fact, one of the 3D printed parts is a new, upper nose piece to provide the major conversion of the type. Also included as 3D parts include gun butts to add to the instrument panel; additions to the floor, by the seat; an entirely new seat with belts molded in situ; the already mentioned new, upper nose piece; two types of exhaust (depending on which Airacobra you plan on building); two types of nose cannon; and new wing guns. Arma Hobby also includes a separate page of instructions to show exactly where the 3D parts are to be placed.
Markings for the P-39 are for four Airacobras:
P-400 Airacobra "white 13" "Hells Bell", BW151, 67FS/347FG, pilot Lt. Robert M. Ferguson, Guadalcanal, August-November 1942

P-39D-2 Airacobra "white 12" "Beth", Cpt. Paul Bechtel, 12FS commander, Guadalcanal, December 1942




P-400 Airacobra "white 12", BW156, pilot Lt. Richard Johnson 67FS/347FG "Fancy Nancy", Guadalcanal August-September 1942




P-39D-1 Airacobra "yellow 56" 41-38400, 68FS/347FG, Guadalcanal, December 1942. Piloting this aeroplane Lt. Vernon Head of 67FS performed a bombing attack over New Georgia



As for the F4F-4 from Arma Hobby, the 3D parts include: an entirely new seat with seat belts; additions to the side consoles; magneto spark ignition ring; undercarriage retracting system chains; exhaust tubes; replacement gun barrels; and bomb racks along with two 100lb bombs. Again, the separate instruction sheet points out where these 3D parts are to be placed (and the overall instructions also show where the 3D parts are to be placed, but the separate sheet helps show exactly which 3D parts).
There are also four Wildcat marking options:
F4F-4 Wildcat "black 29", pilot Lt. Samuel Folsom, VMF-121, Guadalcanal. Piloting this aeroplane Sam Folsom shot down two G4M1 Betty bombers on 12th November 1942
F4F-4 Wildcat "white 2", pilot Mjr. Marion E. Carl, VMF-223, Guadalcanal, February 1943
F4F-4 Wildcat "black F-12" BuNo. 5192, pilot Lt. James "Pug" Southerland II, VF-5/USS Saratoga. On 7th August 1942, this aeroplane downed the first Japanese bomber over Guadalcanal before Saburo Sakai himself shot it down in epic lonely combat against a flight of "Zeros"
F4F-4 Wildcat "white 19" BuNo. 03417, pilot Lt. Stanley W. "Swede" Vejtasa, VF-10/USS Enterprise. During the Santa Cruz Battle on 26th October 1942 Vejtasa shot down two dive bombers and five torpedo aeroplanes in one sortie
Nothing else about this release has changed; the plastic components found in the first boxings of these models is the same as this one. Note that masks are also provided for both models. Also note there are multiple panel lines to fill in the P-39 to make it a more accurate P-400/P-39D. Definitely follow the directions closely.
Conclusion
These models look great built-up. Couple both of them together, side-by-side, and you have a unique story on your shelf. My thanks to Arma Hobby for the review sample.