Internet Modeler : New Releases : Aviation
RSS News Feed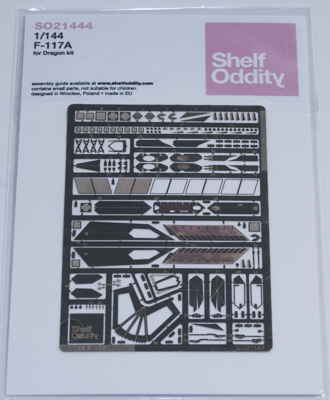 Shelf Oddity 1/144 Dragon/DML F-117 Photoetch Detail Set
If you recall, Shelf Oddity is a new aftermarket company that has released a number of pieces of ordnance (mainly missiles) in 1/144 scale. These are works of art - requiring a large amount of patience - that will look great on any 1/144 model that carried them. Well, Shelf Oddity decided to work on photoetch sets for specific aircraft, and their first release is for the Dragon/DML 1/144 F-117.
For those unaware, Dragon released two versions of the Wobbly Goblin. The first was truly a caricature and is best left to kit collectors. The second release, though, is really quite nice and builds into a first rate example of the F-117 Nighthawk. However, there were a few short-cuts taken and this is where this set really helps.
One of the areas Dragon didn't do well was with the landing gear doors. These are mostly flat with very little internal detail. The Shelf Oddity doors, though, are multiple-piece affairs that also requires careful bending. Once built, though, these will look fantastic. In addition, early examples of the "real" F-117 had different landing gear doors than the later versions. Shelf Oddity includes these as well so be sure to check your references for the bird being modeled.
Another area Dragon "skimped" on was the canopy. As you can see on my build it's a straight piece: on the real F-117 there were "saw tooth" edges on different surfaces of the canopy to help cut down on the radar signature. Shelf Oddity includes that as well by providing an entirely new "canopy" (although without the clear pieces) that once bent will look more like the real thing. You'll just need to add whatever "thing" you decide to use for the clear (Shelf Oddity recommends the bag the pieces come in, but I don't think that will look right). Just be aware there's a slight tint to the real "clear" pieces so plan accordingly.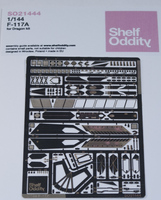 Other items included on the fret include a number of panels, sensors and "radar reflectors". In addition, Shelf Oddity includes new intake covers and a new top to the intake so you can display the bleed doors open (again, look at images to see how these looked on the actual airplane). There are also exhaust enhancement pieces that will look a lot better than the pieces of plastic molded in situ on the Dragon kit.
The only thing not included that could use help are the bomb bay doors. These are a bit thick in the kit but I suspect adding those would have added extra cost to the set. Not a bad thing.
Like most companies recently, Shelf Oddities' instructions are on-line and downloadable, so be aware of that when you order the set. I like that better because that usually means a slilght decrease in the cost.
If you want to build a Dragon 1/144 F-117 and want it to be contest-quality, then you need this set. If you want your Dragon Wobbly Goblin to look a little more prototypical then you'll also want to pick up this set. Oh heck, if you plan on building a Dragon F-117 at any point just buy this set, you'll be glad you did. And be sure to also pick up the RetroWings resin cockpit while you're at it.
I humbly thank Shelf Oddity for giving me the honor of reviewing this excellent photoetch set.